Soodus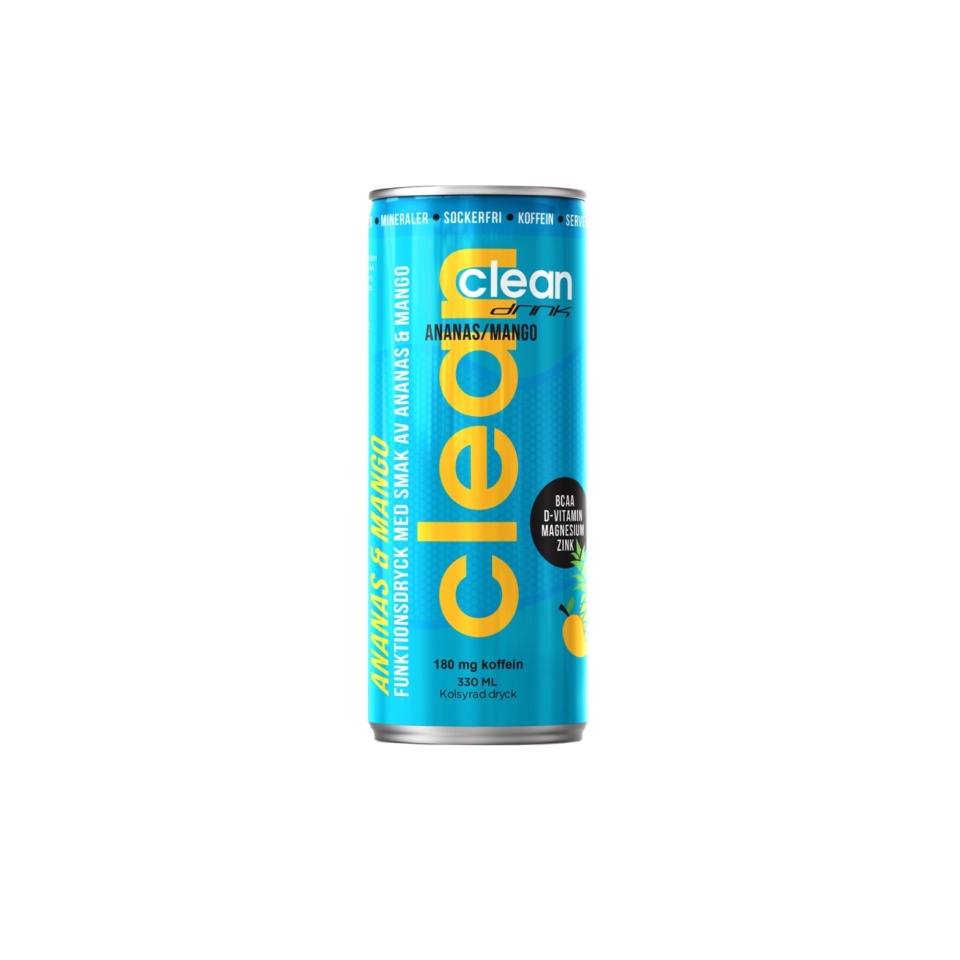 Zoom
Clean Drink is a carbonated functional drink with developed with Swedish top athletes. It is brewed on water from the Anttila Spring in Finland, which UNESCO has named one of the world's best freshwater sources. With an essential content of amino acids (BCAA), vitamins, minerals suitable for Clean Drink for anyone who chooses the healthier option.
Vitamin-enriched BCAA drink
Contains the branched amino acids (l-leucine, l-valin, l-isoleucine), Lalanin, L-glutamine.
Consists of 10 different vitamins; B2,B3, B5, B6, B7, B9, B12, C, D, and E
Contains l-carnitine, chromium, zinc and magnesium
Produced in the Nordic countries improves recovery and muscle repair during and after physical activity
Prevents fatigue, fatigue and muscle breakdown
Free from sugar, calories, preservatives and taurine
Offered with or without caffeine

Clean Drink is specially designed for the active person who loves to move around.
Made of 100% Nordic spring water of the highest quality and a content of amino acids, magnesium, chromium, zinc, and vitamins. The amino acids in Clean Drink effectively contribute to a faster recovery, increased muscle strength, energy and blood circulation and reduced muscle fatigue before and during activity.

Clean Drink is suitable throughout the day, when training as well as during studies, work or long walks.
The lemon/lime flavour is decaffeinated, the flavours Pears and Watermelon sits 180 mg of caffeine.

Dosage instructions: Max 2-3 cans per day. Use with alcoholic beverages is not recommended. In case of opened jar, intake is recommended on the same day.
Information:
This product should not be used as an alternative to a varied diet.
The recommended daily dose should not be exceeded.

Keep out of the reach of small children.

The product is not recommended for children due to high caffeine content (not applicable lemon/lime).
If you are pregnant, breast-feeding, suffering from illness or are being treated with medicines, you should always consult your doctor before using the product.
Ingredients Lemon/Lime: Carbonated water, branched amino acids BCAA (l-l-leucine, l-valin, l-isoleucine), Lalanin, L-glutamine, magnesium chloride, chromium chloride, zinc citrate, aroma, vitamins (vitamin C, vitamin D, vitamin E, niacin, pantothenic acid, vitamin B6, riboflavin, folic acid, biotin, vitamin B12), acidity regulator (apple acid), sweetener (sucralose, acefamsulcar-k).
Contains 330 ml Lemon/Lime per serving:
BCAA 8:1:1 (l-leucine, l-valin, l-isoleucine): 2500 mg L-Glutamine: 200 mg L-Alanine: 200 mg
Nutritional value Lemon/Lime:
| | | | | |
| --- | --- | --- | --- | --- |
| Included per: | /100 ml | RDI% | /330 ml | RDI% |
| Energy | 14,7kj/3,5 kcal | | 48kj/11.5 kcal | |
| Fat | 0 g | | 0 g | |
| Of which saturated fat | 0 g | | 0 g | |
| Carbohydrates | 0 g | | 0 g | |
| Of which sugars | 0 g | | 0 g | |
| Protein | 0.87 g | | 2.87 g | |
| Salt | 0 g | | 0 g | |
| Magnesium | 17.1 mg | 4,6 | 56.4 mg | 15 |
| Chrome | 4.2 μg | 10 | 14 μg | 35 |
| Zinc | 0.45 mg | 4 | 1.5 mg | 15 |
| Vitamin B6 | 0.60 mg | 43 | 2 mg | 142 |
| Vitamin B12 | 0.75 μg | 30 | 2.5 μg | 100 |
| Vitamin C | 15 mg | 18 | 50 mg | 62 |
| Vitamin D | 3.0 μg | 60 | 10μg | 200 |
| Vitamin E | 0.54 mg | 4,5 | 1.8 mg | 15 |
| Biotin | 4.5 μg | 9 | 15 μg | 30 |
| Folic acid | 60 μg | 30 | 200 μg | 100 |
| Riboflavin | 0.60 mg | 43 | 2 mg | 142 |
| Niacin | 6.0 mg | 37 | 20 mg | 125 |
| Pantothey acid | 3.0 mg | 50 | 10 mg | 166 |
RDI Recommended Daily Intake
No preservatives
No allogenes