Laost otsas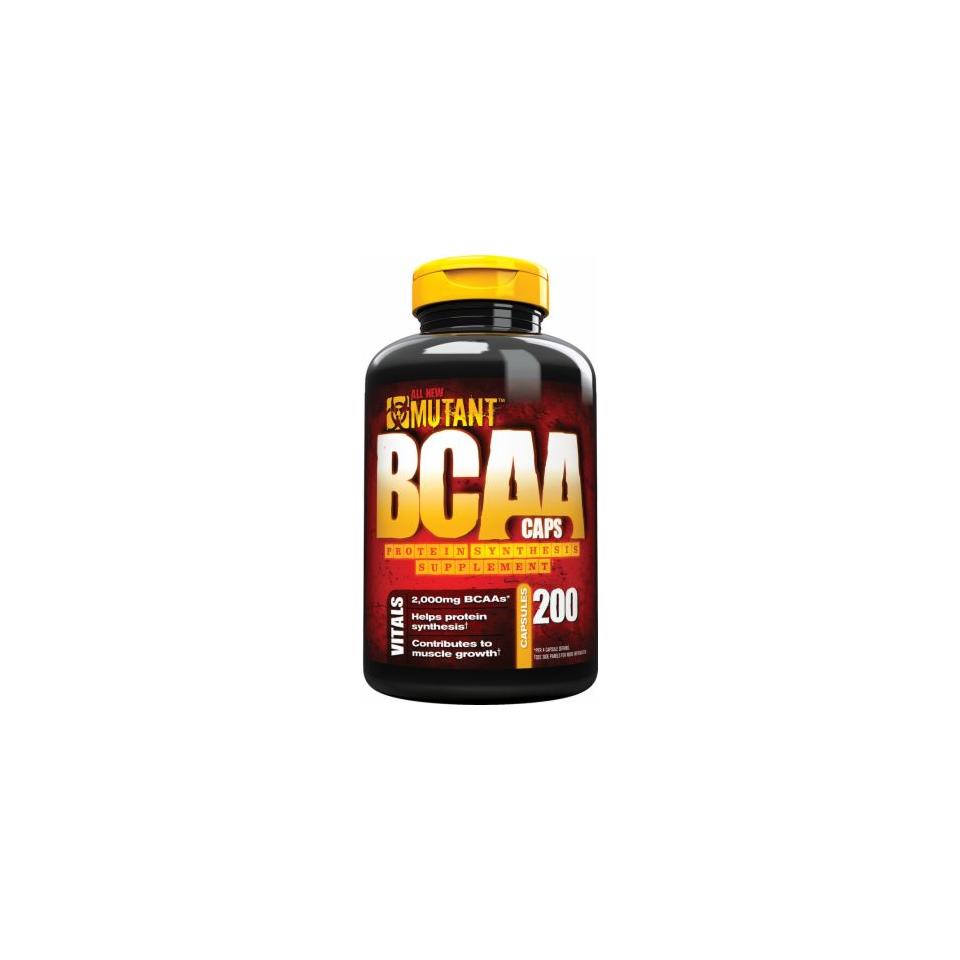 Zoom
PROTEIN SYNTHESIS INITIATOR*
VITALS
100% free form BCAAs in ultra-fast capsule delivery*

Total BCAA formula to help drive protein synthesis*

Research proven ingredients to contribute muscle growth*
BEYOND JUST NORMAL BCAAS
MUTANT™ listens to you, our Mutant Nation of loyal fans. A growing number of you have raved about our MUTANT BCAA powder (MUTANT BCAA 9.7) and many of you demanded an even more convenient delivery method – so here it is, all new MUTANT BCAA CAPS. Throw a bottle in your gym bag and you'll never have to worry about missing your BCAA dose when you're on the go. MUTANT BCAA CAPS deliver 2000mg of 100% free form BCAAs per dose in the preferred 2:1:1 ratio. Plus we've kept intact the vital mineral electrolytes and the patented absorption agent Bioperine® that we also use in our MUTANT BCAA 9.7 powder.*
BCAAS – THE REALLY ESSENTIAL AMINOS
BCAAs are the 3 amino acids L-Leucine, L-Isoleucine and L-Valine – they make up about 40% of the free essential amino acids in blood plasma. Branched chain amino acids (BCAA's) are so named because of their unique branched chemical structure. BCAAs are essential amino acids - the body cannot make them from other compounds, and they are integral for regulating protein synthesis. BCAAs have been investigated for their potential anti-catabolic (preventing muscle breakdown) and anabolic (muscle building) effects. BCAAs are widely regarded as a cornerstone supplement for building muscle.*
GO BEYOND
Our formula targets the body with the preferred 2:1:1 ratio of the 3 BCAAs*

Adds a unique 8 Electrolyte Blend to help with hydration*

(magnesium oxide, potassium citrate, sodium citrate, tricalcium phosphate, calcium citrate, sodium bicarbonate, calcium lactate, sodium chloride)

Fortified with Bioperine® the patented absorption agent*

Served up in ultra-fast capsule delivery*
FAQ
What are BCAAs?
BCAAs are the 3 amino acids L-Leucine, L-Isoleucine and L-Valine – they make up about 40% of the free essential amino acids in blood plasma. Branched chain amino acids (BCAA's) are so named because of their unique branched chemical structure. BCAAs are essential amino acids - the body cannot make them from other compounds, and they are integral for regulating protein synthesis.*
When is the best time to take Mutant BCAA CAPS?
The best times to take MUTANT BCAA are during your workout or immediately after. During your workouts, muscle is being forced to respond to the weights and that causes muscle tissue to break down – it is the repair process where muscle fibers can actually do their growth. The typical intent of BCAA supplementation is to get the BCAAs into your blood stream before too much muscle degradation occurs, so that recovery can happen even faster.*
What do BCAAs do?
BCAAs are essential amino acids - the body cannot make them from other compounds, and they are integral for regulating protein synthesis. BCAAs have been investigated for their potential anti-catabolic (preventing muscle breakdown) and anabolic (muscle building) effects. There are literally hundreds of studies on BCAAs.*
Why the 8 added mineral electrolytes?
We're not going to lie to you and tell you that these minerals will miraculously transform the BCAAs into some wonder supplement. What we will tell you is this – do not overlook the importance of electrolytes while you're trying to heave large weights in the gym. Magnesium in particular is well researched to show that if you're deficient in that mineral, your nervous system tends to not fire off at optimal rates. Mineral electrolytes are best taken at the same time you world normally take your BCAAs too – and they're not super expensive, so why not add them in. At the very least we're targeting to shore up some deficiencies that we each may have, so that when we do call on our muscles to FIRE UP, we all then stand a better chance by having the mineral electrolytes in our bloodstream. They can't hurt and they just might make the difference some days on whether you get that 9th rep or not.*
Can I stack MUTANT BCAA CAPS with other MUTANT products at the same time?
You can stack MUTANT BCAA CAPS with any other MUTANT™ supplement if you choose to. Our favorite stack is 1 serving of MUTANT MAYHEM with 1-2 servings of MUTANT BCAA CAPS right before lifting.*
Is there ever a need to take 2, 3 or even 4 servings instead of 1?
Assuming we're talking about building muscle, first things first. Focus first on having a CONSISTENT training/eating/supplement routine and make sure all your meals (for growth it's best to consume 5-7 meals per day everyday) each have at least 30-50g of protein – that's the widely prevalent wisdom amongst bodybuilders. Even more research suggests that BCAAs taken at the rate of 4-8g per day can provide maximum benefit. We don't see a problem with using more servings of the capsules to achieve that 4-8g dosage range. (NOTE: Do NOT ever try to swallow all those capsules all at once though – we don't want anybody choking after all - just follow the label please). At that 4-8g level of intake you would be better off in your wallet by sticking with the MUTANT BCAA 9.7 powder instead. However if capsules help you STICK to your program more consistently though, go with the CAPS for sure then. It's all about consistency.*
Why is Bioperine® added and what does it do?
Bioperine is a brand name for a high end pepper extract. It delivers a highly concentrated source of piperine – an amazingly high 95% level of piperine. It is multi-patented and clinically suggested to increase blood levels of some nutrients after intake (aminos, vitamins, minerals, etc). Bioperine research suggests increases for some nutrients by 30%, some at 60% and others still even higher.* The exact mechanism of action is often speculated (some feel it increases blood flow) - we simply care that it works, and we have used Bioperine for years and have never been disappointed.*
As a dietary supplement, take 4 capsules with 8-16 fluid ounces (250-500mL) of cold water; consume during exercise on training days, or throughout the day on non-training days.