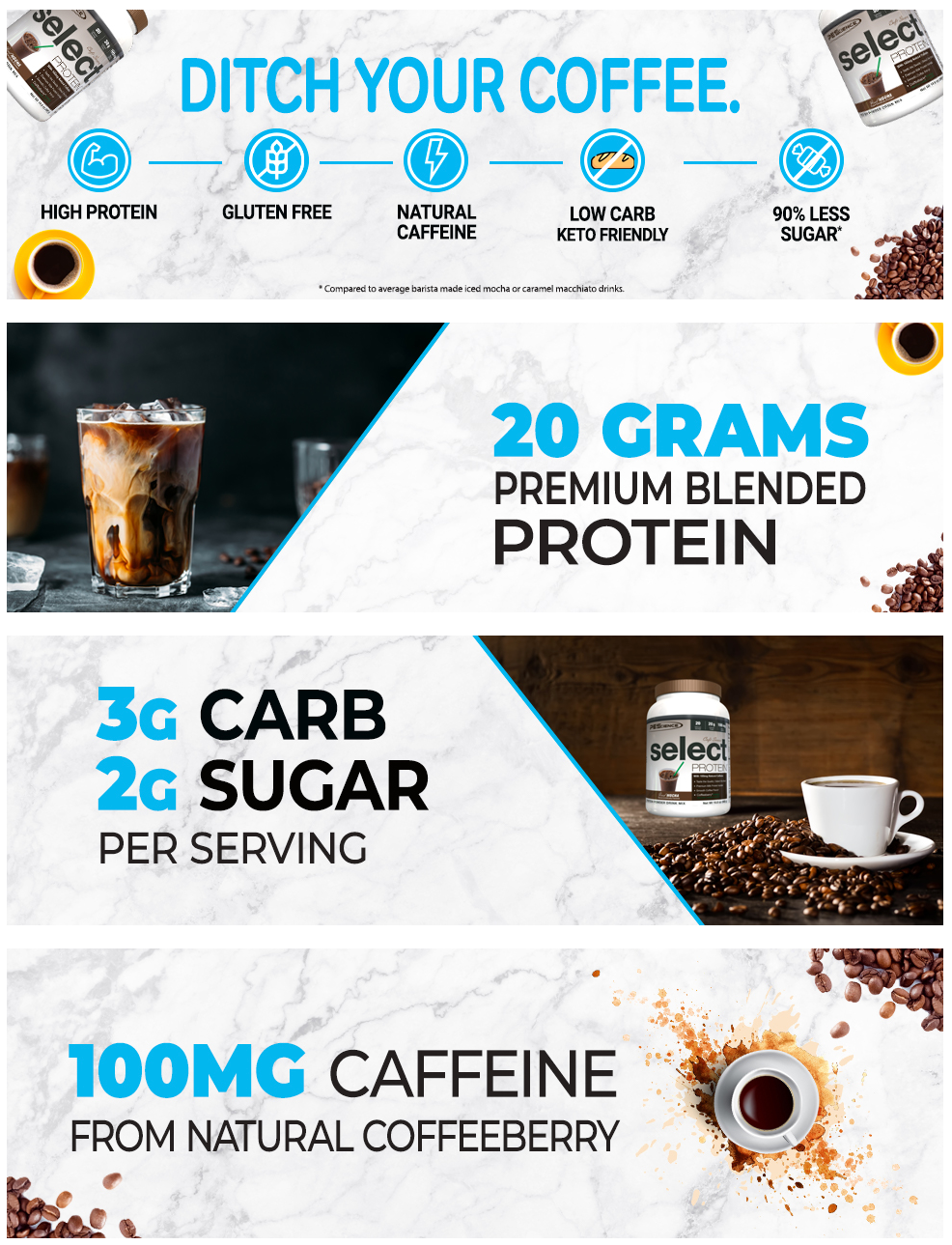 From the Pescience Select Protein 'Cafe Series' Iced Mocha flavour protein powder is here. Now we ALL know that with Select Protein you are getting 100% the best quality ingredients and of course the greatest protein blends! So with the traditional Select Protein Mix of - Milk Protein Isolate, Whey Protein Isolate, Casein and Whey Protein Concentrate!! Meaning you cover ALL the bases!!
Select Protein 'Cafe Series' is of course gluten free, and even better?! it's NATURALLY caffeinated - using 'Coffee-berry extract' not only to inject incredible Coffee flavour but to add 100mg of caffeine per serving!! So you can ensure as well as getting protein when you need it most, you are also getting a nice little energy boost!! Great for consuming pre-workout to readily fuel your muscles and have you up and raring to go!! Containing 20g of premium protein - #Selectthebest, we just can't fault Select Protein, the flavours KEEP improving, the products keep getting BETTER!
Select Protein 'Cafe Series' comes in 3 delicious flavours - Iced Mocha, Caramel Machiato, Vanilla Frappe, so if you LOVE your coffee with ALL the Chocolate-y goodness (like this particular flavour) Iced Mocha is for you!!
Even better?! Have it 3 ways! 'Classic Iced' - create as a normal 'protein shake' and then pour over ice! OR Blend it Frappe style!! Blend one scoop with water/milk add a cup of ice and BLEND - for a super cream-y icy treat!! OR on those winter-y cold days - have it hot!! Like a hot chocolate or a normal coffee, simply add one scoop to the usual 6-8oz of water (but make the water hot) then stir until powder has dissolved and ENJOY!!
Three awesome flavours, three awesome ways to prepare them, and as usual UNBELIEVABLE flavour
So what is SO awesome about SELECT and their Protein Blend?!
Well to begin with using instant release Protein Isolate for pushing protein STRAIGHT to the muscles, then concentrate to keep it flowing for a while and casein to ensure your muscles are fuelled for hours after training!! INFACT studies now show.. nature had it right all along...the blend of whey and casein, as found naturally in milk protein, works together in a synergistic manner to build lean muscle more effectively than one or the other alone!!

Why PES Select Protein Cafe Series - Iced Mocha?
Tastes SO good!
Targeted Whey/Casein Blend
Mixes instantly (you'd think this was a Whey Isolate!)
Ultra-Pure Milk Protein Isolate
100mg Natural Caffeine pr scoop
20g Protein per serving!
Only 3g Carbs/1g Fat per (insanely tasty) serving
PES Select Protein Cafe Series - Iced Mocha ingredients & nutritional information:
Serving Size: 1 Level Scoop (28g)
Servings Per Container: 20
560g Iced Mocha Flavour
Serving Size: 1 Level Scoop
Servings Per Container 20
Amount Per Serving % Daily Value*
Calories 105
Calories From Fat 10
Total Fat 1g 2%
Saturated Fat 0.5g 3%
Cholesterol 30mg 10%
Sodium 200mg 8%
Total Carbohydrate 1g 1%
- Dietary Fiber 0g 0%
- Sugars 2g
Protein 20g 40%
Vitamin A 1%
Vitamin C 0%
Calcium 8%
Iron 0%
* Percent Daily Values are based on a 2,000 calorie diet
** Daily Value not established
Ingredients: Select Protein Blend (MILK Protein Isolate [comprised of casein protein and WHEY [MILK] protein]. WHEY [MILK] Protein Concentrate 80%), Natural and Artificial Flavors, Salt, CoffeeBerry® Coffee Berry Extract (70% caffeine), Guar gum, Sucralose.
Contains MILK and SOY ingredients
3 Ways to Enjoy!
Classic Iced
Mix 1 scoop of Select Café Protein with 150ml of cold water, milk, or milk-substitute. Shake in a shaker cup or stir with a spoon. Pour mixed drink into a cup of ice and enjoy!
Blend it! - Frappé Style
Add 1 scoop of Select Café Protein to a blender with 4 oz of cold water, milk, or milk-substitute, and 1 cup of ice cubes. Blend until desired consistency is reached.
Classic Hot
Prepare 6-8 oz hot water at your desired temperature (Do not use boiling water, as this will cause the product to clump, best results are when water is 185-190°F). Add approximately 1/2 scoop of the Select Cafe Protein to the water and mix with a spoon. Once mixed, add the remaining powder and mix again.