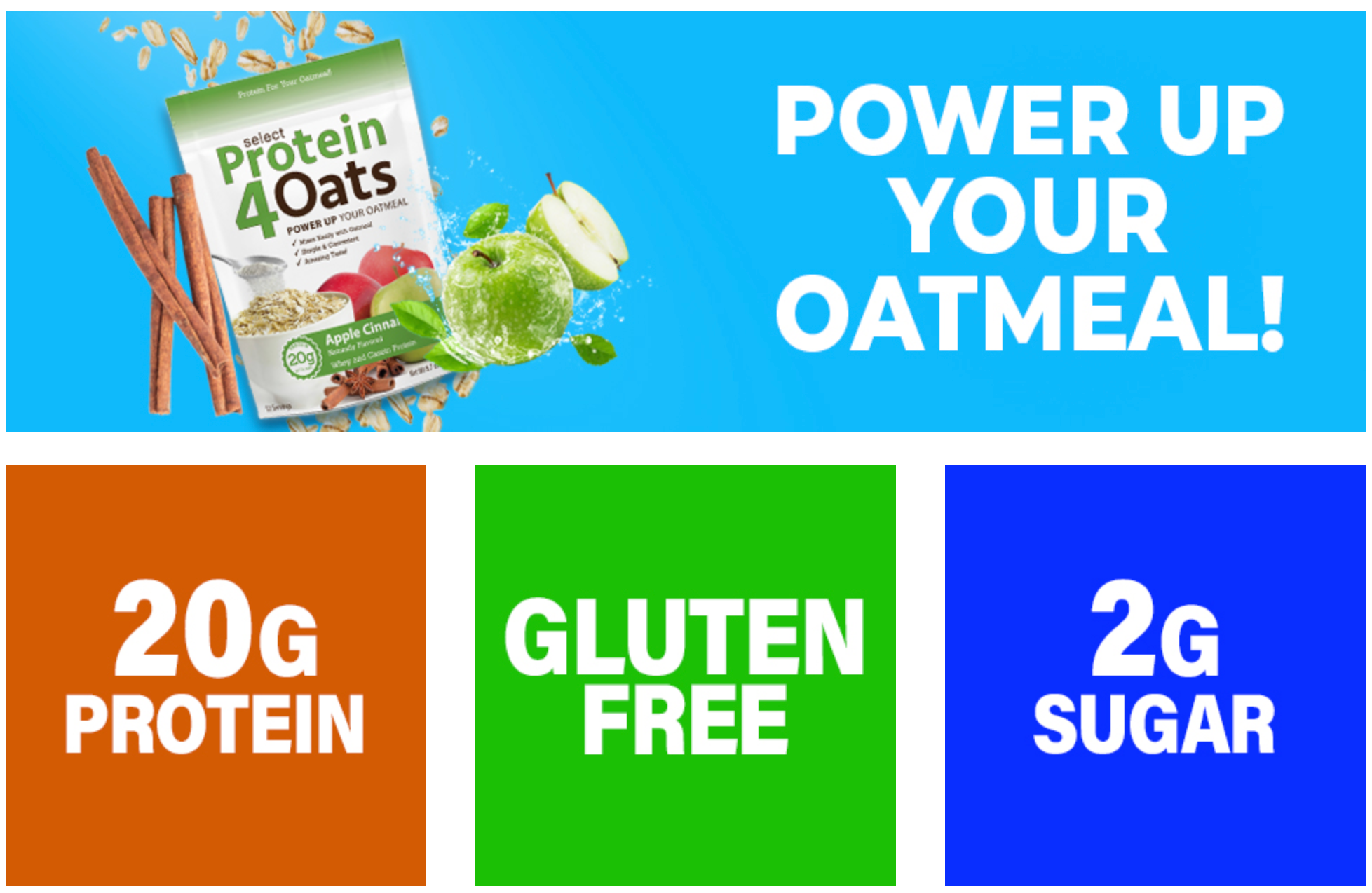 Carefully formulated especially for oatmeal - perfect to power up your oats (the full 'proats'!!)
Brings sweet and satisfying new flavours to the PES Select range
Not just for oats!! Perfect for protein baking, stirring into yogurt or for making a super-sweet shake
Legendary PEScience quality and taste - #SelectTheBest!
Simple, convenient and mixes easily
Superior Whey and Casein blend
Gluten Free
Only 2g sugar
Naturally flavoured
Looking for the best, no fuss way to make your proats? Your search is OVER! PEScience have introduced a brand new formulation of their world-renowned (and our favourite!) Select Protein - and in a drool-worthy Vanilla flavour - designed specifically for mixing into your oatmeal! If you already know (and of course LOVE) PES Select Vanilla Protein....this one is souped up with MORE flavour especially for your oats! Breakfast, post-workout...your favourite whole grain, low-glycemic, slow-digesting, muscle-fuelling carb-fix never tasted so good!!
Everyone knows that oatmeal is great way to start the day...it's quick to make, great value, nutritious, hearty, warming, satisfying, slow-digesting and ideal fuel for either a long day of work or a heavy workout. Alot of love for oats!! BUT...oatmeal and porridge are not exactly high in protein and, on their own, they don't exactly taste that exciting (or exciting at all!) Don't worry!! PEScience have just come up with the (SelectThe)Best way to pump up your boring, bland oatmeal, helping you on your way to a great tasting carb and protein-packed powerhouse!

Hold up a sec...I already add protein to my oatmeal! What's so special about this?!
Ordinary protein powder is designed and flavoured, first and foremost, to be drunk as a shake. Protein4Oats, on the other hand, has been given a food-focused overhaul, tweaking the blend for best texture and mixability, and the flavour boosted to make sure it doesn't get lost in whatever delights you happen to be making or baking (oh, yes...Protein4Oats works a treat for protein baking too!!)
It goes without saying that even the extraordinary PEScience Select is amazing in oats (we enjoy Snickerdoodle or Gourmet Vanilla Select in our proats and in our yogurt on an almost daily basis, and we're sure you do too!) but the PES team are confident they're brought something new to the (breakfast) table here, improving on an already exceptional porridge add-in.
Having tried the entire Protein4Oats range, we can say that PES certainly aren't kidding that they've changed some stuff here!! Without a doubt the new flavours come through loud and proud in bowl of creamy jumbo oats...distinctive, delicious and as sweet as you'd ever want (even WE approve, and to say we 'have a sweet-tooth' is a huge understatement!)
A true game-changer? We'll let you decide!! If nothing else? We can thank PES for 4 out-of-this-world, flavours courtesy of Protein4Oats!! PES don't recommend it but...try your Protein4Oats in a shake! ;) If you like things SUPER-sweet (and we're talking sweet even by PEScience standards!) you're in for a treat! Vanilla Select? Yes, please!!

Ok, i'm sold!! But how do I make my Protein4Oats PES-fuelled Oatmeal? Any tips or tricks?
With Protein4Oats, High Protein Oats (otherwise known as 'PROATS'!) really are as easy as 1, 2, 3!
Make your oatmeal just as you like it (old fashioned jumbo oats, steel cut oats, overnight oats...on the hob, in the microwave, boiling water...it's up to you!!)
Add in your Vanilla Protein4Oats protein powder (Protein4Oats doesn't come with a scoop, a good old 1/4 measure will do the trick...or just over 20g if you've got your trusty kitchen scales handy!!) after the oats are cooked.
Stir and enjoy!! :)
That's it, folks!! Protein Porridge heaven awaits!
PES Select Protein4Oats - Vanilla flavour 269g
Ingredients & nutritional information:
Serving Size: 1/4 Cup (20.5g)
Servings Per Container: 12
Amount Per Serving
Calories 80 Calories from Fat 10
% Daily Value *
Total Fat 1g 2%
Saturated Fat 0 g 0%
Trans Fat 0 g
Cholesterol 15 mg 5%
Sodium 220 mg 14%
Total Carbohydrate 2 g 1%
Dietary Fiber 0 g
Sugars 1 g
Protein 15 g 30%
Ingredients: Select Protein Blend (MILK Protein Isolate [comprised of casein protein and WHEY [MILK] protein], WHEY [MILK] Protein Concentrate 80%), Natural Flavours, Salt, Sucralose, Acesulfame Potassium.
Allergens: Contains PEANUTS, MILK and SOY ingredients.