CARB Max is a high quality, balanced carbohydrate powder. At its core is a specialized Quad Carb blend comprised of fast and sustained-released carbs—waxy maize, maltodextrin, d-glucose, and pea starch. This dual action blend of high-molecular weight and low-molecular weight carbohydrates helps to ensure a steady flow of glucose, allowing them to maintain their anabolic nature.*
CARB Max is designed to decrease muscle catabolism, enhance muscle and liver glycogen resynthesis as well as assist in promoting faster recovery and sparking higher intensity training.* Added electrolytes ensure proper rehydration and replacement of key electrolytes that are lost while training.* Whether you're an endurance athlete or bodybuilder, the addition of carbohydrates during training can help sustain energy levels and assist to maximize overall strength output and athletic performance.* CARB Max is simply a great tasting way to get more out of your workouts.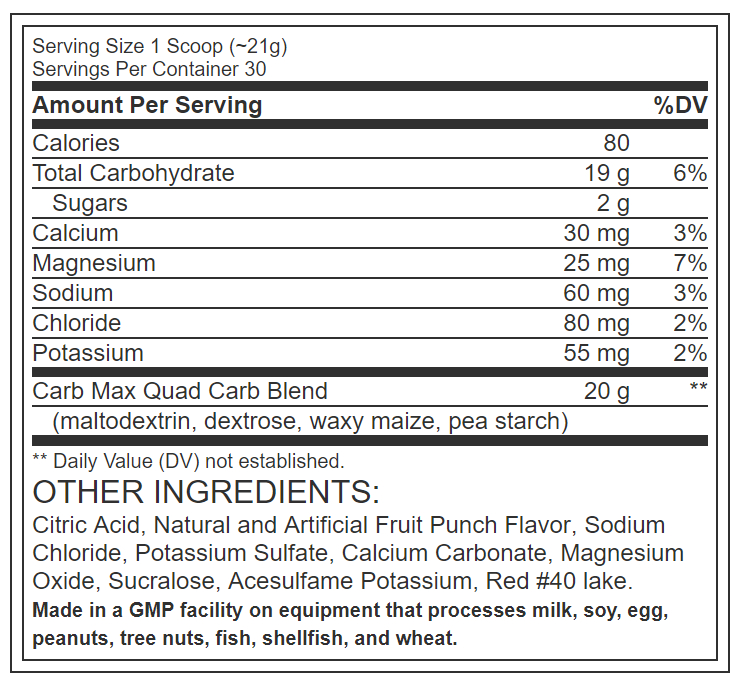 Add 1 scoop to 12 oz of your beverage of choice. For best results use 1 serving prior to training and another serving immediately post-training.