Glycine is one of the 22 amino acids that are vital for our body. It is the second most widespread amino acid present in human enzymes and proteins.
Our body uses glycine in many ways. It plays a role in creating muscle tissue, it helps convert glucose into energy, it is essential to maintain healthy central nervous and digestive systems, and, recently, it has been shown to help prevent cancer.
Glycine helps prevent the breakdown of muscles by boosting the body's levels of creatine. At the same time, glycine helps supply the body with glucose that we need for energy.
Glycine helps regulate blood sugar levels, which means glycine supplementation may be useful for treating symptoms characterized by low energy and fatigue.
Studies have shown dramatic increases in strength and energy levels in athletes that used glycine supplementation, when compared against control groups that took a placebo.
The results of these studies enabled scientists to determine that glycinesupplementation can increase strength by up to 12%, and increase general energyoutput by up to 32%, making this amino acid an extremely valuable element for all those looking to enhance their sports performance.
But glycine is also used in the body to help build DNA and RNA strands, and it is closely associated with the central nervous system and the digestive system.
Glycine works as an inhibitory neurotransmitter in the central nervous system - its main function is to facilitate the transmission of nerve impulses. It also improves memory.
Numerous studies have investigated the benefits of this amino acid in the treatment of several disorders of the central nervous system, such as schizophrenia, hyperactivity, and epilepsy. Researchers discovered that glycinesupplementation can alleviate negative symptoms associated with these conditions.
Understanding how useful this combined physical/mental effect can be for athletes, Prozis Sport developed Glycine, a pure glycine supplement that will bring you all the extraordinary effects of this amino acid.
With nothing but 100% pure glycine powder, Glycine will revolutionize your sportsand mental performance.
Prozis Sport Glycine highlights:
Helps convert protein into muscle tissue

Prevents muscle breakdown

Helps to convert glucose into energy

Boosts brain functions and enhances memory

Helps treat several mental illnesses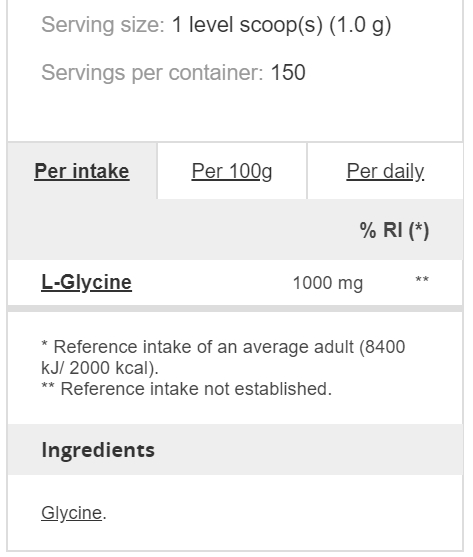 Take 1 serving per day. Mix 1 level scoop (approx. 1 g) with the desired amount of water or your preferred beverage.