Soodus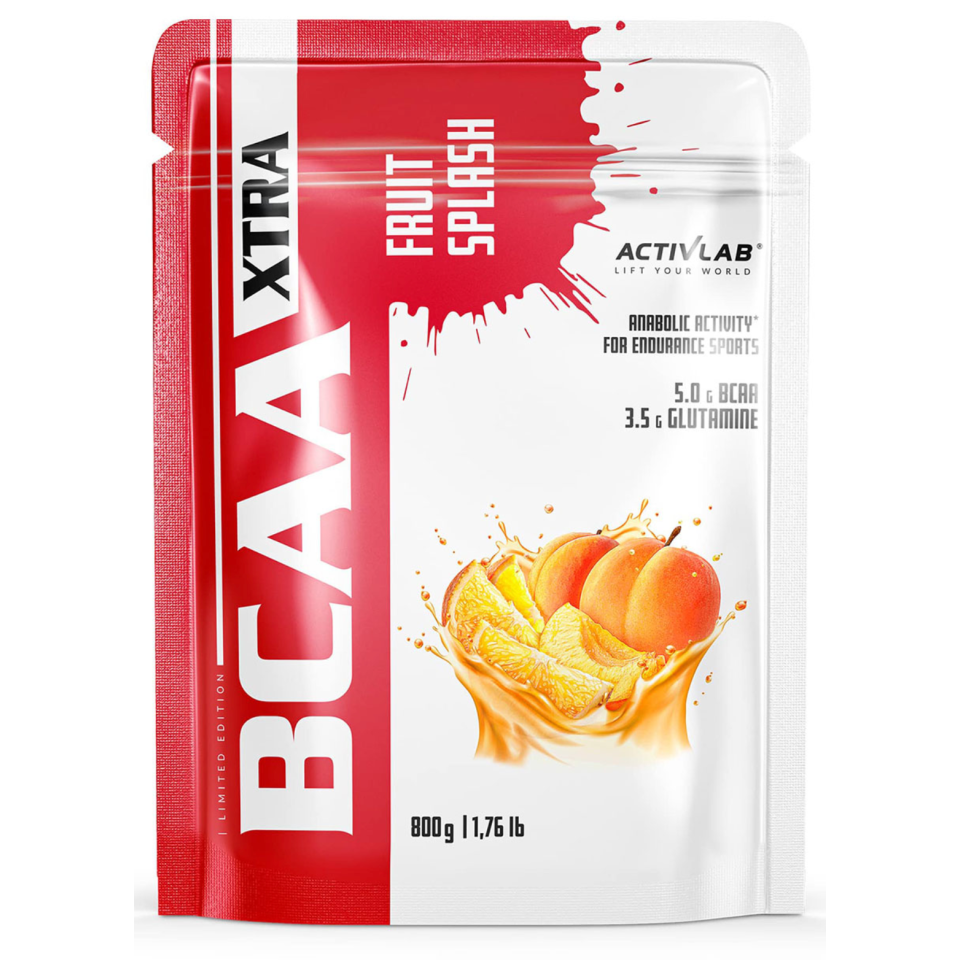 Zoom
A large dose of amino acids in each serving
Delicious flavor
Easy to prepare
One package contains up to 80 servings
The very beneficial effect of BCAAs (branched chain amino acids) on the human body is no longer in doubt. The combination of leucine, valine, isoleucine and glutamine has a very wide range of applications. Thanks to that, representatives of both strength, body and endurance sports eagerly reach for them. Use BCAA Xtra Fruit Splash before training and see how it will improve your exercise capacity!
BCAA Xtra - Extra combination of leucine, isoleucine, valine and glutamine
Dietary supplement from Activlab in its composition contains four active ingredients with great effect. These include leucine, which increases the action of insulin and improves protein synthesis. Another is isoleucine, which is a great source of energy and necessary for the process of protein synthesis.
The third but no less important ingredient is valine, another essential amino acid. It is used for energy purposes in the period of increased activity and increased stress. Also, valine, like the other ingredients mentioned above, is essential during protein synthesis.
People who are physically active are especially eager to use glutamine because it builds proteins. In addition, it is an excellent source of fuel needed by the body to exercise. Regular use of a supplement, such as BCAA Xtra, allows you to stay active for longer.
Branched Amino Acids at the service of your results
If you want to build lean muscle mass, you know that it is a very complicated process. It consists of your activity, diet, and supplements you use. The right combination of all of the above ingredients will make this process faster and more effective.
In these circumstances, it is essential to use branched chain amino acids and glutamine, which you will find in BCAA Fruit Splash. The ingredients of this supplement have an anabolic effect promoting the development of muscle mass and prevent their breakdown. They come in a convenient and tasty powder form that you can take with you and eat anywhere.
Pure shopping pleasure
We are a company that has been selling dietary supplements and nutrients for many years. We constantly take care to meet the expectations of even the most demanding customers. Therefore, we have a constantly expanding range in which everyone will find something for themselves. We also offer the option of placing an order by phone, during which our consultant will help you choose the best possible product.
Portion: 10g
Servings in the package: 80
Packaging: 800g
BCAA Xtra ingredients: L-glutamine, L-leucine, L-valine, L-isoleucine, acidity regulator - citric acid, flavor, concentrated orange juice powder 0.1% (orange flavor), concentrated lemon juice powder 0.1 % (lemon flavor), concentrated grapefruit juice powder 0.1% (grapefruit flavor), concentrated strawberry juice powder 0.1% (strawberry flavor), sweeteners: acesulfame K and sucralose, colors: quinoline yellow (lemon flavor, orange, pears), sunset yellow (grapefruit, orange, kiwi), cochineal red (grapefruit, cherry, black currant, blueberry, strawberry) - may have a detrimental effect on activity and attention in children.
This product is not intended to diagnose, treat, cure, or prevent any disease
Active ingredients 10g 20g
L-leucine 2.5g 5g
L-isoleucine 1.25 g 2.5 g
L-valine 1.25g 2.5g
L-glutamine 3.5g 7g
*** The nutritional values in the table may slightly vary depending on the batch. The website is constantly updated, but it happens that we have several batches of the product in stock.
** Reference intake value for an average adult (8400 kJ / 2000 kcal)
* Ingredients, grammage and nutritional values may slightly differ depending on the flavor variant of the product.
How to use BCAA Xtra: dissolve 1 serving - 10g (1 scoop) by shaking it in a water bottle with 250 ml of water. On training days: 1 serving of 10g approximately 30 minutes before training and 1 serving of 10g after training. On non-training days: one serving of 10g approximately 30 minutes before a meal. The package includes a measuring cup.
Dietary supplements cannot be used as a substitute for a varied diet. Remember that only a healthy lifestyle and a balanced diet ensure the proper functioning of the body and maintain good condition.
Do not exceed recommended servings for consumption during the day. The product cannot be used by people who are allergic to any of its ingredients. Keep out of the reach of small children. Store in a dry place at room temperature in tightly closed containers.
Best before end: date and batch number are on the side / bottom of the packaging.