Soodus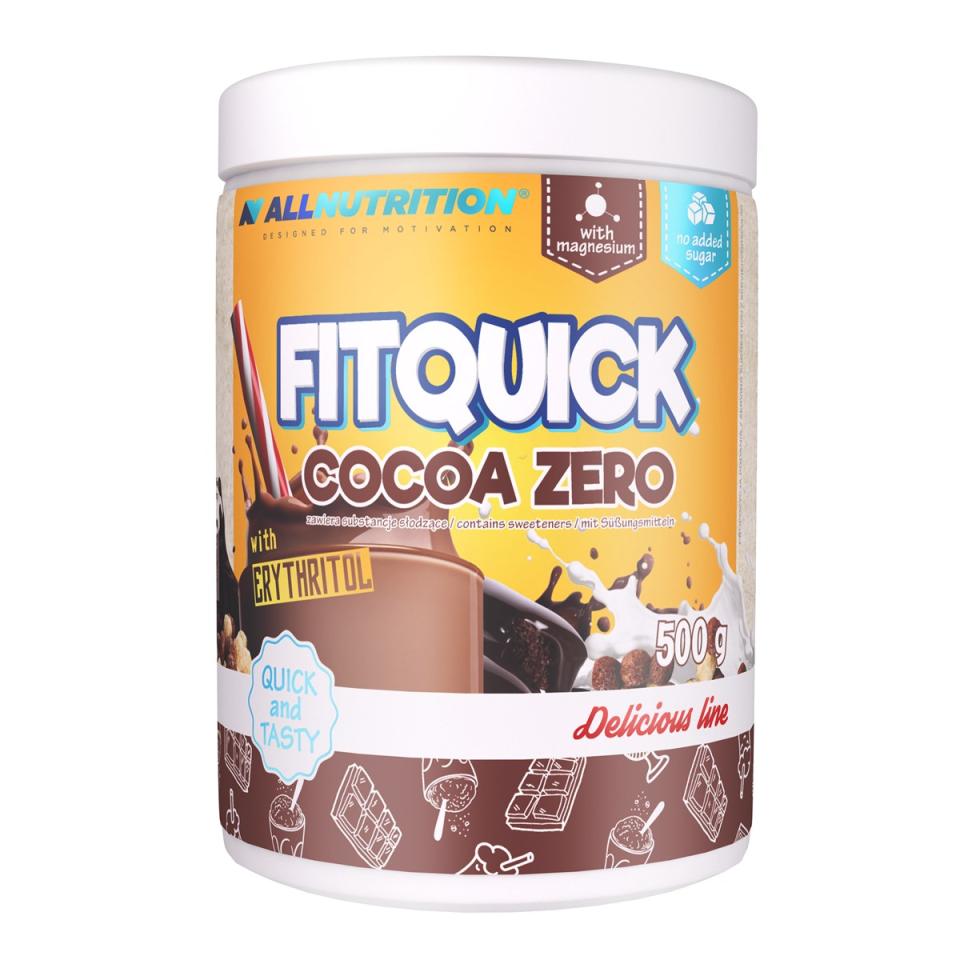 Zoom
Fitquick Cocoa Zero is a cocoa powder enriched with magnesium, without the addition of sugars.
Cocoa is nothing but powdered seeds of cocoa fruit, a tree growing wild in the equatorial forests of northern South America and Central America. The high content of some minerals and substances in cocoa means that it has a number of health properties.
an excellent substitute for sweet cocoa
only 60kcal per serving!
can be made with water or milk, hot or cold
does not contain added sugar - sweetened with erythritol
perfect cocoa drink enriched with a portion of magnesium
taste of childhood
quick and easy preparation
Cocoa contains a large dose of theobromine and caffeine. Theobromine stimulates and improves concentration, but unlike caffeine, it does not increase pressure and does not cause irregular heart rhythm.
Cocoa beans are rich in flavonoids (procyanides, catechins, epicatechins), which reduce the amount of free radicals in the body, they are responsible for the development of cancer and cardiovascular disease. It has a rich source of tryptophan, which is used by the brain to produce a good mood neurotransmitter. It works anti-depressant, puts us in a state of bliss, acts a bit on a sleeping pill. Therefore, despite the caffeine content, it is recommended to consume cocoa before bedtime.
Fitquick Cocoa Zero has been enriched with magnesium, which helps maintain electrolyte balance and the proper functioning of the nervous system and muscles. Magnesium helps in the proper synthesis of protein and maintaining normal psychological functions and healthy bones and teeth. In addition, it plays a role in the process of cell division and helps to reduce tiredness and fatigue.
Net weight: 0.5 kg
Ingredients: erythritol sweetener, reduced fat cocoa powder (29%), whole milk powder, natural aromas, magnesium (magnesium hydroxide), natural aroma [contains milk], sucralose sweetener.
Allergens: milk; may contain soy, eggs, nuts, peanuts, cereals containing gluten and derived products.
Nutritional values in 100g after preparation: energy value 1252kJ / 299kcal, fats 7.9g (including saturated fatty acids 4.8g), carbohydrates 60g (including sugars 8.2g), fiber 9.3g, protein 12g, salt 0, 2g, magnesium 373mg (99% RWS)
Manufacturer: Made in EU for SFD S.A. ul. Głogowska 23C, 45-315 Opole
Preparation: Pour one portion 20 g (2 tablespoons) into a shaker with 150 ml hot water or milk, mix thoroughly.