Laost otsas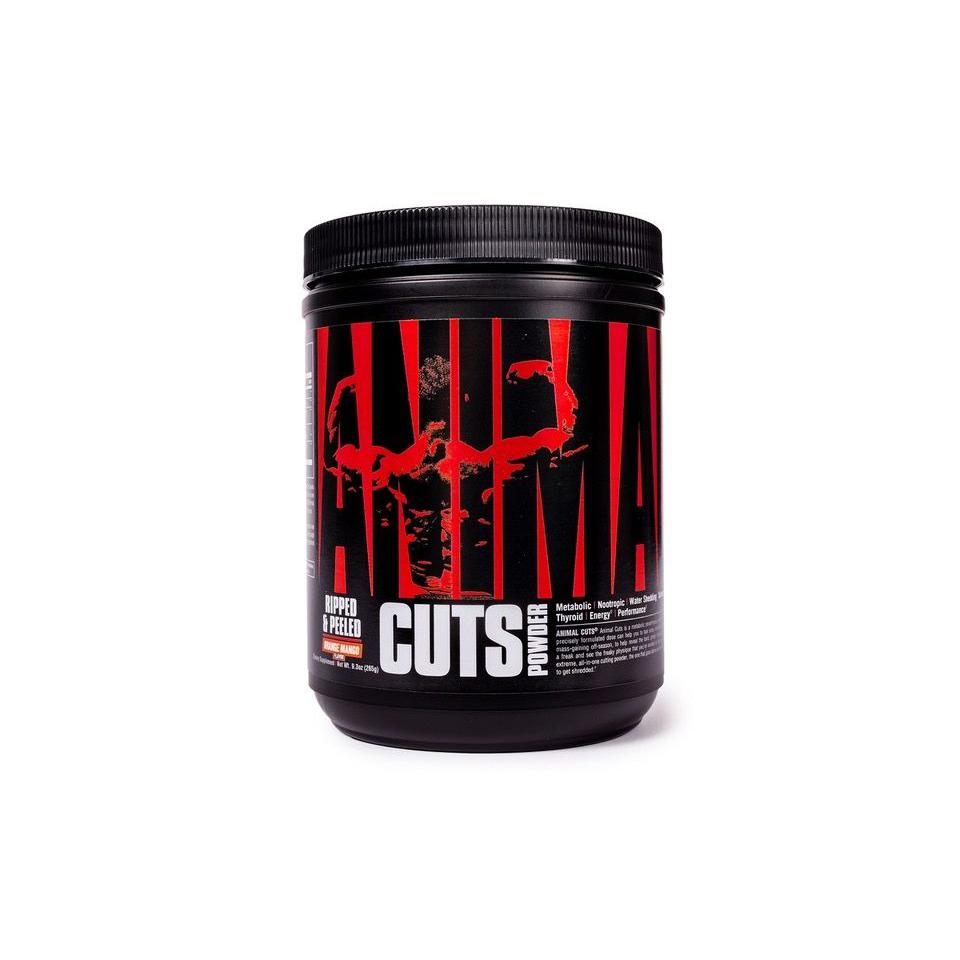 Zoom
a complex fat burner
contains 19 substances in 3 active complexes with different functions
comes in the form of a well soluble powder
contains caffeine, carnitine and a blend of 8 herbal ingredients
well absorbed and has a refreshing taste
warms up and boosts up for training
works best in relation to sports activity
helps burn a little more calories at rest and during training
Animal Cuts Powder is a functional and complex fat burner with thermogenic function in the form of a well-soluble powder. It contains carefully selected ingredients, each with its own function. This innovative fat burner is designed to speed up metabolism, help the body to get rid of excess water and support cognitive function. This gives you a unique product, which is the younger brother of the popular Animal Cuts fat burner in the form of practical sachets. The core of Animal Cuts Powder consists of three basic complexes in the form of Metabolic and Stimulant Complex, Nootropic and Thyroid Complex and Water Shedding Complex with different target functions.
Metabolic and Stimulant Complex contains the popular stimulant and fat burner in the form of caffeine, which also provides both mental and physical stimulus before any activity requiring maximum performance and concentration. The complex also contains another popular fat burner in the form of l-carnitine in two innovative forms. Their main task is to ensure the transfer of fatty acids (fat) to the cells, where they are burned into the energy that the body uses to cover its energy needs. In addition, this functional complex contains 6 plant extracts, including extracts from green, black, white and Oolong tea leaves, coffee bean extract as well as the Coleus forskohlii root extract, which belongs among very promising substances to support fat metabolism.
Nootropic and Thyroid Complex aims to enhance cognitive function and increase the motivation to exercise. The complex thus contains a number of active substances in the form of two forms of tyrosine, taurine, choline bitartrate, phosphatidylserine and huperzine A. The amino acid l-tyrosine is the starting material for many neurotransmitters including adrenaline and dopamine, but also participates in thyroid hormones production. Furthermore, taurine can be found, for example, in the brain or muscles and is also needed for processes taking place in the nervous system, thanks to which it is also a frequent ingredient of energy drinks, pre-workouts and fat burners. Last but not least, phosphatidylserine is a major component of cell membranes and is abundant in the brain and nervous tissue, where it performs a number of important functions. In addition, choline bitartrate is a source of choline, which is the building block of the neurotransmitter acetylcholine. The latter is the main transmitter of signals in the form of nerve impulses to the neuromuscular junctions and the brain. This is especially important for athletes.
The last unit is the Water Shedding Complex, which aims to break down excess water from the body. It contains powder from dandelion root (Taraxacum) and Uva Ursi leaves.
Animal Cuts Powder is thus suitable for all people who are trying to lose weight or even get more shredded for a competition. However, it works best combined with physical activity. It is well soluble in any beverage, tastes good, and is also easily absorbed. It is suitable for both men and women.
Serving Information

Container Size 248 g
Serving Size
1 Rounded Scoop
Servings Per Container 42
Amounts Per Serving
Choline (as bitartrate): 185 mg
Metabolic and Stimulant Complex
Carnitine Cutting Blend: 1500 mg
Acetyl L-Carnitine: 750 mg
L-Carnitine Tartrate: 750 mg
Caffeine: 200 mg
Metabolic Herbal Extract Blend [green tea leaf extract, oolong tea leaf extract, black tea leaf extract (polyphenols) (Camellia sinensis), coffee bean extract (polyphenols), white tea leaf extract, Coleus forskohlii root extract]: 150 mg
Nootropic Complex
Tyrosine Focus Blend: 1000 mg
N-Acetyl-L-Tyrosine: 500 mg
L-Tyrosine: 500 mg
L-Taurine: 1000 mg
Choline Bitartrate: 500 mg
Phosphatidylserine (SerinAid): 50 mg
Huperzine A [Huperzia serrata extract (whole grass)]: 100 mcg
Water Shedding Complex
Dandelion Root Powder: 100 mg
Uva Ursi Leaf Powder: 100 mg
Other Ingredients
Based on Ice Pop Flavour
Blue ice Pop:
Citric Acid, Inulin, Natural and Artificial Flavours Blue Ice Pop, Malic Acid, Silicon Dioxide, Calcium Silicate, Sucralose, Acesulfame Potassium, Blue# 1 Lake (contains soy)
Mango Orange:
Citric Acid, Natural and Artificial Peach and Orange Flavours, Calcium Silicate, Silicon Dioxide, Malic Acid, Sucralose, Potassium Acesulfame, Yellow # 5 Lake, Yellow # 6 Lake
Take 1 serving upon waking and another serving 4-6 hours later.
Each serving should be taken on an empty stomach just piror to a meal and stay well hydrated while on the product.
Follow 3 weeks on, 1 week off cycle.
After the week off, you can run it again.
For optimal results, be sure to combine with a proper cutting diet.