Laost otsas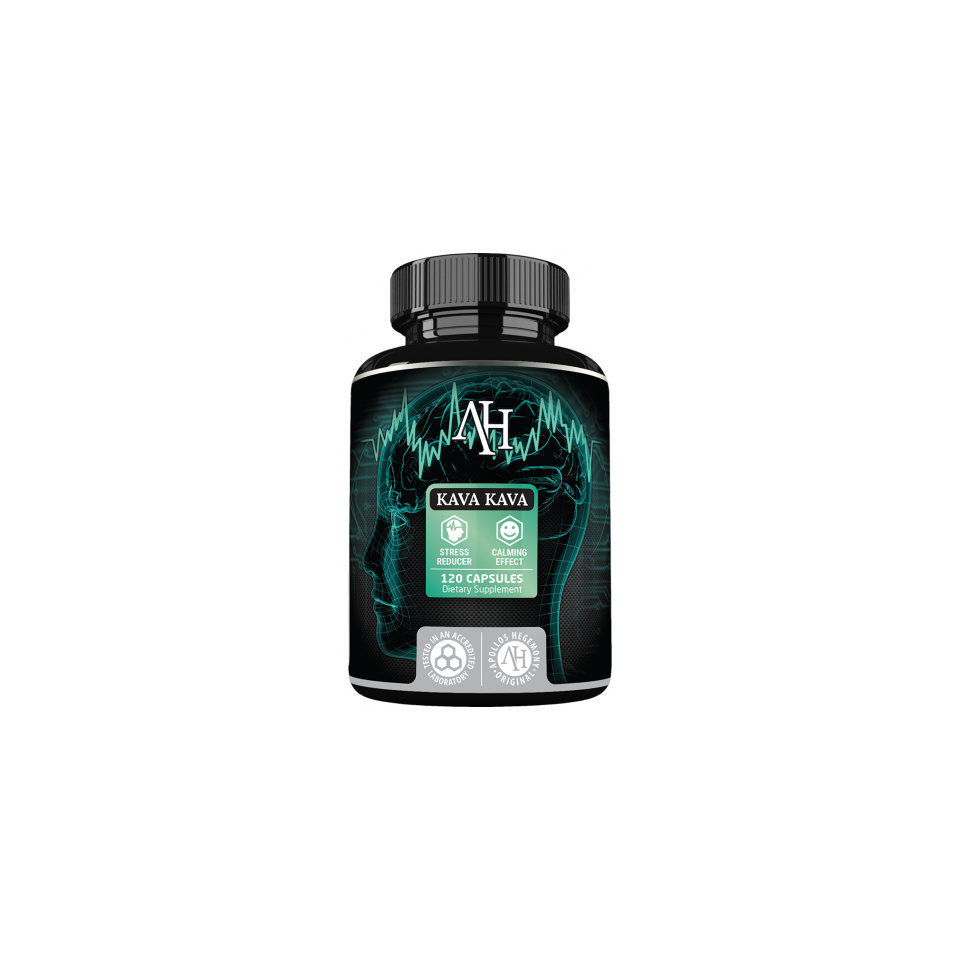 Zoom
Natural calming effect
Reduction of mental tension
Support for cognitive functions
Relief of anxiety
Analgesic properties
Emotional balance
Clear mind and relaxation
Facilitates falling asleep
Apollo's Hegemony Kava kava is a dietary supplement containing a standardized extract from kava kava – plants with proven anxiolytic, calming, and sleep-conducive effects.
Kava kava, or intoxicating pepper (Piper methysticum), is a species of shrub growing in a tropical climate. Kava kava used to be traditionally consumed in the form of a brew with a specific taste during meetings and ceremonies due to its relaxing effect. It was also widely used for medicinal purposes. Currently, thanks to its unique properties, the plant has also gained interest within the world of science.
Characteristic active compounds and mechanism of action
The main active compounds of piper methysticum are the kavalactones present in the roots of the plant, amongst which there are metisticin, kavain, yangonin, and their dihydro derivatives. The kavalactones show primarily anxiolytic, sedative, and relaxing effects.
The mechanism of action of kava kava has not been yet clearly explained. So far, it has been possible to establish the affinity of kavalactones for GABA-A receptors and their ability to reversibly inhibit the activity of monoamine oxidase B (MAO-B). Kava kava is also believed to have an effect on noradrenaline reuptake.
Natural help in anxiety
Kava kava helps to relieve the symptoms of panic attacks, such as palpitations, irritability, or tension pain. In studies with the participation of patients suffering from anxiety disorders, it was shown that kava kava exhibits anxiolytic activity. The Hamilton scale (HAM-A) showed the improvement and stabilization of the emotional state, as well the increase of concentration of the subjects. Importantly, kava kava reduced anxiety without adversely affecting cognitive functions; it was well-tolerated and did not cause addiction.
Facilitation of falling asleep
Research with the participation of kava kava showed that it was an effective agent in facilitating falling asleep. The plant is especially helpful in sleep disorders caused by fatigue of the body. In animal studies, it was proven that kava kava also improves sleep quality – there was a positive effect of the plant extract on the activity of delta waves during the NREM phase of sleep. Another advantage of kava kava as a facilitator of falling asleep is that it does not cause tolerance and the so-called rebound effect, that is the withdrawal insomnia, characteristic of many sleeping drugs.
Other properties and applications of kava kava
In addition to relieving nervous tension and insomnia, kava kava has a number of other properties. It shows diastolic, antibacterial, and diuretic effects, thanks to which it is helpful in ailments of the urinary tract. Kava kava relieves the symptoms of menopause, including hot flushes and mood swings. In addition, the active ingredients of the plant have an analgesic and anticonvulsive effect.
In summary, Apollo's Hegemony Kava Kava is a preparation containing plant raw material being a valuable alternative to other sedatives and facilitating coping with excessive stress. The product is recommended especially for the relief of emotional tension, adjuvant in neurotic conditions, problems with falling asleep, as well as in inflammations and infections of the urinary system and to relieve the symptoms of menopause.
Container size: 120 capsules
Serving size: 1 capsule
Servings per container: 120
| per 1 capsule | amount | %DV |
| --- | --- | --- |
| Kava kava extract (Piper methysticum) (30% kavalactones) | 250 mg | * |
Other ingrednients
Microcrystalline cellulose, rice flour, capsule shell.
Take 1 capsule 1 to 3 times daily, with a meal.
RECOMMENDATIONS OF iFit
It is best to take the preparation before bedtime. Do not use for more than 4 weeks.
In order to increase resistance to stress, it is also worth enriching your diet with B vitamins, magnesium, and calcium, and to ensure sleep hygiene.
If you are taking any medicines, consult your doctor before the use of the supplement. Avoid drinking alcohol while supplementing kava kava. The product must not be used in children.