Laost otsas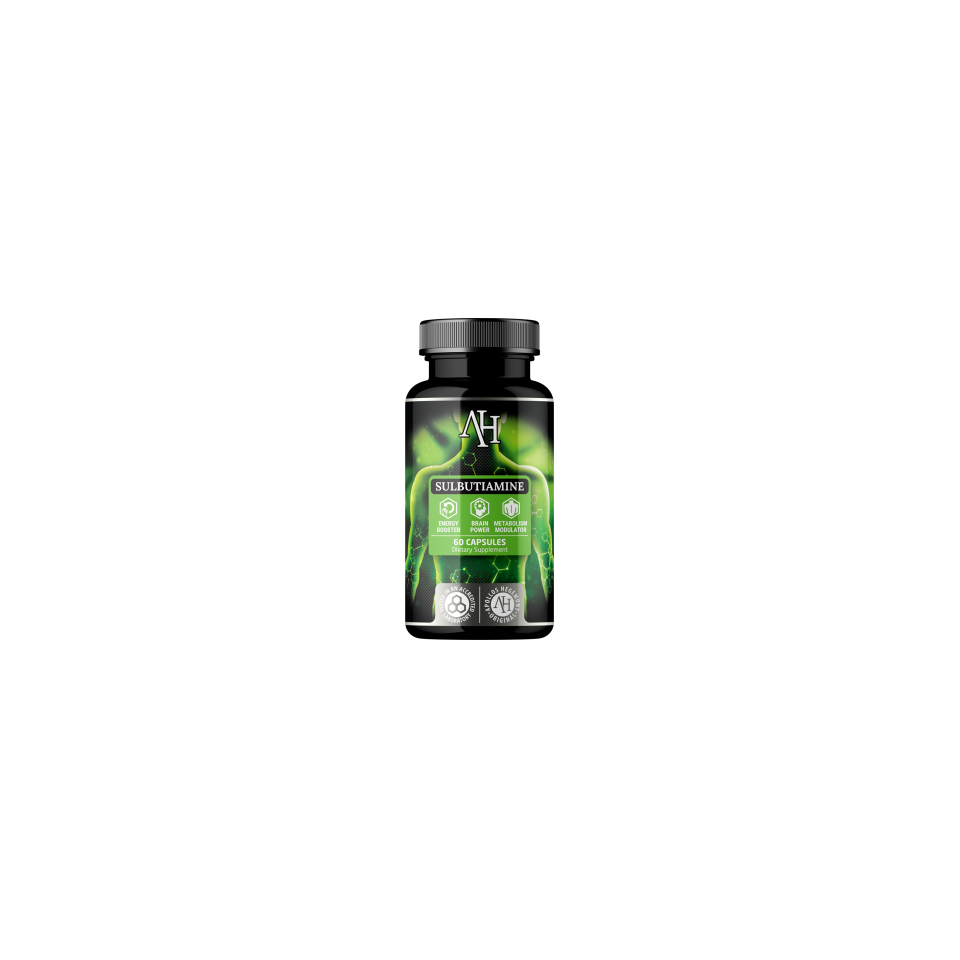 Zoom
Stimulates metabolism in central nervous system
Boosts energy and eliminates fatigue
Improves regeneration and performance
Helps with psychogenic sexual disorders
Increases confidence and enhances interpersonal skills
Crosses blood-brain barrier quickly and easily
Apollo's Hegemony Sulbutiamine is an innovative dietary supplement containing thiamine in a specially designed and extremely efficient form of sulbutiamine, characterised by higher assimilability and an increased ability to cross the blood-brain barrier, which has been confirmed by research. The preparation reduces the symptoms of chronic fatigue, enhances psychomotor functions, eliminates the feeling of fear and shyness, as well as supports the battle against erectile dysfunctions.
Sulbutiamine is a synthetic derivative of thiamine (vitamin B1). The substance consists of two modified thiamine molecules and has the ability to cross the blood-brain barrier. Sulbutiamine is used most often in the case of asthenia, that is chronic physical and mental fatigue; however, it can also be used for erectile dysfunctions and for enhancing memory and concentration.
History of sulbutiamine
Sulbutiamine was probably discovered in 1973 in Japan. Until the 20th century, both in Japan and other Asian countries there was high incidence of beriberi – a disease caused by vitamin B1 deficiency. It was caused by their homogeneous diet whose main ingredient was rice.
Therefore, the motivation to create sulbutiamine was the need to find a substance characterised by greater activity than vitamin B1 and better pharmacokinetic properties – higher assimilability and reduced excretion from the organism.
Thiamine deficiency consequences
As mentioned before, chronic thiamine deficiencies can lead to beriberi, a disease that manifests itself through, for example, cardiovascular system disorders, arterial hypertension, muscular dystrophy, swellings, loss of appetite, and weight loss.
Mild thiamine deficiency, on the other hand, can be noticed in the feeling of fatigue, concentration problems, irritability, low mood. Thiamine deficiencies can be correlated not only with improper diet, but also with excessive alcohol drinking, distorted reabsorption in the kidneys, or the use of diuretics.
How does sulbutiamine work?
The exact mechanism of sulbutiamine's activity has not been fully discovered yet. What we do know is that the substance is highly fat-soluble, thanks to which it permeates to the brain from the blood very quickly (much easier than vitamin B1); that way it efficiently supports the functioning of the nervous system and helps to increase thiamine levels and thiamine phosphate ester levels.
The activity of sulbutiamine consists mainly in its nootropic properties: the substance helps to regulate metabolism in the central nervous system, which results in the stimulation of many mental processes, such as consciousness and memory. Above all, sulbutiamine increases the activity of the glutamatergic and cholinergic systems, especially in those parts of the brain responsible for memory and attention – in the hippocampus and the prefrontal cortex.
Sulbutiamine also has a beneficial effects on other cognitive functions, boosts energy, enhances regeneration, increases tolerance to physical effort, and has anxiolytic and antidepressant effects.
Aid in asthenia treatment
Asthenia is the sensation of reduced fitness, both physical and mental, characterised by constant tiredness and increased fatigue, even resulting from little effort. Asthenia often occurs in the process of neoplastic diseases and as a result of their treatment but not only – it can also occur in the case of chronic stress, malnutrition, depression and chronic fatigue syndrome. There is also post-infectious asthenia distinguished which occurs, for example, in the period of convalescence, after an infectious disease and as a result of mononucleosis, hepatitis or brucellosis.
There are scientific reports saying that sulbutiamine can prove efficient in alleviating the symptoms of asthenia, particularly those stemming from an infectious disease or serious injuries.
Better memory and concentration
Sulbutiamine helps to improve memory by, for example, enhancing information transmission in the cholinergic, dopaminergic and glutamatergic systems. Scientific studies have demonstrated that the substance increases the ability to remember things in people struggling with the early, moderate stage of Alzheimer's disease who simultaneously use acetylcholinesterase inhibitors; moreover, it reduces the risk of amnesia during treatment with the drug dizocilpine and improves memory in schizophrenic people.
Fighting erectile disorders
Sulbutiamine is believed to be efficient in erectile disorder treatment. It has been observed that taking the substance for 30 days helps to improve erection in men with psychogenic impotence, both when caused by temporal states of emotional tension and by serious personality disorders.
Container size: 60 capsules

Serving size: 1 capsule

Servings per container: 60
| per 1 capsule | amount | %DV |
| --- | --- | --- |
| Thiamin (as sulbutiamine) | 300 mg | - |
Other ingrednients
Microcrystalline cellulose, Rice flour, Capsule shell.
According to research, the best dosage is 300-600 mg (1-2 capsules) a day. It is unadvisable to exceed the dose of 900 mg (3 capsules) a day.
RECOMMENDATIONS OF iFit
The recommended daily dosage of sulbutiamine is about 200-600 mg. As sulbutiamine is a fat-soluble substance, it is best to take it with a high-fat meal.
The preparation should not be used for a long time – only short duration of supplementation will guarantee the best results in the form of enhanced nervous system functions and prevent the organism from developing resistance to the product's activity.