Uus toode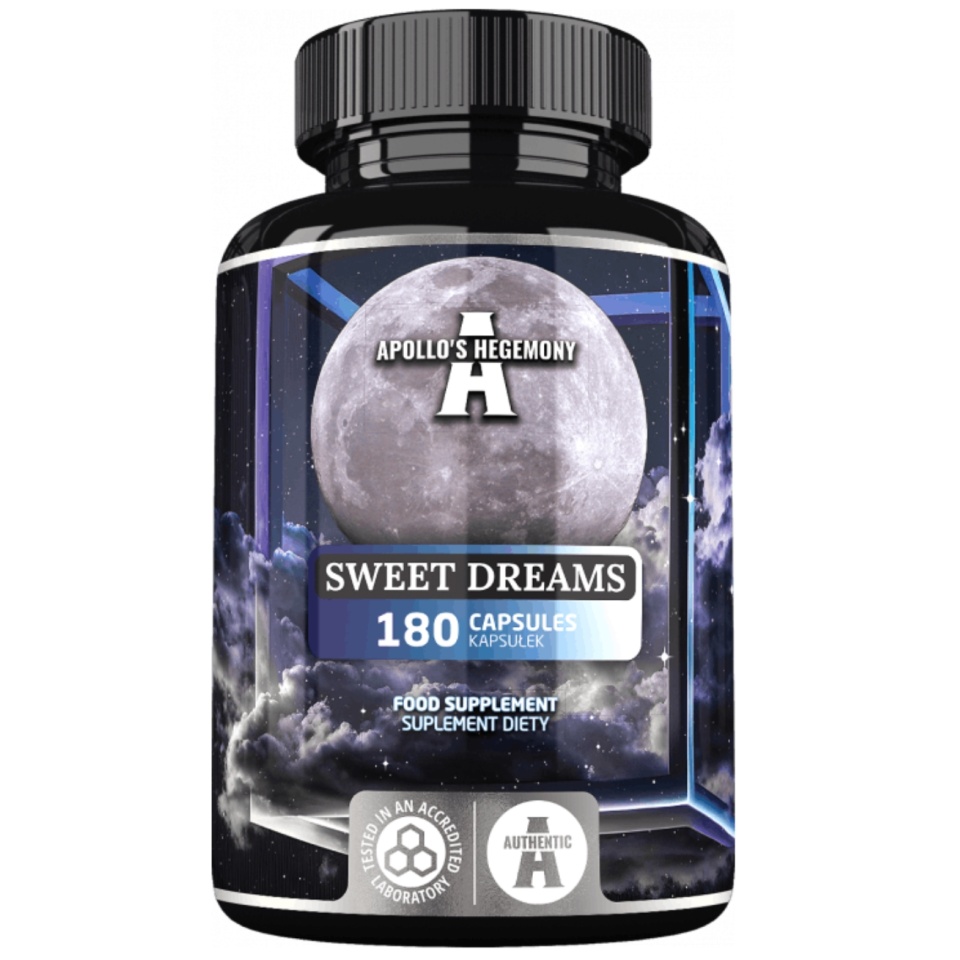 Zoom
Up to 60 days of supplementation!
Helps you fall asleep quickly
Three effective herbal extracts
Amino acid complex
Contains melatonin
Magnesium and vitamin B6
AH Sweet Dreams is a complex of as many as 9 ingredients that shortens the time needed to fall asleep and helps maintain natural sleep. Contains plant extracts, amino acids, magnesium with vitamin B6 and melatonin.
Extracts of 3 plants with a known effect on sleep and well-being
• Valerian - extracts of valerian in various forms have been used in Europe for centuries. Valerian can accelerate falling asleep and helps maintain natural sleep.
• Ashwagandha – this is one of the most popular adaptogenic plants, ie those that help the body to better tolerate stress. It has a long tradition of use in Ayurveda, the Indian folk health system. It contributes to optimal relaxation. Ashwagandha used before bedtime supports relaxation, mental and physical well-being. It contributes to maintaining emotional balance and improving general well-being.
• Saffron - you can associate it with an intensely red spice with a unique aroma. However, saffron is as valuable in health-promoting supplementation as it is in culinary art. Saffron helps to relax and maintain a positive mood and emotional balance.
Composition of 3 amino acids for comprehensive action
• Tryptophan - this protein amino acid is a precursor to the construction of serotonin, the strongest hormone of happiness. Serotonin is converted in the body to melatonin, the so-called sleep hormone.
• Glycine - In the human body, glycine acts as an inhibitory neurotransmitter.
• Theanine – an amino acid naturally found in green tea. Theanine easily crosses the blood-brain barrier. It is often used to facilitate physical and mental relaxation.
Combination of magnesium and vitamin B6
Supplementing with magnesium and vitamin B6 helps to maintain the proper functioning of the nervous system and psychological functions. Their optimal level also allows you to reduce the feeling of tiredness and fatigue. In supplementation, they are often used in pairs, due to the potential synergistic effect.
Reliable melatonin
Melatonin is a sleep hormone naturally produced in the brain and an extremely effective dietary supplement that helps to reduce the time needed to fall asleep. Insufficient availability of melatonin caused, for example, by too late consumption of caffeine or exposure to bright light can make it difficult to fall asleep.
To sum up, AH Sweet Dreams is an extremely versatile and effective dietary supplement supporting optimal sleep. The ingredients contained in it help to relax and fall asleep quickly.
DIRECTIONS FOR USE
3 capsules of the product with 200 ml of water. Consume once a day about 30 minutes before bedtime.