A unique composition of testosterone boosters
Support for muscle mass development
Increased libido and sexual performance
Support for anabolic processes
Anti-estrogen activity
Ideal as a PCT agent
Stress reduction
Apollo's Hegemony Terminator is a dietary supplement containing an innovative combination of substances whose purpose is to support testosterone production in the body and normalize the hormonal balance of men. The substances and extracts contained in the preparation act synergistically through multidirectional mechanisms.
Excessive aromatase activity leads to an increase in the level of estrogens, which adversely affect body composition in men. Such the condition promotes the accumulation of adipose tissue around the hips and chest (gynecomastia), hinders the development of muscle mass and negatively affects sexual function.
By inhibiting aromatase activity, arimistane contributes to the reduction of testosterone conversion to estrogens, thus protecting against decreasing testosterone levels and the consequences of excess estrogens.
Testo Matrix
A complex of natural, standardized extracts that effectively supports the hormonal balance of men. The optimal testosterone levels are key for, among others, building and maintaining muscle mass, proper body regeneration, libido and sexual performance, as well as psychological functions. Caltrop (Tribulus terrestris) and Tongkat Ali (Eurycoma longifolia) are considered natural, plant testosterone boosters. Maca (Lepidium meyenii) shows adaptogenic, anti-stress, and toning properties.
Horny goat weed is a group of plants belonging to the Epimedium family, whose area of activity focuses mainly on the promotion of sexual function. Icariin has a similar mechanism of action to sildenafil – it inhibits phosphodiesterase type 5, leading to an increase in the level of vasodilatory nitric oxide and an increase in blood supply to the cavernous bodies of the penis.
PCT & Life Support
Resveratrol and ginger (Zingiber officinale) show strong antioxidant and anti-inflammatory activity, helping to protect the body against the harmful effects of free radicals and oxidative stress. They can also have a beneficial effect on the lipid profile. Therefore, they are perfect as part of PCT (Post Cycle Therapy), to support the body after the cycle.
Boron, a trace element that shows a reducing effect on SHBG sex hormone-binding protein activity, will also be helpful. It will contribute to the increase of free testosterone levels after completion of the cycle.
Vitamin D3, a popular "solar vitamin", which is crucial for proper calcium and phosphate metabolism and optimal bone mineralization. Therefore, it supports the proper functions of the locomotor system and physical efficiency.
To sum up, Apollo's Hegemony Terminator is an advanced, synergistic combination of ingredients with pro-testosterone properties, which support hormonal balance in men, attractive body composition, sexual performance, physical performance, and maintaining a high level of energy and vitality.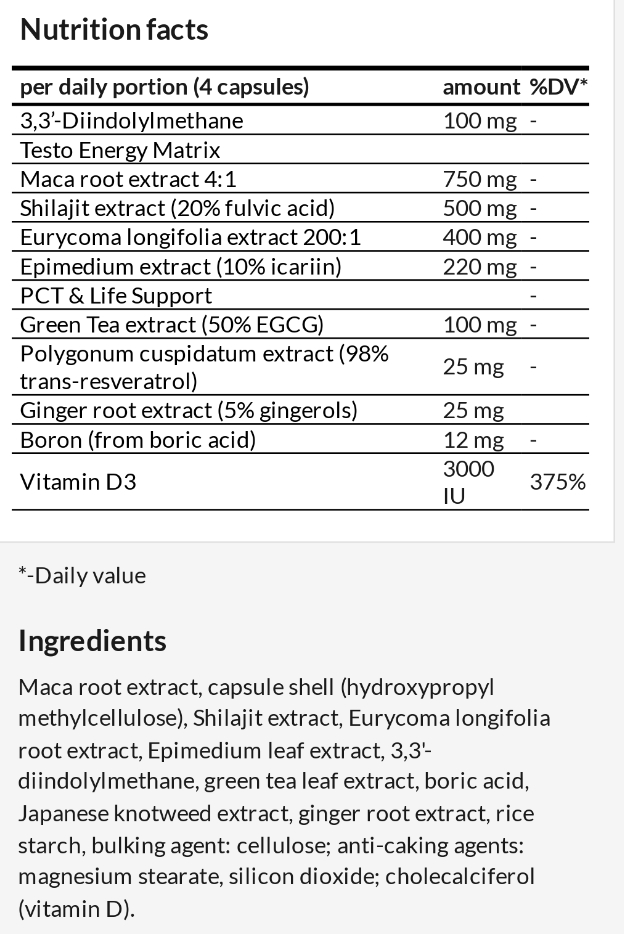 Take 4 capsules daily, with or without food.
Due to the wide spectrum of action, it supports the male hormonal balance after the cycle and thus may be successfully used as part of PCT therapy.
For the best regeneration of the body, in addition to proper supplementation, you should also consider other aspects, above all, a healthy diet, sleep and relieving stress factors.
Do not exceed the recommended portion.