Uus toode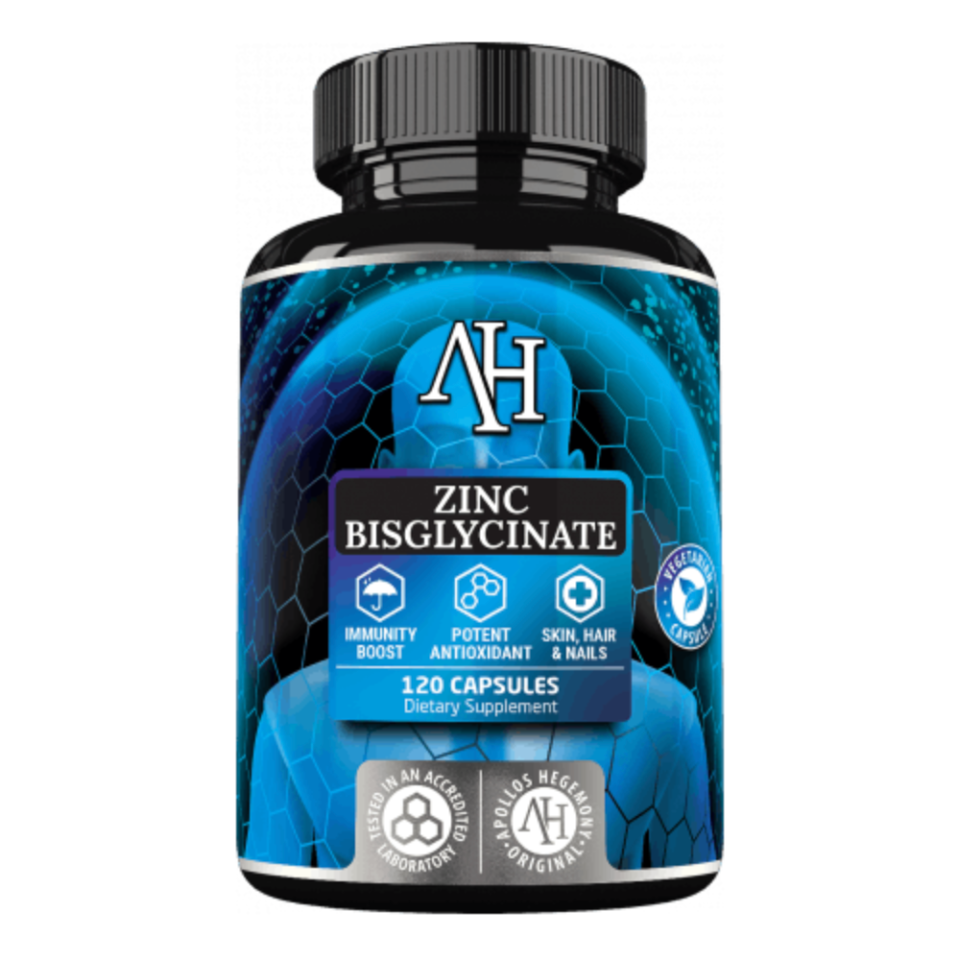 Zoom
Zinc in a highly bioavailable and easily absorbed form
High dose (30 mg of zinc ions) in one capsule
Protects cells against oxidative stress
It helps to maintain healthy skin, hair and nails
Helps to keep bones healthy
Apollo's Hegemony Zinc Bisglycinate is a dietary supplement which includes zinc in an easily absorbed and highly bioavailable form. Each capsule contains a high dose, as much as 30 mg of zinc ions in the form of 108 mg of zinc bisglycinate.
Zinc is a micronutrient considered essential for the proper functioning of the human body. It plays an important role in many biological processes, it is a component of more than 200 different enzymes and is involved in the metabolism of proteins, lipids and carbohydrates. The largest amounts of it accumulate human bones, muscles, skin and brain.
Zinc is an important element of the body's antioxidant system. It has antioxidant properties and actively participates in the removal of free radicals and reducing their negative activity. It can protect cell membranes from peroxidation, it also allows to maintain the proper activity of zinc-copper superoxide dismutase (CuZnSOD), responsible for peroxide radical neutralization.
Zinc helps maintain healthy skin, hair and nails. Its deficiencies can be manifested by excessive hair loss, nail brittleness or skin infections. This element also shows antibacterial properties, therefore dermatologists are happy to include it in anti-acne therapy.
Zinc supports the proper functioning of the immune system. It contributes to the proper growth, development and activity of immune system cells, which include neutrophils, NK cells and macrophages. It also supports phagocytosis and cytokine synthesis. Moreover, the appropriate level of this element is important for maintaining the balance of Th1/Th2, on which the correct immune response depends. There are many discussions in the scientific world about the significant role of zinc in limiting the activity of certain viruses and pathogens.
To sum up, Apollo's Hegemony Zinc Bisglycinate is a dietary supplement that allows to effectively counteracts the zinc deficiency. The number of processes that take place in the body with the participation of this element is enormous, hence the simple conclusion that its adequate supply is crucial for the proper functioning of the whole body.
Container size: 120 capsules
Serving size: 1 capsule
Servings per container: 120
per 1 capsule amount %DV
Zinc bisglycinate 108 mg *
Including zinc ions 30 mg 300%
Other ingrednients
Rice starch, magnesium stearate, colloidal silica (silicon dioxide).
Take 1 capsule daily or as recommended by a healthcare practitioner.
Zinc should not be taken together with other dietary supplements containing vitamins, macro- and microelements, because many compounds make its bioabsorption more difficult. There is one exception - vitamin E, with which zinc has extremely well synergy.