Laost otsas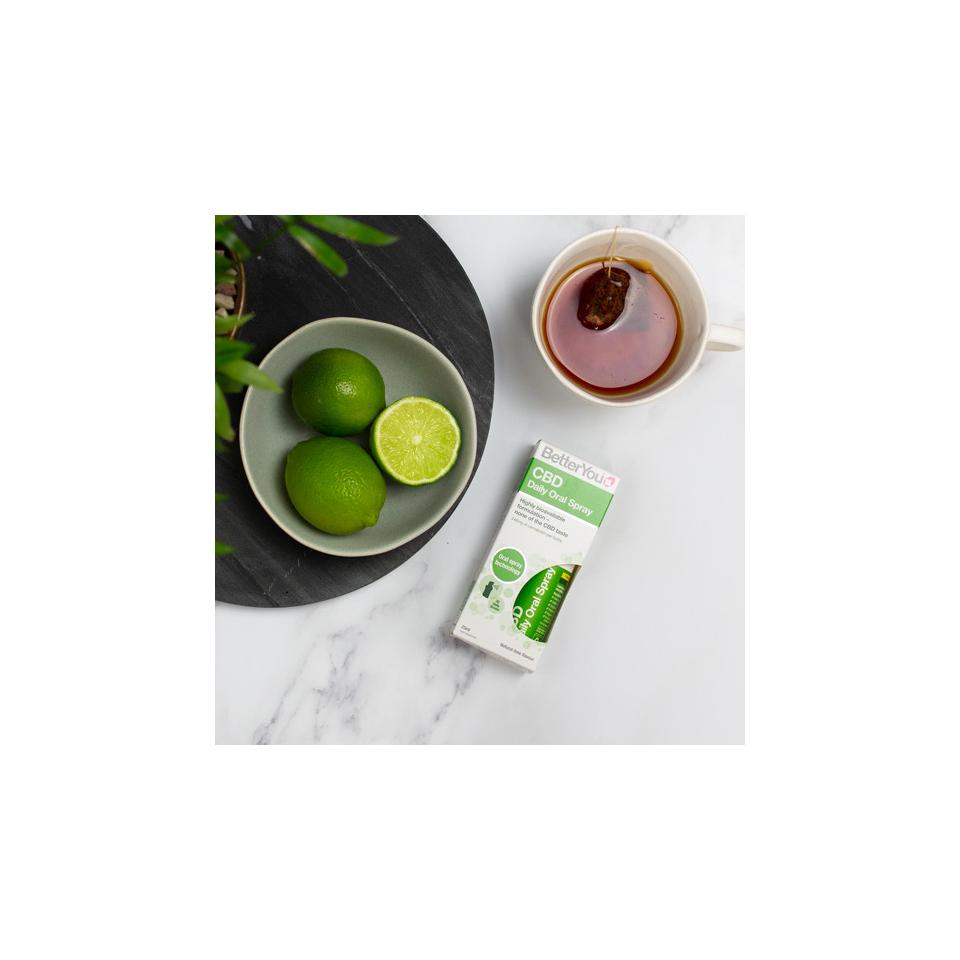 Zoom
BetterYou's CBD Oral Spray represents the next generation of CBD supplementation.
A pioneering liquid spray formula for enhanced absorption of CBD using pea-protein encapsulation technology. The water-soluble solution removes the unpleasant CBD taste and is enhanced with a great-tasting, natural lime flavour.
Superior bioavailable formula using patented pea-protein encapsulation technology
Ethically sourced, European grown hemp
Natural lime flavour – none of the CBD taste
A convenient alternative to droppers and capsules
Contains full spectrum cannabinoids
246mg of cannabidiol per bottle
32 daily doses
Manufactured from carbon-negative, plant-based packaging
Patented pea-protein encapsulation technology
The innovative pea-protein encapsulation process enhances CBD absorption by coating each of the cannabinoids in a protein to inhibit clumping.
The encapsulation method has been refined and perfected to ensure the CBD molecules are uniquely water soluble.
Coupled with BetterYou's unique oral spray delivery mechanism, the highly bioavailable formula passes easily through the buccal membrane of the mouth and into the rich vein network below, into the bloodstream.
Enhanced absorption – None of the CBD taste
The unique encapsulation process prevents the strong-tasting CBD molecules from interacting with receptors on the tongue, giving them a completely neutral taste.
This natural method of coating the CBD molecules enhances solubility and absorption into the bloodstream.
We've then enhanced the formula by adding a great-tasting, natural lime flavour to support ease of use.
Problems with traditional CBD oils
Traditional CBD formats have a number of factors that inhibit their effectiveness.
Unpalatable taste that effects usage.
Poor absorption through the gut lining due to the cannabinoids hydrophobic nature (not dissolvable in water).
Confusing dosage guidance.
Messy and awkward to administer.
All of these issues effect usage and impact customer experience.
Ingredients
Water, diluent (xylitol), hemp seed oil (with pea protein isolate and hemp extract), flavouring (natural lime), acidity regulator (citric acid), preservative (potassium sorbate).
Nutritional Information
Nutritional Information

Each daily dose (4 sprays) contains

EC NRV

CBD

7.5mg

-

*EC Nutrient Reference Value
How to use
Initial use: press the pump 3 times to get the liquid flowing.
Shake well before every use. Carefully spray into your mouth, ideally onto the inside of your cheek, and hold for a few seconds.
Replace the cap after use.
Dosage
4 sprays delivers 7.5mg of highly bioavailable CBD.
Does not need to be taken with food or water, can be taken at any time of the day and combined with our other oral sprays.