Laost otsas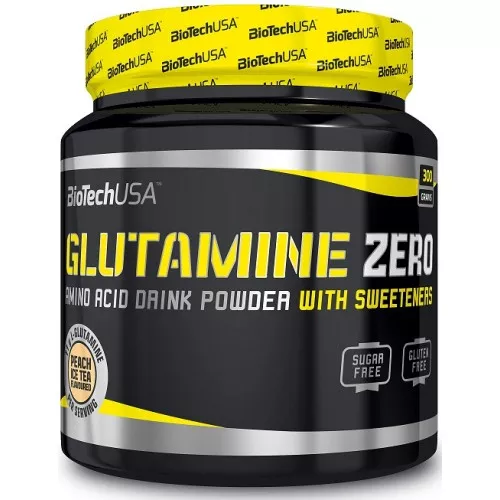 Zoom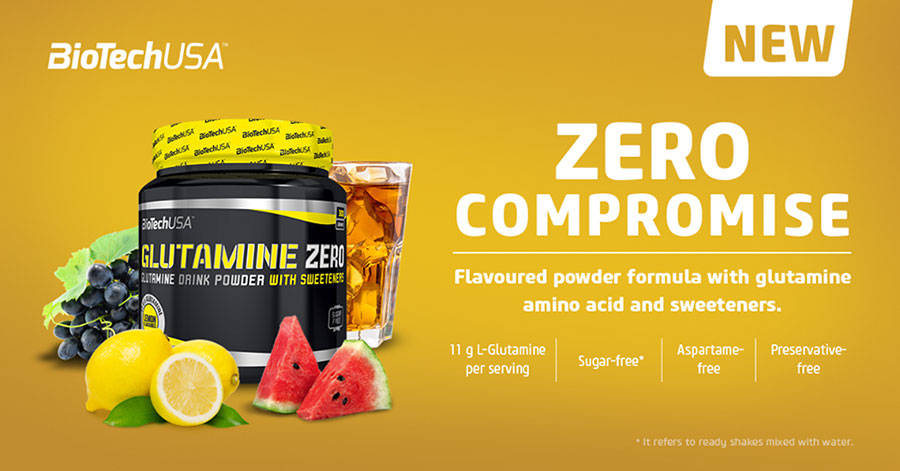 FLAVOURED POWDER FORMULA WITH GLUTAMINE AMINO ACID AND SWEETENERS.
- 11 g L-Glutamine per serving
- Sugar-free*
- In four flavours
- Aspartame-free
- Preservative-free
*It refers to ready shakes mixed with water.
BioTechUSA's Glutamine Zero is a flavoured post-workout powder formula. In 90%, the product's active ingredient is the conditionally essential glutamine amino acid.
Per serving (12 g): 11 g L-Glutamine amino acid
Who is Glutamine Zero recommended to?
- those for whom taste matters, but without compromising effectiveness
- combat athletes
- gym-goers
WHY DO YOU NEED AMINO ACIDS?
Amino acids are the building blocks of one of our fundamental nutrients, proteins, commonly found everywhere in the human body. There are some amino acids which the human body is capable of producing (non-essential amino acids), whereas the amino acids belonging to the other group (essential amino acids) are taken in with food. From all the different amino acids, only 20 contributes to shaping the structure of proteins. Amino acids are vital to all bodily functions such as digestion, liver function or wound healing. Amino acids maintain skin, ligaments, muscles, tendons, hair and nails. They also contribute to producing hormones, as well as neurotransmitting substances and enzymes. Besides, they also serve as a source of energy, as well as a carbohydrate and lipid-producing nutrient. The richest source of basic amino acids are foods of animal origin, whereas foods of plant origin often do not contain all of them.
Container Size: 300g
Serving Size: 2 tablespoons (12g)
Servings Per Container: 25

Amount Per Serving:

Total Calories: 4.5kcal
Protein: 0g
Total Carbohydrates: 0.66g
-Sugars: 0.08g
-Dietary Fibre: 0g
Fat: 0.01g
-Saturates: 0g
Salt: 40mg

Ingredients:
L-Glutamine (90%), acid (citric acid), flavours,acidity regulator (potassium tartrates), sweeteners (sucralose, steviol glycosides), salt, colours (Allura Red AC, indigotine).
Смешайте одну порцию (2 плоские мерные ложки = 2 чайные ложки с горкой) в 150 мл воды и выпейте сразу после тренировки. В дни отдыха пить после обеда. Рекомендуется использовать шейкер.