Laost otsas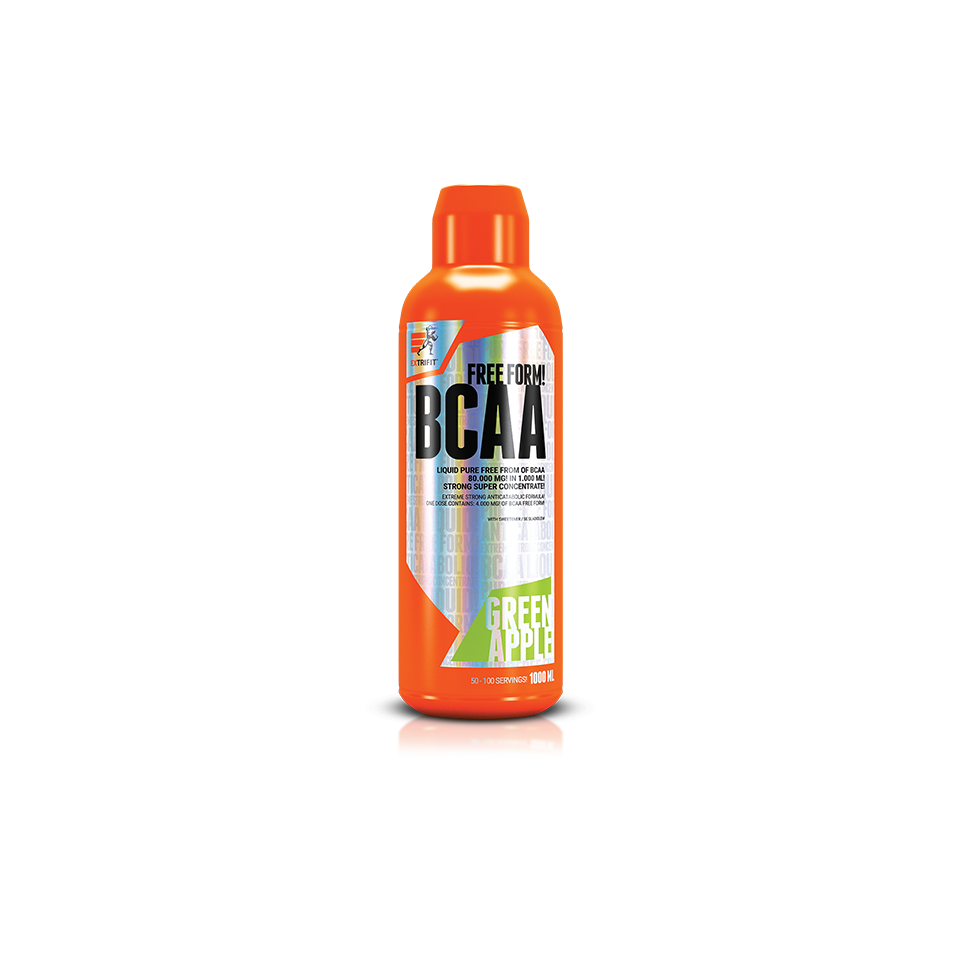 Zoom
BCAA are used by bodybuilders for the long time and their effect is proved. They are suitable as for volume training as for cutting training.The main thing is using BCAA in the relationship to training and for their effect is very important time since swallowing till presence in muscles. This time is influenced by the form of BCAA that You take in. Liquid form of BCAA is the best for this aim. Our company offers You two such products: BCAA Free Form Liquid 80000 mg – BCAA in their free form for immediate consumption, or one of our most successful products BCAA INSTANT.
WHAR ARE BRANCHED CHAIN AMINO ACIDS (BCAA) AND WHY TO USE THEM:
BCAA –free branched chain amino acids L-leucine, L-isoleucine a L-valineare essential amino acids occuring in muscle tissue where can be used as important energy source. Branched chain amino acids are contained in food, it means they are natural, without any risk of unwanted effects!
RIGHT BCAA RATIO: 2:1:1:
Our product BCAA Free Form Liquid 80000 mg contains optimal ratio of BCAA - twice more of L-leucine than L-isoleucine and L-valine. Why ratio of 2:1:1? Leucine is considered to be the most important of BCAA for processes in the muscles occuring during and after the training. The ratio of 2:1:1 meets the physiological need of BCAA and has the best effect. If You use higher doses of L-leucine it could not be better utilized because Rubner´s law of limit amino acid is valid (amino acids from food utilization depends on in minimal amount contained amino acid) and also Wolf´s law regarding amino acids surplus is valid (intake of whichever amino acid in too high amount disrupt metabolism of other amino acids and increases signs of limit amino acid).
You can supply the body with branched chain amino acids the whole day long. Especially if You are on cutting diet trying to lose body fat it is recommended to use BCAA even on non-training day, ideally in the morning on an empty stomach.
HOW TO USE BCAA FREE FORM LIQUID 80000 MG:
By BCAA supplementation during hard training or weight loss program You can prevent muscle catabolism – for this effect use BCAA before or during the training. For muscle mass growth (the process You need protein compound from amino acids for) use BCAA Free Form Liquid 80000 mg after the training.
Portion: 50 ml
Servings in the package: 20
Packaging: 1000 ml
Ingredients: leucine, isoleucine, valine, water, citric acid (acidity regulator), flavor, xanthan and guar gum (stabilizer, thickener), potassium sorbate, sodium benzoate (preservatives), sucralose (sweetener), beta carotene (dye).
Nutritional value in 100 ml in 1 serving (50 ml)
Energy value 125kJ / 30kcal 62kJ / 15kcal
Fat 0g 0g
saturated fatty acids 0g 0g
Carbohydrates 0.3g 0.2g
sugars 0g 0g
Fiber 0.2 g 0.1 g
Protein 0g 0g
Salt 0g 0g
BCAA concent 1000ml 50ml
Leucine 40000mg 2000mg
Isoleucine 20000mg 1000mg
Valine 20000mg 1000mg
Total BCAA 80000mg 4000mg
*** The nutritional values in the table may slightly vary depending on the batch. The website is constantly updated, but it happens that we have several batches of the product in stock.
** Reference intake value for an average adult (8400 kJ / 2000 kcal)
* Ingredients, grammage and nutritional values may slightly differ depending on the flavor variant of the product.
It is recommended to use one serving (50ml) before training and one serving after training. Do not exceed the recommended daily dose
This product is not intended to diagnose, treat, cure, or prevent any disease.
Dietary supplements cannot be used as a substitute for a varied diet. Remember that only a healthy lifestyle and a balanced diet ensure the proper functioning of the body and maintain good condition.
Do not exceed recommended servings for consumption during the day. The product cannot be used by people who are allergic to any of its ingredients. Keep out of the reach of small children. Store in a dry place at room temperature in tightly closed containers.
Best before end: date and batch number are on the side / bottom of the packaging.
Net weight: 1000ml