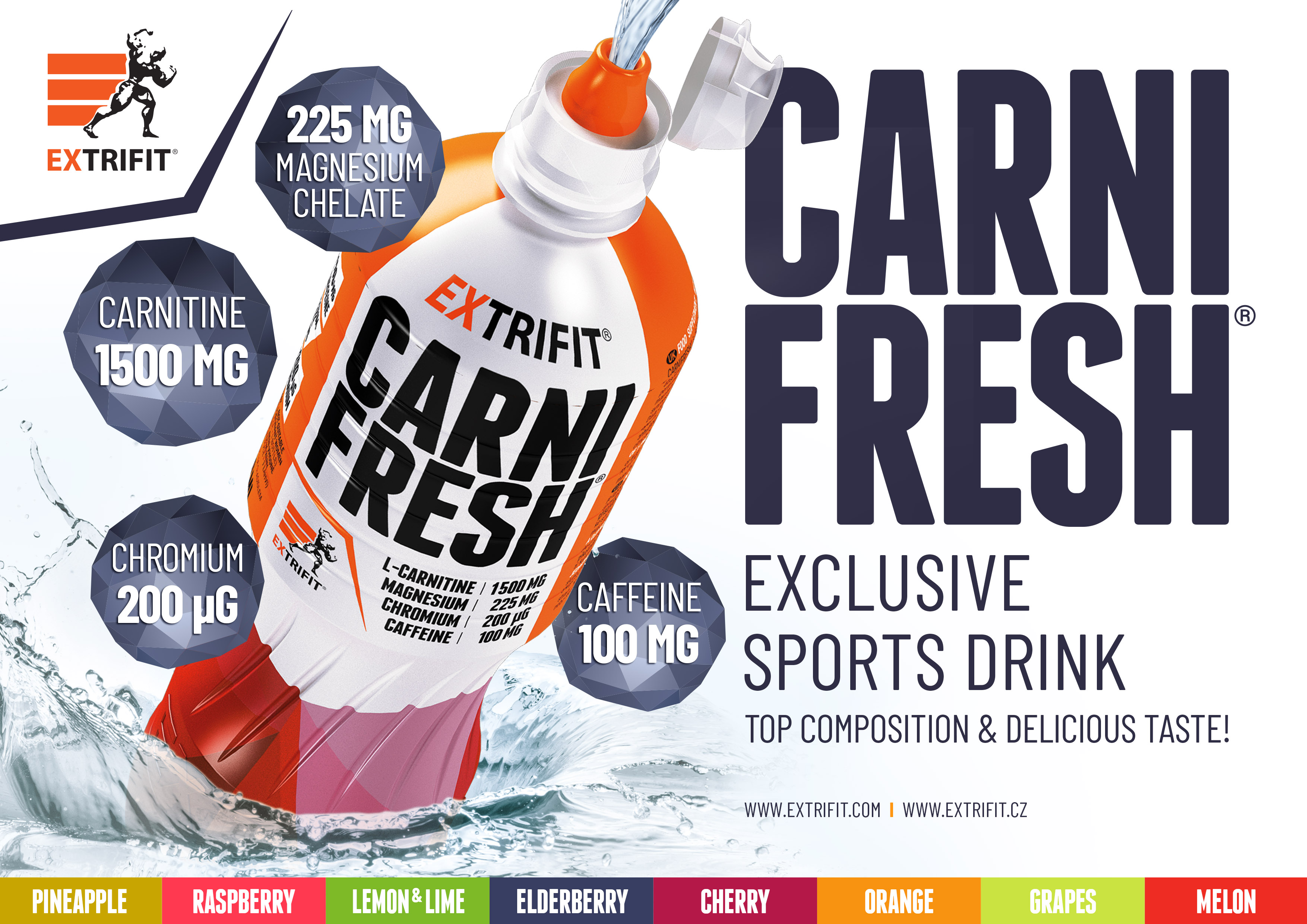 Fluid intake during exercise, such as in a fitness center, is very important. Especially if you are also trying to burn body fat.We usually do not have a taste for clean water and we often have to force ourselves to drink it. A flavored drink can support fluid intake.Our CARNIFRESH® training drink is exactly the kind of drink that motivates us to drink continuously during exercise, because it tastes great!
CARNITINE 1500 mg (the highest content on the market)
MAGNESIUM 225 mg (RDI 60 % - magnesium in chelate bond - ensures the best usability)
CHROMIUM 200 mcg (RDI 500 % )
Caffeine 100 mg
CARNIFRESH®
has a minimum energy content (only 20 kcal per the whole bottle)
ZERO fat
ZERO sugar!
Whatever the goal of your workout, whether you want to gain muscle mass or burn fat, or exercise to increase fitness, our CARNIFRESH® training drink is the right for you all!
CARNIFRESH® is a delicious drink containing carnitine, caffeine, chromium and magnesium with excellent absorption.
WHY EVEN THIS COMBINATION OF ACTIVE SUBSTANCES?
Carnitine acts as an energizer, it is popular in weight loss programs.
Caffeine has stimulating effect, supports quickness of mind, concentration and endurance performance.
Chromium contributes to normal macronutrients metabolism and normal glycaemia maintaining.
Magnesium contributes to a reduction of tiredness and fatigue and to electrolyte balance, supports energy-yielding metabolism, functioning of the nervous system and normal psychological function, normal muscle function and normal protein synthesis (magnesium bisglycinate is a source of magnesium in CARNIFRESH® drink; it has great absorbability and usability).
CARNIFRESH® CONTAINS NO ADDED CHEMICAL COLORANTS!
HOW TO USE AND DOSAGE:
daily dose =1 bottle. Use before and during your workout or during the day. Do not use before bedtime (caffeine content). After opening for immediate consumption.
INGREDIENTS:
L-carnitine base, magnesium bisglycinate, caffeine anhydrous, chromium picolinate
Other ingredients: water, stabilizer: polydextrose, acidity regulator: citric acid, preservatives: potassium sorbate and sodium benzoate, flavor, sweetener: sucralose
CONTENT OF 1 PACKAGE = 1 BOTTLE:
850 ml