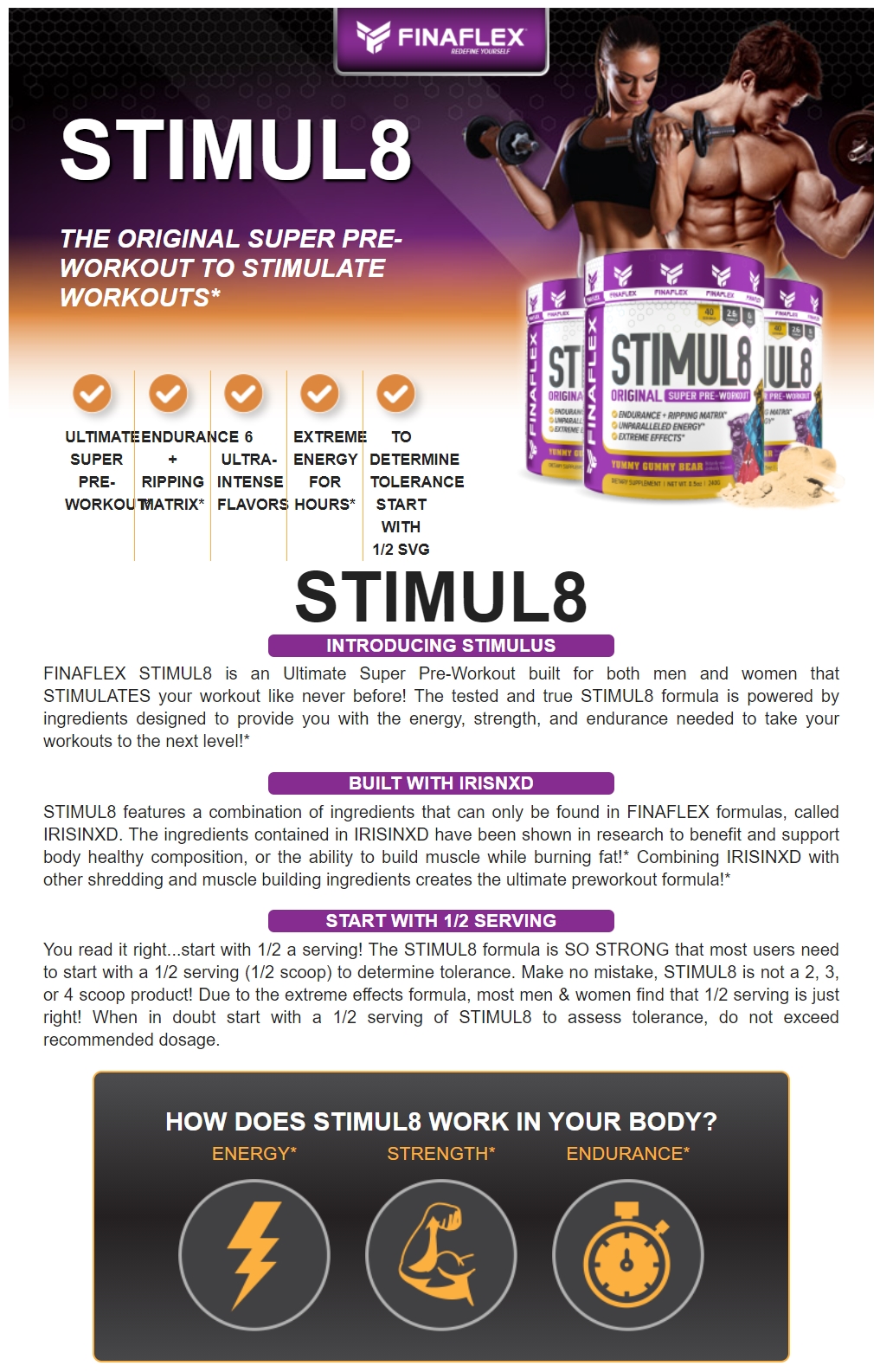 Key Product Features:
① STIMUL8 (Stimulate) is the Original Super Preworkout Designed to Deliver Unparalleled Clean Energy for Hours! Built with a Formula Unique to FINAFLEX Products is what makes STIMUL8 so Effective
② Start with Half of a Serving (Half of a Scoop) to Determine Tolerance as Some People Man be Very Sensitive to the STIMUL8 Formula.
③ The Tested and True STIMUL8 Formula has Remained Virtually Unchanged for 5 Years! Men and Women have Trusted the STIMUL8 Formula to Deliver Extreme Energy in Every Dose!
④ 40 Servings per Bottle, What a Great Value! While Most Companies are Cutting Down on Servings per Container, STIMUL8 Still Contains 40 Full Servings per Jug!
⑤ STIMUL8 is Now Available in 7 Different Flavors! Apple, Tropical, Watermelon, Cherry, Blue Raspberry, Fruit Punch, and Gummy Bears!
Description:
FINAFLEX STIMUL8 is an Ultimate Super Pre-Workout built for both men and women that STIMULATES your workout like never before! The tested and true STIMUL8 formula is powered by ingredients designed to provide you with the energy, strength, and endurance needed to take your workout to the next level! STIMUL8 built with IRISINXD, found only in FINAFLEX products, making the STIMUL8 formula like no other pre-workout on the market!
Serving Size: 1 Scoop (6 g)

Servings Per Container: 40

Amount Per Serving

Endurance + Ripping Matrix

2.6 g

**

Beta-Alanine (as CarnoSyn®)††, Caffeine, IRISINXD®††




[Green Tea Leaf Extract (Camellia sinesis) (std.min.60% EGCG), Cocoa Seed Extract (std.min.20% Thebromine)],




L-Phenylalanine, AMATEA Guayusa Extract (leaf), Theacrine (as TeaCrine®§), Rauwolfia vomitoria (Root Bark)
As a dietary supplement, mix 1 scoop with 150-250ml of cold water and consume 15-30 minutes prior to workout. DO NOT consume more than one scoop of STIMUL8™ daily. DO NOT exceed recommended dosage due to the extremely potent nature of the ingredients contained in STIMUL8™. DO NOT USE FOR MORE THAN 60 DAYS CONSECUTIVELY.