Laost otsas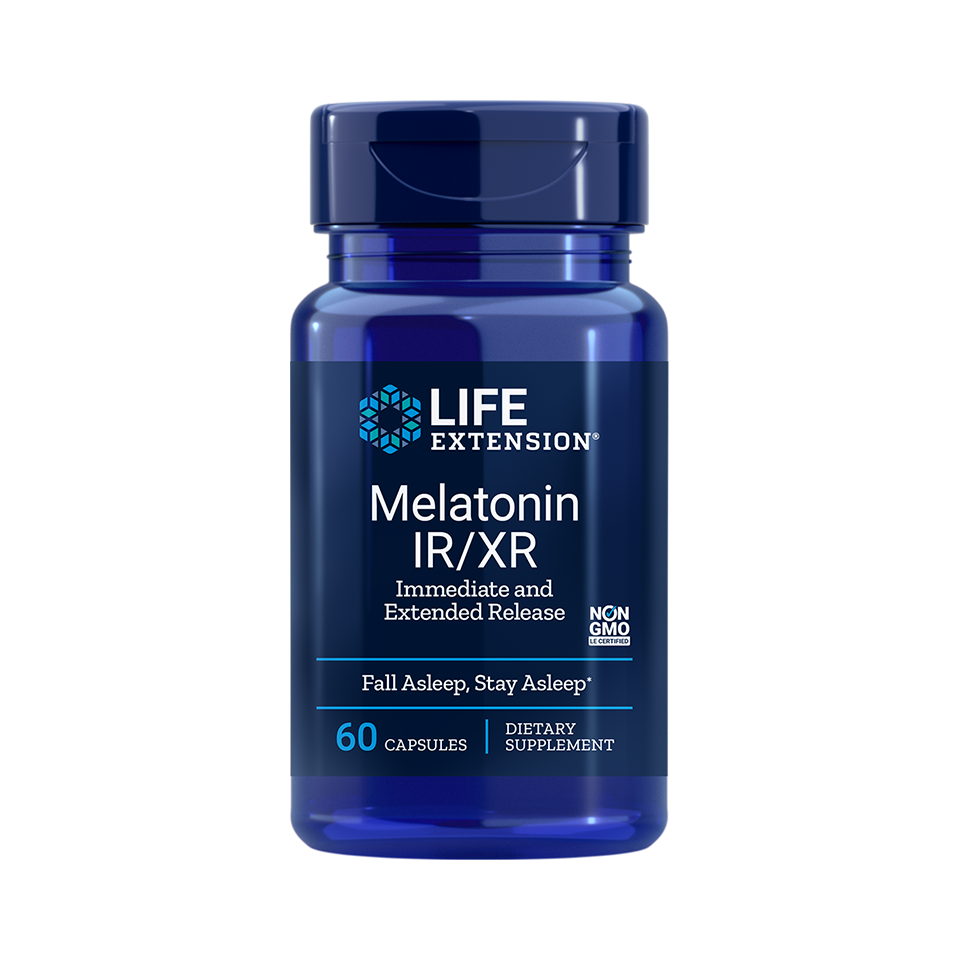 Zoom
The melatonin formula in Melatonin IR/XR:
Promotes uninterrupted sleep
Contains the unique MicroActive® Melatonin formula for immediate and extended release of melatonin
Formulated to provide approximately seven hours of support
Melatonin is a hormone naturally produced in the human body that promotes high-quality sleep, fights free radicals, promotes cognitive health and more.
Health benefits at a glance:
A good night's sleep is essential to bodily health, mental revitalization and overall physical well-being. However, many people have trouble falling asleep as well as staying asleep. Your sleep patterns are regulated by your circadian rhythm, which melatonin supports. Natural production of this hormone declines with age [3-5]. This can disturb your circadian rhythm and as a result thereof your quality of sleep [6-8]. Research now shows that it does not only support natural sleep but offers a range of other health benefits as well. These benefits include antioxidant support, DNA protection, immune system support, and support for cognitive health!
Why it works:
Melatonin is a hormone which is naturally produced in the body. It is derived from tryptophan and is primarily known to offer support for the circadian rhythm, also known as your "body clock" [1,2].
Although it is mostly known for its sleep-promoting qualities, research now shows that it also has many other health benefits. These include support for the immune system, cognitive health, and even cell DNA.
Sleep support
The body's own production of melatonin is reduced with the natural aging process. That's why supplementation with this hormone can be a natural solution for people in advanced age that have trouble sleeping.
Supplementing with this hormone can help people who deal with sleep trouble and helping them balance their circadian rhythm.
Antioxidant protection & cell DNA support
Research shows that melatonin has strong antioxidant properties. It scavenges the body for some of the most common free radicals (hydroxyl and peroxyl) and it does so more efficiently than other antioxidants. Furthermore, it also supports other antioxidants [9], helping to raise overall antioxidant protection in the body in general.
It is also important for supporting cellular DNA. This is because it helps inhibit a certain kind of free radical (peroxynitrite) [10] that attacks DNA strands inside the cells. This therefore helps inhibit oxidative damage to the cells [11].
Immune health
Melatonin helps to activate T-helper cells. T-helper cells regulate the immune response of other cells [12, 13]. This means that these cells help other cells respond to invasions of foreign molecules. By activating T-helper cells, melatonin thereby supports the immune system as a whole.
Cognitive health
Cognitive decline is a normal consequence of the natural aging process. But it is little known that the onset of age-related cognitive health issues might be correlated to the level of melatonin in the body [14-16]. This is because melatonin offers support to the brain's own antioxidant protection system and helps inhibit factors in the brain that can spur on age-induced cognitive decline, such as free radicals in the brain [17-20].
The science behind the product:
Scientific research has in recent years demonstrated that there is more to melatonin than it merely being helpful in promoting high-quality sleep. What is also interesting about melatonin, is that it can be delivered in a variety of fashions, ranging from traditional capsule form with normal or extended release to liposomal delivery.
Each capsule of Melatonin IR/XR contains 1.5 mg of MicroActive® Melatonin. This is a unique 50/50 blend of immediate- and extended-release melatonin. If taken about 30 minutes before bed, Melatonin IR/XR helps you fall asleep quickly and stay asleep all night long.
Just a single Melatonin IR/XR capsule provides a medium dose of melatonin which provides approximately seven hours of uninterrupted sleep, so you sleep throughout the night.
This melatonin product contains a 1,5 mg dose of melatonin.
So don't lose valuable sleep - try melatonin today!
Supplement Facts
Serving Size 1 capsule
Amount per serving:
Melatonin (as MicroActive®) 1.5 mg
Other ingredients: microcrystalline cellulose, gelatin (capsule), hydroxypropyl methylcellulose, sodium alginate, carnauba wax, silica.
Non-GMO
MicroActive® Melatonin is a registered trademark of Bioactives LLC.
Take one (1) capsule 30 to 60 minutes before bedtime, or as recommended by a healthcare practitioner. Melatonin is naturally secreted from the pineal gland at night, and should be taken at night for optimal results.