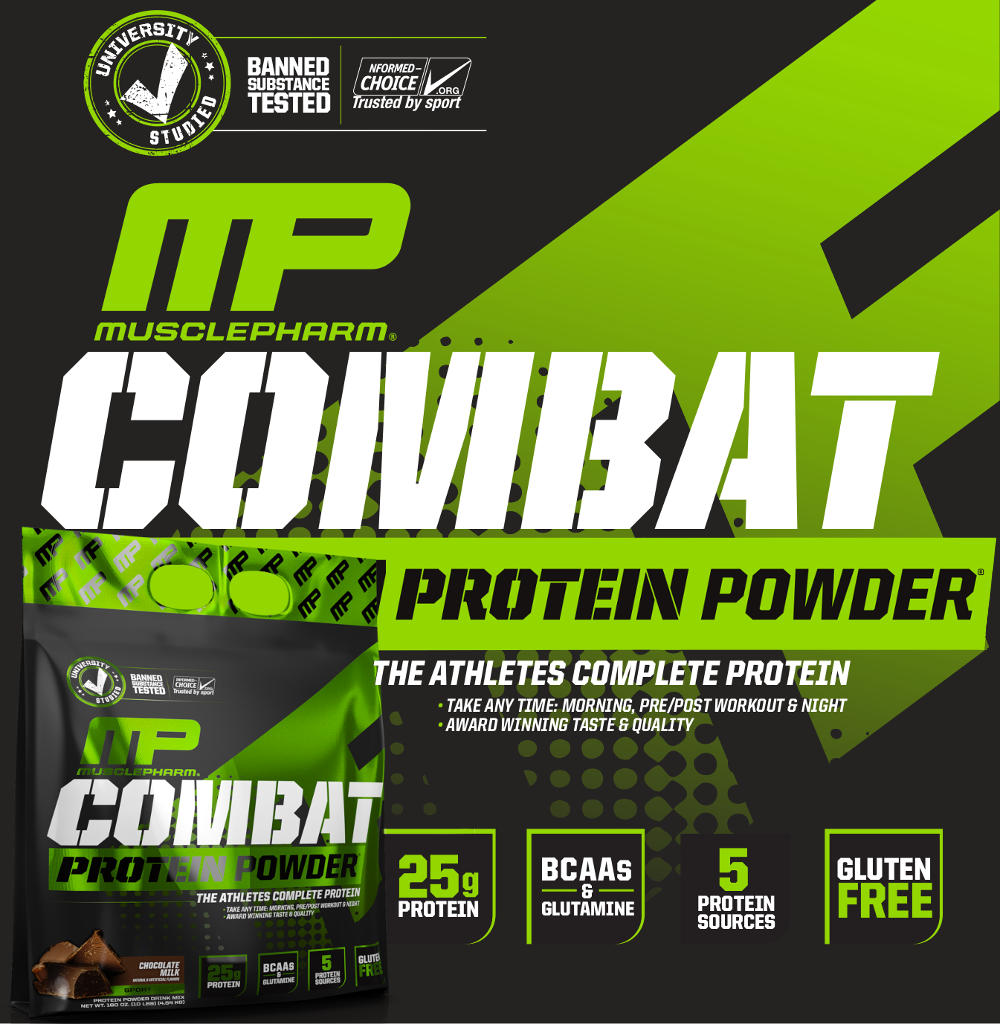 Performance
Strength
Build Muscle
Time Released Protein
Banned Substance Tested
Informed-Choice Trusted by Sport
The Athletes Complete Protein
Take Anytime: Morning, Pre/Post Workout & Night
Award Winning Taste & Quality
Natural & Artificial Flavors
Sports Series
Protein Powder Drink Mix
25 g Protein
5 Protein Sources
Gluten Free
Made in a cGMP Registered Facility
Real Athletes. Real Science.
Fuels Muscles & Performance For Hours!
People who train hard demand a superior and more effective protein. To maximize lean muscle growth and recovery ensuring proper protein utilization, MusclePharm scientists fortified Combat Protein Powder with a variety of protein blends that digest at varying rates- this helps fuel your muscles longer. The great-tasting, easy-mixing digestive blend is fine-tuned for true nutrient utilization- a step ahead in protein powder technology. Most other protein products seem to be okay with the status quo, the minimum. But ask yourself: do you give your workouts minimum effort? MusclePharm scientists over-delivered. Combat Protein Powder is a precision-engineered with whey protein concentrates, hydrolysates and isolates, egg albumin, and micellar casein. These help create a muscle-building environment for longer periods of time, which results in greater muscle building, recovery and performance.
Key Features
25 g of Award Winning Taste & Easy To Mix Protein
5 Powerful Proteins: Fast & Slow Digesting
Take It Anytime: Morning, Pre/Post Workout & Night
Gluten Free
Benefit From 5 Protein Sources
Fast Digesting
Whey Protein Hydrolysate
Broken down into fast-absorbing peptides,
this rapidly infuses muscle-building amino acids.
Whey Protein Isolate
Digests and absorbs rapidly and is, gram for gram,
the highest available yield of protein.
Whey Protein Concentrate
Closest to whole food and contains real subfractions.
Slow Digesting
Egg Albumin
Highly bioavailable and is high in naturally-occurring
BCAAs and arginine.
Micellar Casein
Digests slowly, infusing valuable amino
acids over several hours.
Serving Size: 1 Scoop (33.6 g)

Servings Per Container: 27

Amount Per Serving

%Daily Value*

Calories

130

Calories from Fat

15

Total Fat

1.5 g

2%

Saturated Fat

1 g

5%

Trans Fat

0 g

Cholesterol

47 mg

16%

Sodium

150 mg

6%

Potassium

200 mg

6%

Total Carbohydrate

4 g

1%

Dietary Fiber

1 g

4%

Sugars

2 g

Protein

25 g

Vitamin A

0%

Vitamin C

0%

Calcium

12%

Iron

3%

* Percent Daily Values are based on a 2,000 calorie diet. Your Daily Values may be higher or lower depending on your calorie needs.
Calories

2,000

2,500

Total Fat

Less than

65 g

80 g

Saturated Fat

Less than

20 g

25 g

Cholesterol

Less than

300 mg

300 mg

Sodium

Less than

2,400 mg

2,400 mg

Potassium

3,500 mg

3,500 mg

Total Carbohydrate

300 g

375 g

Dietary Fiber

25 g

30 g

Protein

50 g

65 g

Calories per gram:




Fat 9 • Carbohydrate 4 • Protein 4
Other Ingredients
Microfiltered protein blend (whey protein concentrate, whey protein isolate, whey protein hydrolysate, micellar casein, egg albumin), inulin, natural and artificial flavors, salt, -l-glutamine, sucralose, acesulfame potassium, protease, potassium citrate, lactase, l-leucine, l-isoleucine, l-valine, soy lecithin.
Mix 1 scoop of Combat Protein Powder with 200-300ml of cold water. Vary the amount of water to achieve desired consistency and taste. To increase your protein intake per serving and achieve a delicious milkshake taste, use skim or low fat milk instead of water. Consume additional servings throughout the day to meet your daily protein requirements. Use in combination with whole food protein sources, a balanced diet, and exercise program.