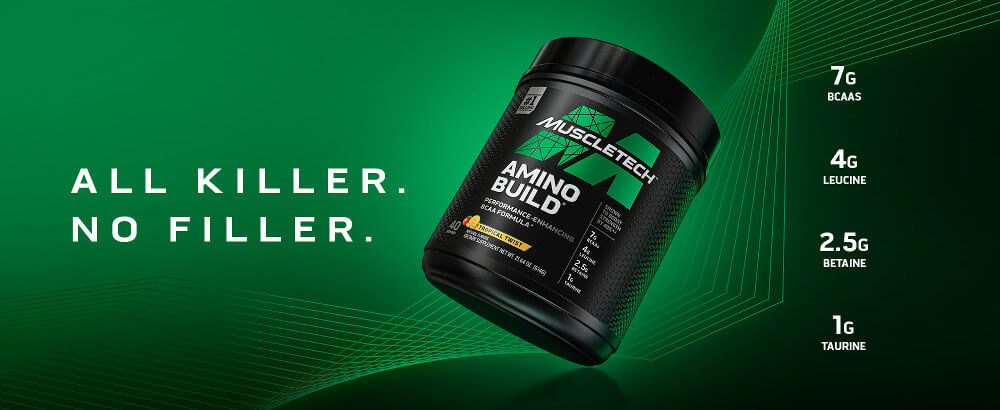 7g of performance enhancing BCAAs plus electrolytes
4g of leucine shown to boost strength by 40%
Features taurine and betaine, both shown to build more lean muscle
PRODUCT OVERVIEW
Ensure you're maximizing muscle recovery and peak performance with the addition of BCAAs to your regimen. Designed with the competitive athlete in mind, MuscleTech researchers have created a superior BCAA formula. Amino Build® is a scientifically dosed muscle and performance-enhancing formula designed to supply your body with the critical BCAAs you need to boost your strength and support recovery. This advanced formula can be taken before, during or after training, and it will help build more muscle than regular amino formulas.*
PRODUCT BENEFITS
Formulated to maximize & boost strength*
Better endurance performance*
Replenish critical electrolytes*
Get the most out of your training*
Increase lean muscle *
Precision-dosed BCAAs & critical electrolytes*
KEY INGREDIENTS
Designed with the competitive athlete in mind, MuscleTech® researchers have created a superior muscle building formula designed to supply your body with the critical BCAAs that will help boost your strength and improve your recovery after training.*
SUPPORT YOUR GOALS
In a clinical study, subjects using the dose of betaine found in Amino Build® built 3.75 lbs. of lean muscle in 6 weeks compared to 0.66 lbs. by the placebo group. Plus, Amino Build® has the same 4g dose of leucine shown in a research study (conducted at a leading international university) to help subjects increase their 5-rep max strength by 40%!*
GOOD TO KNOW
The right fuel. The right delivery. The right formula. Amino Build® delivers coconut water and watermelon juice, plus essential electrolytes to replenish what is lost during exercise. The 1g dose of taurine found in a full serving of Amino Build has been shown by research on trained athletes to enhance endurance performance. Give your muscles the fuel they need.*
Serving Size 1 Scoop (15g)
Servings Per Container: Approx.40
Amount Per Serving % DV
Total Carbohydrate 1 g 0%*
Magnesium (as magnesium oxide) 50 mg 12%
Zinc (as zinc gluconate) 15 mg 136%
Sodium 200 mg 9%
Potassium 40 mg
BCAA Complex
L-Leucine 4 g
L-Isoleucine 1.5 g
L-Valine 1.5 g
Performance & Strength Matrix
Betaine Anhydrous 2.5 g
Taurine 1 g
Electrolyte Blend
Sodium Citrate 595 mg
Coconut water (as Cocos nucifera) (fruit) 100 mg
Watermelon juice (as Citrullus lanatus) (fruit) 100 mg
Sodium chloride 80 mg
Dipotassium phosphate 45 mg
Other Ingredients:
Citric Acid, Natural Flavors, Malic Acid, Silicon Dioxide, Acesulfame-Potassium, Sodium Citrate, Sucralose, Beet Juice Powder (Color), Xanthan Gum, Anti-Foam (Polydimethylsiloxane, Methylated Silica).
Mix 1 scoop with 400-700ml of water. Read the entire label before use and follow directions provided. If you want to add to your overall daily BCAA intake without the additional calories from drinking multiple protein shakes, you can also add 1 scoop to a jug of water and drink it over time.