Laost otsas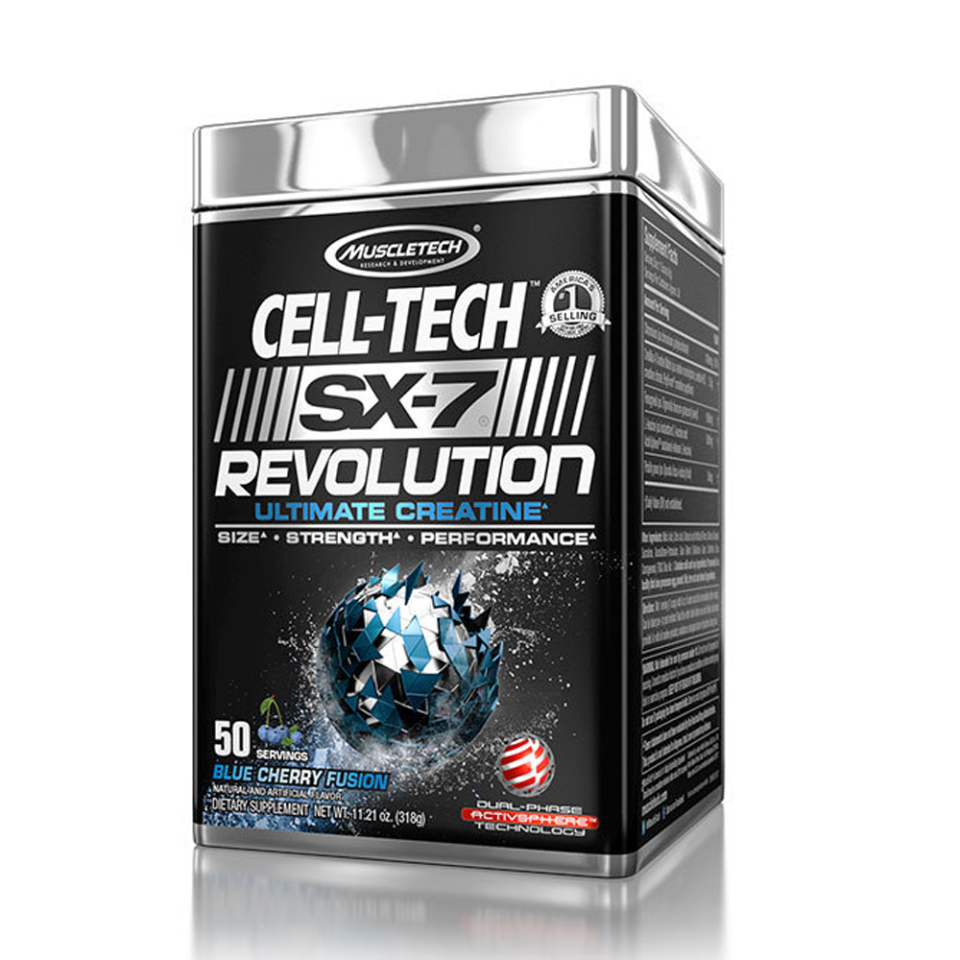 Zoom
Muscletech Cell-Tech SX-7 Revolution is a new extremely potent formula containing ActivSphere® two-phase technology. High-quality new generation creatine stack provides the most important ingredients that increase muscle size and strength, while accelerating post-workout regeneration.
Advanced creatine in four forms: creatine monohydrate, creatine hydrochloride, creatine citrate, PepForm peptides.
The CELL-TECH SX-7® Revolution supplement provides as much as 3.5 g of the highest-quality creatine from four sources in one dose, saturating and regenerating the muscles. The preparation increases the ATP energy in cells and protects against muscle fatigue. Muscletech creatine perfectly builds strength and performance, allowing you to train harder, improving your sports performance.
CELL-TECH ™ SX-7® Revolution Ultimate Creatine is definitely one of the best keratin stacks on the market based on an innovative formula containing the highest quality creatine in four forms based on the new ActivSpere® micro-encapsulation technology.
Creatine Monohydrate - is an organic chemical compound generated in the metabolic process. It is mainly found in muscle cells. Under the influence of the enzyme (creatine kinase), it transforms into phosphocreatine, which enables faster restoration of ATP (the breakdown of high-energy ATP bonds provides energy for maximum, short-term muscle contractions). Supports protein synthesis, improves the body's exercise capacity.
Creatine Chydrochloride - pure creatine hydrochloride without any unnecessary flavors, dyes or preservatives. It is a highly efficient form of creatine that contributes to increasing physical efficiency, strength and muscle mass. Recommended for athletes and active people looking for an effective creatine supplement in the period of building their peak condition, which can be used even immediately before the competition because it does not cause subcutaneous water retention.
Creatine Citrate - a combination of creatine molecules and citrate, which effectively increases the bioavailability of creatine and increases its absorption. Citrate itself is a supplement to creatine due to its participation in metabolic changes. Creatine primarily increases the concentration of phosphocreatine in the muscles, which results in an increase in muscle mass and training endurance.
PepForm Creatine Peptides - a patented formula containing a unique form of creatine, obtained in a process that combines creatine with peptides isolated from fresh whey using fractionation technology. Creatine PepForm® Peptides is a highly absorbable form of creatine that maximizes physical performance during high-intensity exercise.
Fenugreek - herb showing a clear stimulating effect on the growth of free testosterone. The saponins in fenugreek work in two ways. The first is to increase the release of CRH from the hypothalamus, which stimulates the pituitary gland to produce ACTH, which in turn increases the production of androgens in the adrenal cortex. The second way is to directly attach to the same receptors that testosterone attaches to and exert its anabolic androgenic effects. It has a positive effect on the overall level of androgens. Fenugreek stimulates the production of red blood cells, increases the absorption of nutrients in the small intestine, increases nitrogen retention in the body, stimulates protein synthesis, thus stimulating myogenesis (development of muscle tissue), growth of cartilage, bone and proper connective tissue.
L-Leucine - affects the synthesis of skeletal muscles in several ways: it increases the secretion of insulin, a powerful anabolic present in our body, affects the activity of the S6 protein kinase, accelerates the phosphorylation of the eIf4E binding protein and affects the degree of connection between proteins (eIF) 4E and eIF4G. All this, despite the complicated sound and nomenclature, boils down to a very simple theorem - Leucine increases the degree and speed of using proteins to build muscles.
Prickly Pear - prickly pear has antioxidant, neuroprotective and antidiabetic properties. The plant effectively alleviates the symptoms of excessive alcohol consumption, promotes fat loss and regulates blood cholesterol levels.
Sodium - reduces the acid content in the urine, helps the kidneys to get rid of uric acid, which helps to prevent gout and kidney stones.
Chromium - chromium picolinate is the most bioavailable and highly absorbable form of the trace element - chromium - which mainly accelerates metabolism, regulates blood glucose levels, reduces appetite, or regulates cholesterol by lowering the level of the LDL fraction and increasing HDL.
Amounts Per Serving
Based on Blue Cherry Fusion flavour
Chromium (as chromium polynicotinate)
100 mcg
CreaMax 4 Creatine Matrix (as creatine monohydrate, creatine hydrochloride [HCI], creatine citrate, PepForm creatine peptides)
3.5 g
Fenugreek (as Trigonella foenum-graecum) (seed)
900 mg
L-leucine (as instantized L-leucine and ActivSphere sustained-release L-leucine)
500 mg
Prickly pear (as Opuntia ficus-indica) (fruit)
50 mg
1 scoop before or after training.