Laost otsas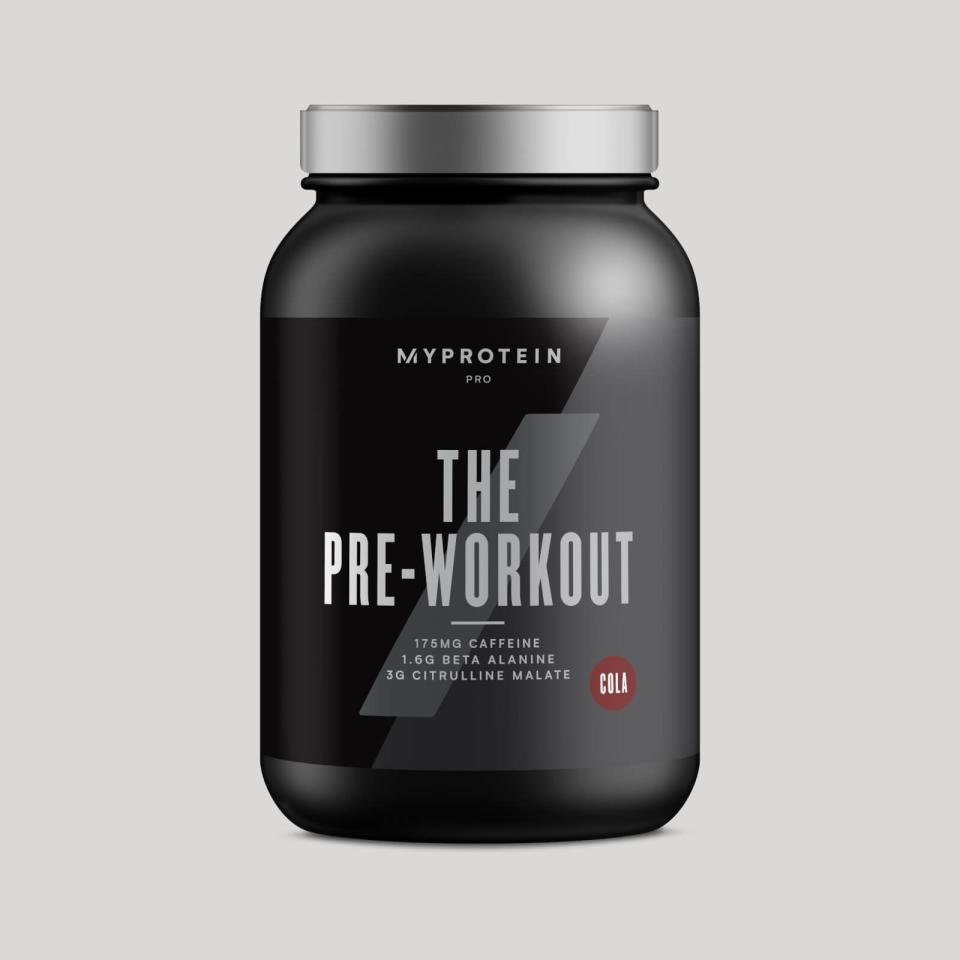 Zoom
Our most explosive pre-workout product
Creatine added to improve physical performance *
175 mg of caffeine to improve alertness and concentration
AstraGin®, BioPerine® and Capsimax® included
It's time to become the real energy and focus * you've been looking for.
Containing a large number of popular and widely researched ingredients, THE Pre-Workout is an explosive blend of creatine, caffeine and essential vitamins and minerals and other scientifically proven pre-workout ingredients.
Now our improved formula includes an exclusive combination of AstraGin @, BioPerine @ and CapsiMax @ - each designed to help improve your daily performance.
Why choose THE Pre-Workout?
No matter what workout or sport you do, THE Pre-Workout is always ready to take you further in performance, with its unique blend of ingredients that give you a powerful performance whenever you need it.
Caffeine - THE Pre-Workout combines a powerful blend of caffeine and guarana extract to provide 175 mg of caffeine, which in turn increases alertness and improves concentration.
Creatine - Our well-functioning blend contains Ketine Monohydrate, which has been scientifically proven to help increase physical performance with sequential, high-intensity training.
L-Glutamine - Restores amino acid levels that build blocks of new proteins and help muscles develop.
Scientifically proven + E301 ingredients - AstraGin®, BioPerine® and Capsimax®.
Other fun ingredients - L-arginine AAKG 2.1, L-carnitine, L-tyrosine, choline barbitrate, 3 g L-citrulline malate 2: 1, 1 g anhydrous betaine and 1.6 g beta-alanine are also added to our formula.
Vitamins and minerals - each serving contains pantonic acid, vitamins C, B6, B12, thiamine and niacin to help reduce fatigue and exhaustion - and get you ready again.
Is THE Pre-Workout for me?
No matter what your training goals are, it's important to make sure you have enough energy and are ready to develop, which is what our unique pre-workout product does with every consumption.
Do you want an explosive workout? THE Pre-Workout is available in three new and improved flavors that include: cola, cotton punch, blue raspberry and orange, mango and passion fruit flavors.
Nutrition Information
Serving size - 1 tablespoon (14 g)
Servings in a container - 30 Servings (based on 14 g serving size) (420 g)
Nutrition information
14 g per serving * RI
Vitamin C 75 mg 94%
Thiamine 1.1 mg 100%
Niacin 3.0 mg 19%
Vitamin B6 1.4 mg 100%
Folic acid 250 μg 125%
Vitamin B12 1.5 μg 60%
Pantothenic acid 1.0 mg 17%
14 g per serving
L-citrulline malate 2: 1 3000 mg
Creatine monohydrate 2000 mg
1600 mg of beta-alanine
Leucine 1000 mg
Anhydrous beta 1000 mg
L-glutamine 1000 mg
L-arginine AKG 2: 1500 mg
L-carnitine 500 mg
N-acetyl-L-tyrosines 500 mg
Choline bitartrate 200 mg
Guarana Extras (22% caffeine) 75 mg
Caffeine (incl. Caffeine & Guarana Extr.) 175 mg
TeaCrine® 35 mg
Capsimax® 500 μg
AstraGin® 25 mg
BioPerine® 2.5 mg
Cola: L-citrulline DL-malate 2: 1, creatine monohydrate, beta-alanine, flavors (natural flavors, artificial flavors, sweeteners (sucralose, acessulfame K), color (sunset yellow FC, red AC, brilliant blue FCF) Leucine, anhydrous beta, L-glutamine, L-arginine-A-ketoglutarate 2: 1, L-carnitine, N-acetyl-L tyrosine, silica, calcium silicate, choline DL-bitartrate, Guarana extract (contains 22% caffeine), anhydrous caffeine, vitamin C (Ascorbic acid), TheaCrine (TeaCrine), Capsimax Beadlet 2% (Caspicum extract), AstraGin, niacin, BioPerine (black pepper extract), vitamin B6 (such as pyridoxine HCl), thiamine (thiamine HCl), pantothenic acid (d-calcium pantothenate), folic acid, vitamin B12 (as cyanocobalamin) Contains sunset yellow and Allura red, which can impair children's activity and attention.
Take 1 tablespoon 30 minutes before your workout. Mix each spoonful with 300-400 ml of cold water (for the desired sweetness) and consume immediately. We recommend starting with 1 spoonful or less so you can assess your tolerability. Contains 175 mg of caffeine per spoon.
Warning: High caffeine content. Not recommended for children, pregnant or breastfeeding women (175 mg caffeine per 14 g serving). Do not exceed the recommended daily amount. This product should not be used as a substitute for a varied and balanced diet. Keep in a dry, cool place, out of direct sunlight and out of reach of children.