Laost otsas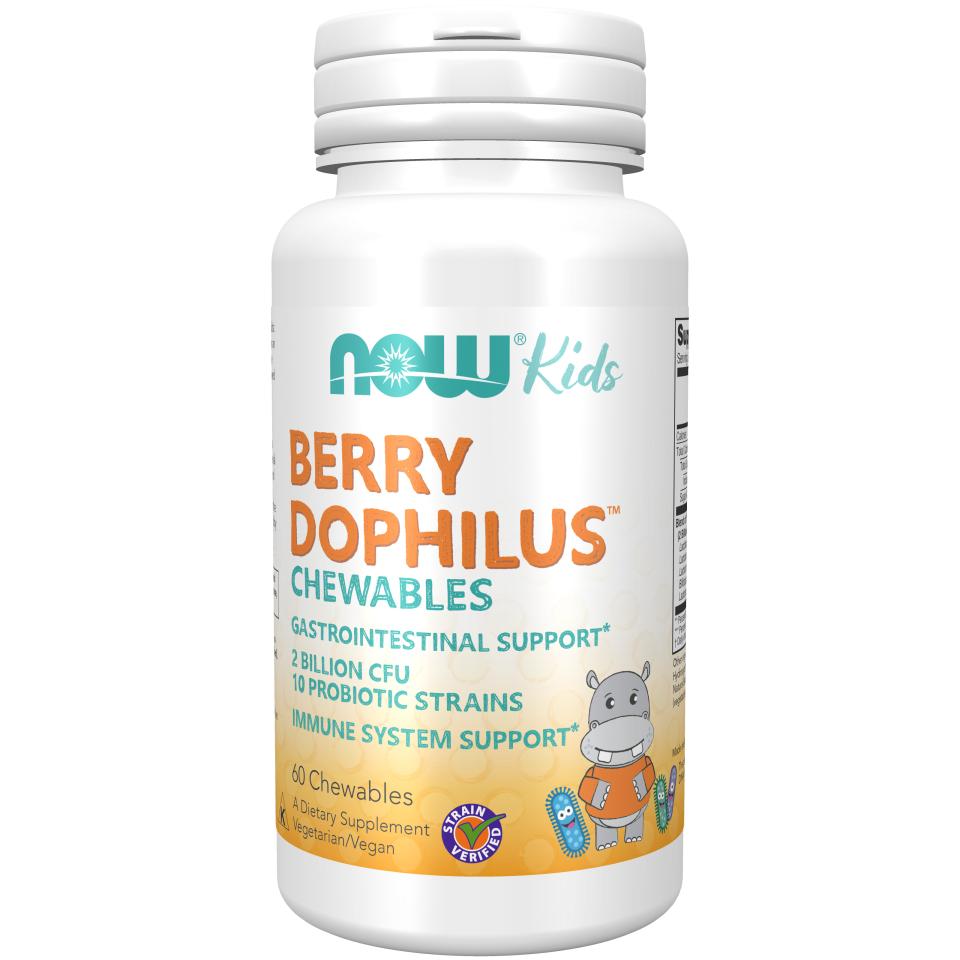 Zoom
NOW Foods Berry Dophilus Kids Gastrointestinal Support contains 10 probiotic strains for Children and Adults. NOW BerryDophilus provides 2 billion CFU from a combination of 10 clinically validated probiotic bacterial strains designed to support gastrointestinal health and healthy immune system function. Healthy intestinal flora also helps to create a favorable environment for the absorption of nutrients. BerryDophilus can be used by both adults and children. Sweetened with xylitol, BerryDophilus won't harm teeth and it tastes great. The probiotic strains in this product have been identity-verified using DNA-fingerprinting technology.
NOW Foods BerryDophilus Kids Gastrointestinal Support Features:
2 Billion, 10 Probiotic Strains
For Children & Adults
Xylitol Sweetened
Gastrointestinal Support
Vegetarian & Vegan
Strain Verified
Kosher & Halal
A Dietary Supplement
GMP Quality Assured
Supplement Facts
Serving Size: 1 Chewable Tablet
Amount Per Serving %Daily Value for Children 1 through 3 Years of Age %Daily Value for Adults and Children 4 or more Years of Age
Calories 5
Total Carbohydrate 1 g <1%** <1%*
Total Sugars 0 g † †
Includes 0g Added Sugars 0%** 0%*
Sugar Alcohols (Xylitol & Sorbitol) 1 g † †
Blend of 10 Strains
(2 Billion CFU)
Lactobacillus acidophilus (La-14), Bifidobacterium lactic (Bl-04),
Lactobacillus plantarum (Lp-115), Lactobacillus casei (Lc-11),
Lactobacillus rhamnosus (Lr-32), Lactobacillus paracasei (Lpc-37),
Bifidobacterium breve (Bb-03), Streptococcus thermophilus (St-21),
Lactobacillus salivarius (Ls-33), Bifidobacterium longum (BI-05)
56 mg †
Other ingredients
Xylitol, sorbitol, microcrystalline cellulose, hydroxypropyl cellulose, stearic acid (vegetable source), silicon dioxide, natural berry flavors, malic acid, beet powder, magnesium stearate (vegetable source) and FOS (fructooligosaccharides).
Suggested use
For children (age 2 & up) and adults: Chew 1 tablet 1 to 3 times daily between meals or on an empty stomach. For children under 2, use only on the advice of a healthcare practitioner. Tablet to be chewed or crushed; not to be swallowed whole.
Keep lid tightly sealed. Keep refrigerated to maintain potency.