Laost otsas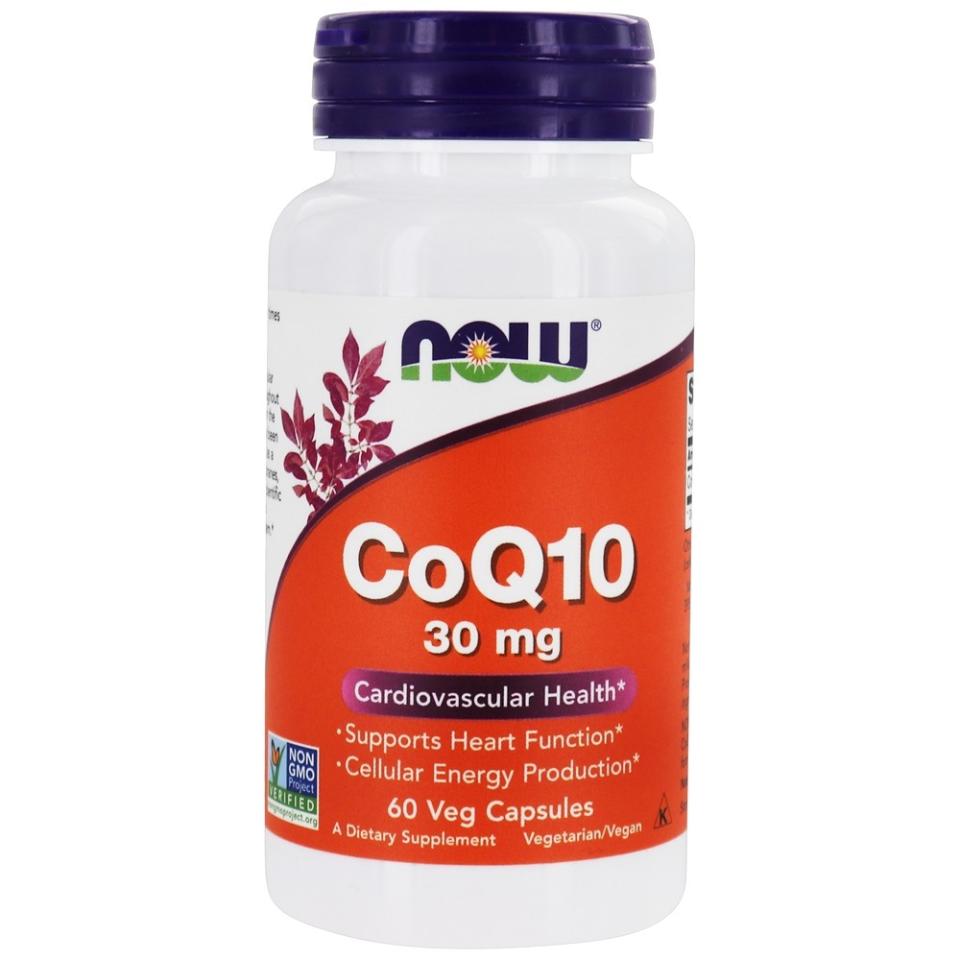 Zoom
Now Foods Coenzyme Q10 is a vitamin-like compound also called ubiquinone. Now Foods CoQ-10 is an essential component of cells and is necessary for mitochondrial energy production. Years of research has shown that Now Foods Co-Enzyme CoQ10 supports healthy cardiovascular and immune system functions in addition to its vital role in energy production.
Cardiovascular Health
Supports Healthy Heart Muscle
Promotes Cellular Energy
Vegetarian & Vegan Formula
Non-GMO Project Verified
Kosher & Halal
Free of Gluten, Soy, Nut, Corn, Daity & Egg
CoEnzyme Q-10 (CoQ-10) is a natural compound that is being used clinically to medically treat heart disease in Japan, Italy and China. CoQ-10 is also used as a natural health product in the USA, Canada and some other countries. In the human body, CoQ-10 is found concentrated in the heart and liver tissue, where it functions in the respiratory electron transport system in mitochondria. Consequently, its toxicity to the human body is extremely low. It has ten isoprene units forming a side chain attached to benzoquinone ring and all the ten double bonds in the side chain should be ''trans'' form to be physiologically effective in medicinal applications.
Two manufacturing processes are currently being used in Japan to commercially produce CoQ-10:
1. Chemical synthesis process
2. Microbial fermentation process
In the case of chemical synthesis, relatively higher rates of ''cis''-isomers in the side chain (pharmacologically less active form) and Coenzyme Q-9 which has only 9 isoprene units in the side chain are formed as byproducts which must be eliminated from the final product through a purification process. On the other hand, the natural fermentation process yields the ''all-trans'' form Q-10 (pharmacologically active form), resulting in scarcely a trace of Coenzyme Q-9.
From 1969 to 1978, our Japanese vendor had expanded its efforts in the research and development of Single Cell Proteins (microbial protein). They have established a unique continuous fermentation process utilizing these single microbial cells, which does not allow contamination by undesirable organisms.
Based on this technology, they have developed their own proprietary process for the production of CoQ-10. The process uses a selected kind of Non-Genetically Modified Microorganism that is cultivated in a continuous fermentor. The fermentation broth is extracted, then further purified by a column chromatographic process to yield pure CoQ-10.The whole process is controlled under GMP (Good Manufacturing Practice) and the product is closely monitored according to the ''Standards for Ingredients of Drugs in the Japanese Pharmacopoeia.''
In addition to purchasing what NOW we believes is the purest CoEnzymeQ-10 powder manufactured in Japan NOW analyzes the incoming bulk material and each of our finished products. NOW's laboratory staff utilizes a sophisticated HPLC method to assure proper potency of CoQ-10 in the 10, 30, 50, 60, 100, 150, 200 and 400-milligram dose products NOW Foods sells. NOW works hard at making Quality affordable for you!
Supplement Facts
Serving Size: 1 Veg Capsules
Servings Per Container: 60
Amount Per Serving %DV
Coenzyme Q10 (CoQ10) 30 mg *
*Daily Value Not Established

Other Ingredients: Rice Flour and Hypromellose (cellulose capsule).
As a dietary supplement, take 1 capsule 1 to 3 times daily with food.