Laost otsas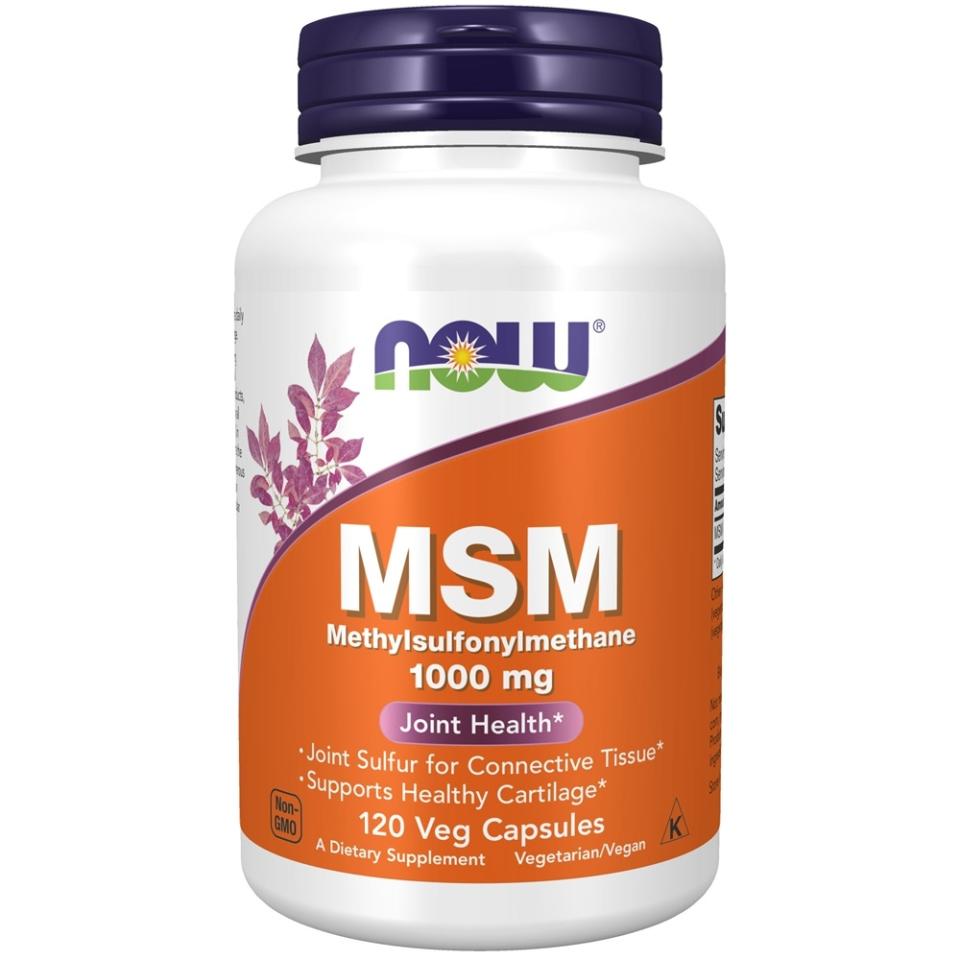 Zoom
Natural Relief for Joint Pain
If you have joint degeneration in your knees, back, hands, or hips, you know how much of a negative effect it can have on your quality of life by causing pain and limiting your movement. Methyl-Sulfonyl-Methane (MSM) is a form of biologically available sulfur used widely in the field of alternative medicine and by people like you, who are looking for a natural way to relieve your joint pain, reduce inflammation, and boost your immune system. In addition, studies have shown that MSM inhibits the breakdown of cartilage, which protects the ends of your bones in your joints.
Promotes Joint and Cartilage Health
Supports a Healthy Immune System
For Adults Only. If You are Pregnant, Breastfeeding, Taking Medication, or Have a Medical Condition (Especially Glaucoma), Consult Your Doctor Before Use
Free of Gluten, Yeast, Wheat, Soy, Corn, Milk, Eggs, Fish/Shellfish, and Tree Nuts
Take 2 Veggie Caps, 1-2 Times Daily
Vegetarian/Vegan
Provides Joint Sulfur for Your Connective Tissues
Helps Reduce Inflammation and Reduce Arthritis Pain
What is MSM?
MSM is a sulfur-bearing compound that is naturally present in very small amounts in fruits, vegetables, grains, animal products, and some algae. In its purified chemical form, it is an odorless, essentially tasteless, water-soluble crystalline solid. It is one of the safest biological substances you'll find in all of biology, containing 34% elemental sulfur by weight. The sulfur MSM supplies represents the eighth-most-abundant mineral in your body, about the same as potassium, and more than sodium.
How Does it Work?
Sulfur compounds are found in all your body's cells and are indispensable for life. In its role in your body's sulfur cycle, MSM is a form of biologically available sulfur, naturally occurring in tiny amounts in plants. In your body, it helps create chemical links needed to form and maintain numerous types of structural tissues in your body, including connective tissues, such as articular cartilage and skin. It adds a naturally occurring form of organic sulfur that has been shown to improve joint flexibility, reduce joint pain, and improve your mobility.
Improving Your Quality of Life
Numerous studies have demonstrated the benefits of MSM to your joints and cartilage. An example is a study found that subjects older than 50 years of age taking MSM for 12 weeks experienced substantial decreases in joint pain, stiffness and swelling compared to a placebo group. Those who received the MSM supplement also reported less difficulty getting out of bed and walking, improving their overall quality of life.
Inflammatory Inhibitor
NOW Foods MSM has been shown to have powerful anti-inflammatory properties. Research indicates that MSM inhibits a protein complex called NF-kB that is involved in responding to inflammation in your body. In addition, this supplement has been shown to increase your levels of glutathione, which is a potent antioxidant that your body produces. On study involving 40 physically fit men found that taking MSM before exercise decreased release of inflammatory cytokines and prevented over-stress of immune cells. Yet another study indicated that MSM helps reduce exercise-induced muscle damage and increases antioxidant activity following intense exercise.
Supplement Facts
Serving Size: 2 Veg Capsules
Servings Per Container: 60
Amount Per Serving %DV
MSM (Methylsulfonylmethane) 2 g
(2,000 mg) *
*Daily Value Not Established

Other Ingredients: Cellulose (capsule), Stearic Acid (vegetable source) and Magnesium Stearate (vegetable source).
As a dietary supplement, take 2 capsules 1 to 2 times daily with food. If intestinal gas occurs, reduce dosage.