Laost otsas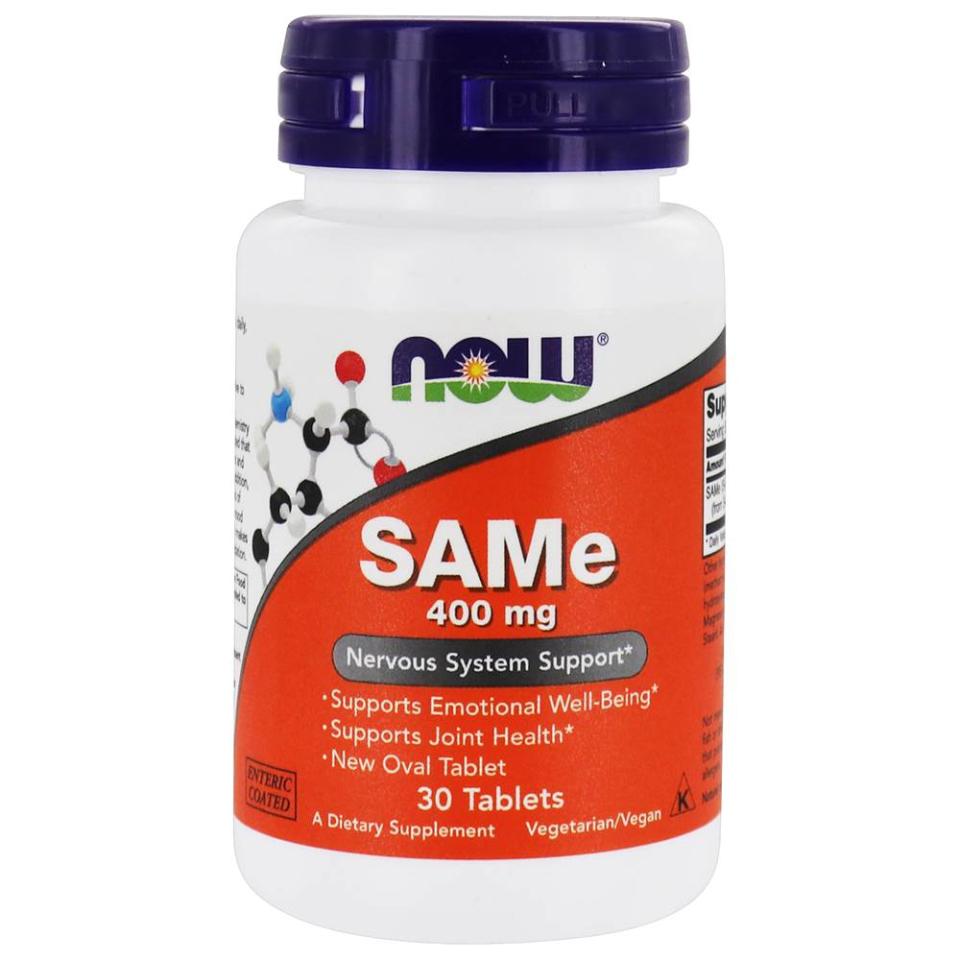 Zoom
SAMe or S-adenosyl-methionine to Support Overall Nervous System Health and Emotional Well-Being
SAMe is the combination of two substances the Adenosine triphosphate or ATP (an energy source of a cell) and methionine (an amino acid, a precursor of proteins). SAMe itself cannot be gotten from food, but it can be made by the body however factors come into play that can negatively affect its production. All in all, SAMe is believed to play a role in chemical production that plays a crucial function in various bodily processes like pain perception, immunity, and mood regulation.
Vegetarian & vegan approved
Preservatives, shellfish, egg, milk, gluten, wheat, yeast, starch, salt & sugar-free
Promotes positive mood regulation
Supports joint health
May have liver protective benefits
Overall nervous system support
Contains 400-mg S-Adenosyl-L-Methionine
1 tablet on an empty stomach; can be taken 2 to 4 times daily
Getting to Know the SAMe
There are so many supplements and substances that abound the health market—that it makes buyers leery of the history of said substances. Did marketers pluck it out of thin air, packaged, and marketed it to unsuspecting buyers? That's why there is a need to know about where and how the substance/product came to the awareness of science. Known as S-adenosyl-methionine or SAMe for short, it is a synthetic supplement that mimics a naturally occurring or naturally produced compound in our body. It is the combination of ATP (adenosine triphosphate) and methionine. It cannot be gotten from food. Although the body can make it on its own, low levels of vitamin B12, folate, and methionine are believed to negatively impact its production.
May Possibly Have Hepatoprotective Benefits
It has been well established that S-adenosyl-L-methionine (SAMe) is the principal methyl donor in methyltransferase reactions and that SAMe supplementation restores hepatic glutathione (GSH) deposits and attenuates liver injury. These findings suggest that SAMe could be used as the basis of a medication regimen for liver function improvement because of its safety.
May Help Regulate Mood
In a study conducted in 2016, SAMe showed promising results when it came to enhancing mood. Scientists published a clinical study comparing SAMe with prescription medications that are known as selective serotonin reuptake inhibitor medications to control mood. The results showed that SAMe indeed elevated the mood of the patients as well as the other medications, however, it presented to be more well-tolerated in that fewer individuals experienced adverse effects to it.
May Promote Cartilage Repair
SAMe shows some promising benefits when it comes to cartilage repair. It is believed to have anti-inflammatory properties as well as pain reducing benefits. In a study conducted in 2009, clinical trials using SAMe showed an improved function in people who have osteoarthritis and helped reduce the pain related to the said disease. Researchers believe that this finding can be possibly due to SAMe's capacity for repairing cartilage.
Supplement Facts
Serving Size: 1 Tablet
Servings Per Container: 30
Amount Per Serving %DV
SAMe (S-Adenosyl-L-Methionine)
(from S-Adenosyl-L-Methionine Disulfate
Tosylate)
400 mg *
*Daily Value Not Established

Other Ingredients: Cellulose, Croscarmellose Sodium, Magnesium Stearate (vegetable source), Silica, Stearic Acid (vegetable source), Ascorbic Acid, Citric Acid and Enteric Coating (water, methacrylic acid, methyl methacrylate, glycerin).
As a dietary supplement, take 1 tablet 2 to 4 times daily, preferably on an empty stomach.