Laost otsas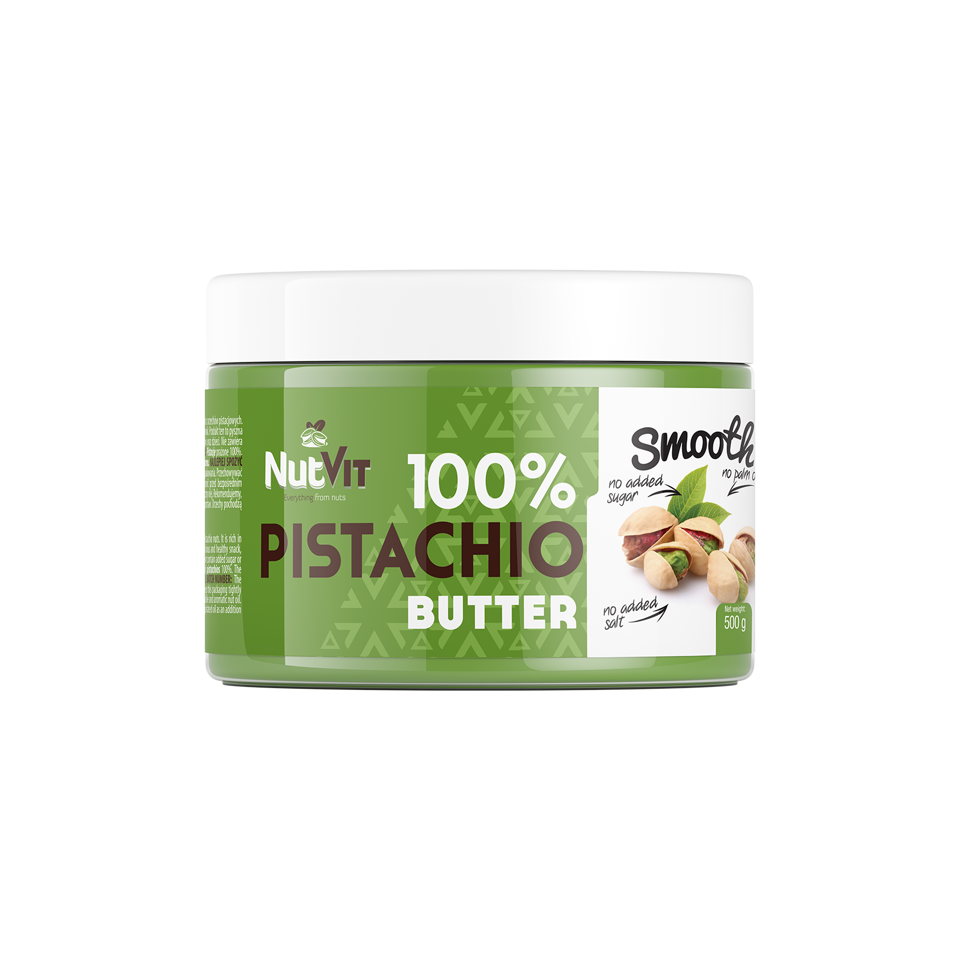 Zoom
NutVit 100% Pistachio Butter is an excellent and unique product, created for the most demanding gourmets, but also for people who care about their slim figure, sport, and for those who limit harmful excess salt or sugar in their diet. The deep, full, pistachio flavor of the product fits perfectly as a sweet and savory addition. It is a real bomb of valuable fatty acids, proteins and minerals. Depth of taste, 100% satisfaction and a guarantee of the highest quality - NutVit 100% Pistachio Butter.
100% made from pistachio nuts!
Sugar free
Salt free
Does not contain palm oil
NutVit 100% Pistachio Butter is 100% made from pistachio nuts. It does not contain salt, sugar and palm oil. Pistachio nuts are distinguished from other nuts by high potassium content, which lowers blood pressure. Regular consumption improves the work of blood vessels, helps maintain normal body weight, especially recommended to people who care about the line and lead a healthy life style. It regulates blood sugar and lowers LDL cholesterol. Green pistachios are a rich source of antioxidants, fiber and fats mono- and polyunsaturated so-called. Healthy fats. Thanks to the high content of healthy fats, it is perfectly suited to supplement the demand in our diet.
NutVit 100% Pistachio Butter properties
100% Pistachio Butter is not only a great product that should be found in the kitchen of every gourmet, but also a valuable source of many ingredients.
Source of easily digestible protein
Wealth of healthy fats one and polyunsaturated
Perfect for physically active people who have an increased need for calories
Great source of micro and macro nutrients for vegans and vegetarians
Excellent base of minerals min. magnesium
High content of valuable potassium
Can help reduce blood pressure
NUTRITION FACTS
| | Per 100g | For a portion | % DV* |
| --- | --- | --- | --- |
| Energy value | 2576 kJ/622 kcal | 644 kJ/156 kcal | 8% |
| Fat | 50,38 g | 12,60 g | 18% |
| including saturated fatty acids | 6,1 g | 1,53 g | 8% |
| Carbohydrates | 13,3 g | 3,33 g g | 1% |
| including sugar | 7,8 g | 1,95 g | 2% |
| Protein | 26,4 g | 6,6 g | 13% |
| Salt | 0.012 g | 0,003 g | 0% |
Pistachios 100% roasted.
The % Daily Value (DV) tells you how much a nutrient in a serving of food contributes to a daily diet. 2,000 caloriers a day is used for general nutrition advice.