Soodus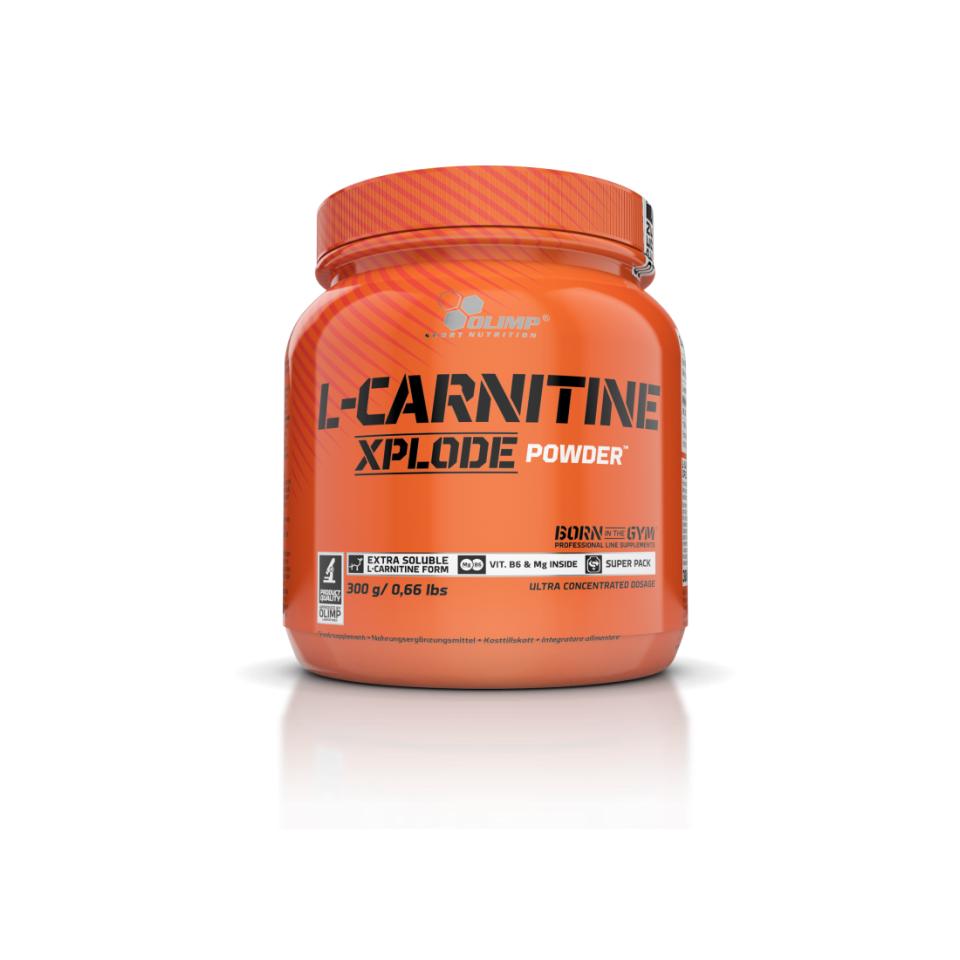 Zoom
A MEGA-DOSE of 1500 mg L-CARNITINE IN EVERY 3 g!

PERFECT ASSIMILABILITY!

SUPER-FAST ACTION!

L-CARNITINE XPLODE POWDER supplements your diet with L-carnitine enriched with magnesium and vitamin B6. All this in an easily soluble form and in amazing flavours!

How does L-CARNITINE work?

L-Carnitine is a key element of the last stage of the process of the decomposition of fats. It transports free fatty acids to where they are finally oxidised (mitochondria) and where the energy accumulated in them is freed – it substantially increases the body's exercise capacity.

The effective oxidation of free fatty acids guarantees that they will not be re-stored as triglycerides, therefore increasing the volume of adipose tissue.

Additionally, research has proven that magnesium helps in the correct functioning of the muscles, nervous system, maintaining correct psychological functions, diminishing feelings of tiredness and fatigue, maintaining healthy teeth and bones, and maintaining electrolyte balance. It is also involved in correct energy metabolism and helps in the correct synthesis of proteins.

The vitamin B6 contained in L-CARNITINE XPLODE POWDER, is also important, as it composes many enzymes taking part in metabolic conversions as well as directly participates in the metabolism of carbohydrates (the creation and decomposition of muscle glycogen) and fats, additionally increasing the production of energy. Vitamin B6 is indispensable for the production of haemoglobin and, by participating in the creation of antibodies it increases the immunity of a body.

What are the advantages of L-CARNITINE XPLODE POWDER?

- convenient soluble form,
- economical packaging,
- easily measured doses,
- amazing flavours,
- perfect as an addition to amino acids or isotonic before or during training.

Who is it created for?

The preparation is designed for people looking for their fatty tissue loss who are typically working in white-collar jobs and exercising regularly.

It is also recommended for people on a vegetarian diet, as an L-Carnitine supplement. It is designed, in particular, for people who do not want to or cannot take large amounts of capsules or pills.

Magnesium and vitamin B6 contained in the product work synergistically with regard to:

- maintaining correct energy metabolism
- diminishing the feeling of tiredness and fatigue,
- helping to maintain correct psychological functions,
- supporting the functioning of the nervous system.

Moreover, magnesium plays an important role in the process of the division of cells and helps in:

- the synthesis of protein,
- the optimal functioning of the muscles,
- maintaining the electrolyte balance.

Vitamin B6 helps in the correct production of erythrocytes and contributes to:

- maintaining the correct metabolism of protein and glycogen,
- regulating hormonal activity.
Nutrition information

Portion 3 g

L-Carnitine Tartare
including:
L-carnitine

2240 mg





1500 mg

Magnesium

59 mg (15%*)

Vit. B6

0,7 mg (50%*)
*% RDA – percent of the recommended daily allowance
1 dose per day before a training session. Dissolve 1 dose (3 g = 1 measure) in 130 ml of water. Consume immediately after preparation.