Soodus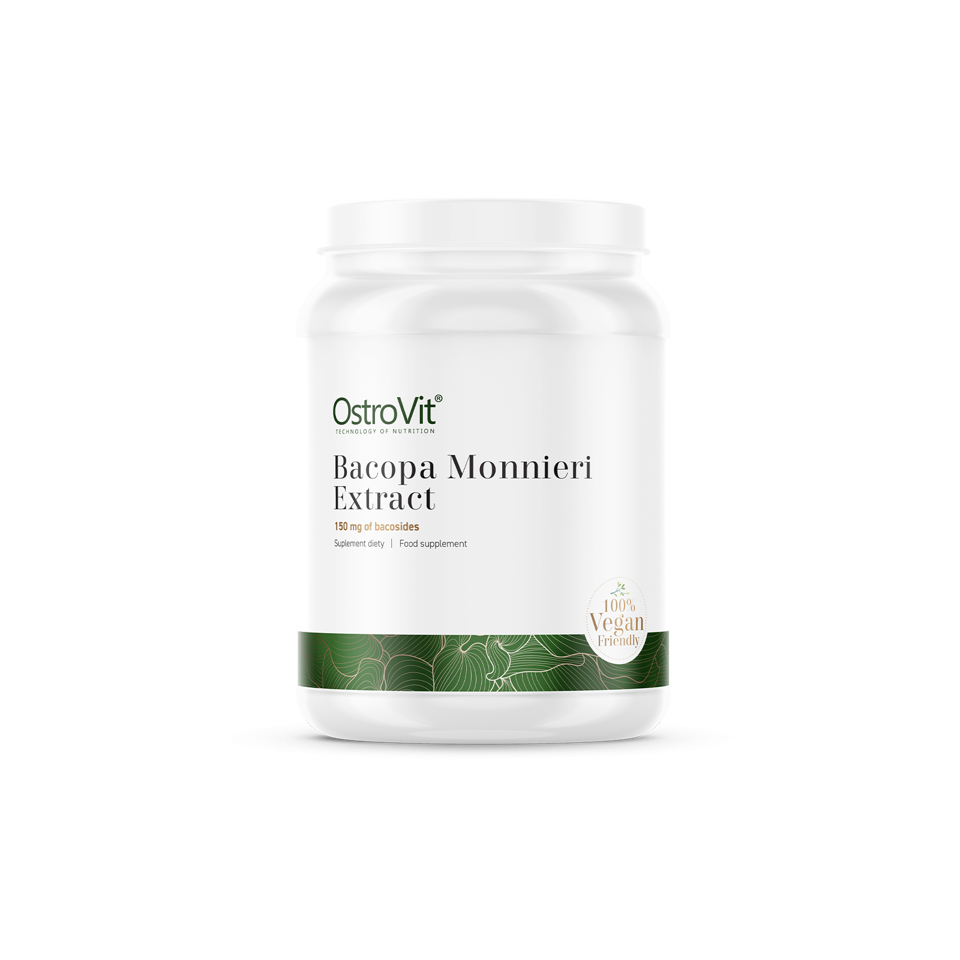 Zoom
OstroVit Bacopa Monnieri Extract is a natural dietary supplement in the form of health-promoting powder. The main advantages arising from use of bacopa is support to cognitive functions, e.g. improvement of memory and concentration, as well as anti-depressive influence. The plant is also used as an effective anti-inflammatory, anti-fungal and anti-bacterial product. Do you deal with memory and concentration issues? Try natural bacopa monnieri extract by OstroVit!
What is OstroVit Bacopa Monnieri Extract?
Bacopa Monnieri is common in many parts of the world. Usually you can find it in wet areas, close to water bodies. Its health-promoting properties have long been used in Ayurvedic medicine where this plant is used mainly to struggle against epilepsy, ulcers and inflammations.
OstroVit Bacopa Monnieri Extract obtained from the entire plant is rich in bacosides. These are active substances primarily responsible for plant's pro-health impact. Thanks to strong anti-oxidant properties, a regular use of the bacopa extract inhibits growth of many diseases and infections. The plant happens to be used to support persons who suffer from neurodegenerative diseases, e.g. Parkinson's disease or Alzheimer's disease. It can also contribute to reduction of cholesterol level in blood. Choose OstroVit Bacopa Monnieri Extract dietary supplement if you:
deal with memory or concentration issues
often feel stressed out
work mentally
look for a natural antioxidant
fight against high cholesterol level
Properties of OstroVit Bacopa Monnieri Extract
OstroVit Bacopa Monnieri Extract dietary supplement will perform perfectly in persons who work mentally or are frequently exposed to stress. One measure of the extract a day is enough to see the difference.
Major features of the supplement:
SUPPORT TO NERVOUS SYSTEM - Bacopa Monnieri demonstrates neuroprotective properties. It improves cognitive functions, concentration, memory and boosts mental immunity.
HIGH CONTENT OF ACTIVE INGREDIENTS - OstroVit extracts contains as many as 50% of bacosides responsible for health-promoting properties of the supplement.
FORM OF EXTRACT - The dietary supplement is available in the form of powder. The box includes a handy measure used to precisely measure out the recommended portion of the product.
NATURAL COMPOSITION - OstroVit Bacopa Monnieri Extract contains no fillers, colorants, preservatives and anti-caking agents. The composition of the product is 100% natural, thus the supplement can be used by vegans and vegetarians too.
Ingredients
Bacopa monnieri whole plant extract (Bacopa monnieri (L.) Wettst.) standardized on 50% of bacosides.
Product may contain milk (including lactose), soy, peanuts, other nuts, sesame seeds, cereals containing gluten, eggs, crustaceans, fish.
Nutrition Facts
Net weight of product: 50 g
Servings per container: 166
Serving size: 300 mg
Active ingredients Per portion
Bacopa monnieri whole plant extract, of which: 300 mg
- bacosides (50%) 150 mg
Take 1 serving - 300 mg (1 scoop) daily with meal, drink water. Please use the measuring cup included in the package (0.5 ml).