Laost otsas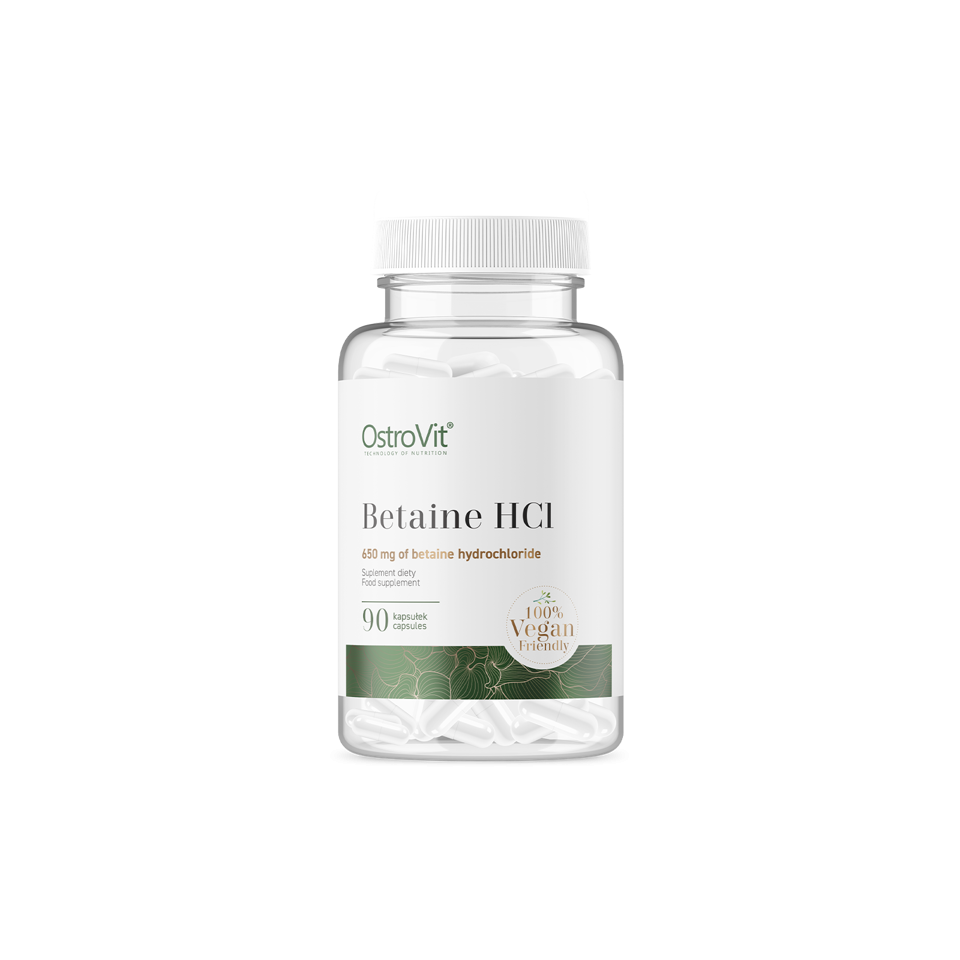 Zoom
OstroVit Betaine HCl VEGE is a vegan dietary supplement with a high content of betaine hydrochloride. The product has been created for persons who deal with digestive issues, often feel tired and build their muscle mass. Are you looking for a dietary supplement which can improve your everyday comfort, help you regulate gastric acids level as well as support you in your fight for a beautiful body? Betaine HCl will surely meet your requirements!
What is betaine, and who should take it?
Betaine, also referred to as trimethylglycine, is an amino acid which performs a series of functions in the human organism. It participates in numerous physiological processes. Betaine HCl regulates the hydrochloric acid level so that it can improve protein digestion, support amino acid synthesis, as well as secures the organism against pathogenic viruses. Additionally, betaine regulates absorption of vitamin B12 and lowers homocysteine level, which is important in prevention of heart diseases. It is also known for ability to raise muscle strength and reduce fatigue.
The main sources of betaine in food is sprouts, wheat bran, beetroots, spinach and seafood. Betaine HCl can also be taken in the form of a supplement. Choose OstroVit Betaine HCl VEGE if you:
deal with digestive issues
often have stomach ache
suffer from permanent fatigue
feel sleepy throughout the day
want to built muscle mass
Properties:
Gastric acid production disturbances are a frequent problem, particularly in those who have bad eating habits, are exposed to stress or regularly drink alcohol. Betaine HCl regulates the hydrochloric acid level so that it is possible to sooth stomach aches, heartburn, constipation and nausea.
Major features of the supplement:
SUPPORT TO DIGESTIVE SYSTEM - Betaine HCl regulates hydrochloric acid level in the stomach. It supports digestion and absorption of nutrients from food.
PRODUCT FOR ATHLETES - OstroVit Betaine HCl VEGE will be very effective if you take care of your figure. One of the major properties of the supplement is support in building muscle mass.
VEGAN FORMULA - OstroVit Betaine HCl VEGE can be freely used by vegans and vegetarians. Both the supplement itself and the capsule coating are free from animal ingredients.
EASY TO USE - The supplement is available in the form of easy-to-swallow capsules. One capsule, that is a recommended daily dose of the product, contains as many as 650 mg of active ingredient.
Ingredients
Betaine hydrochloride, coating composition (bulking agent: hydroxypropyl methyl cellulose), anti-caking agent: silicon dioxide.
Product may contain milk (including lactose), soybeans, peanuts, other nuts, sesame seeds, cereals containing gluten, eggs, crustaceans, fish.
Nutrition Facts
Net weight of product: 66 g
Servings per container: 90
Serving size: 1 capsule
Active ingredients Per portion
Betaine hydrochloride 650 mg
Take 1 serving (1 capsule) daily during a meal.