Laost otsas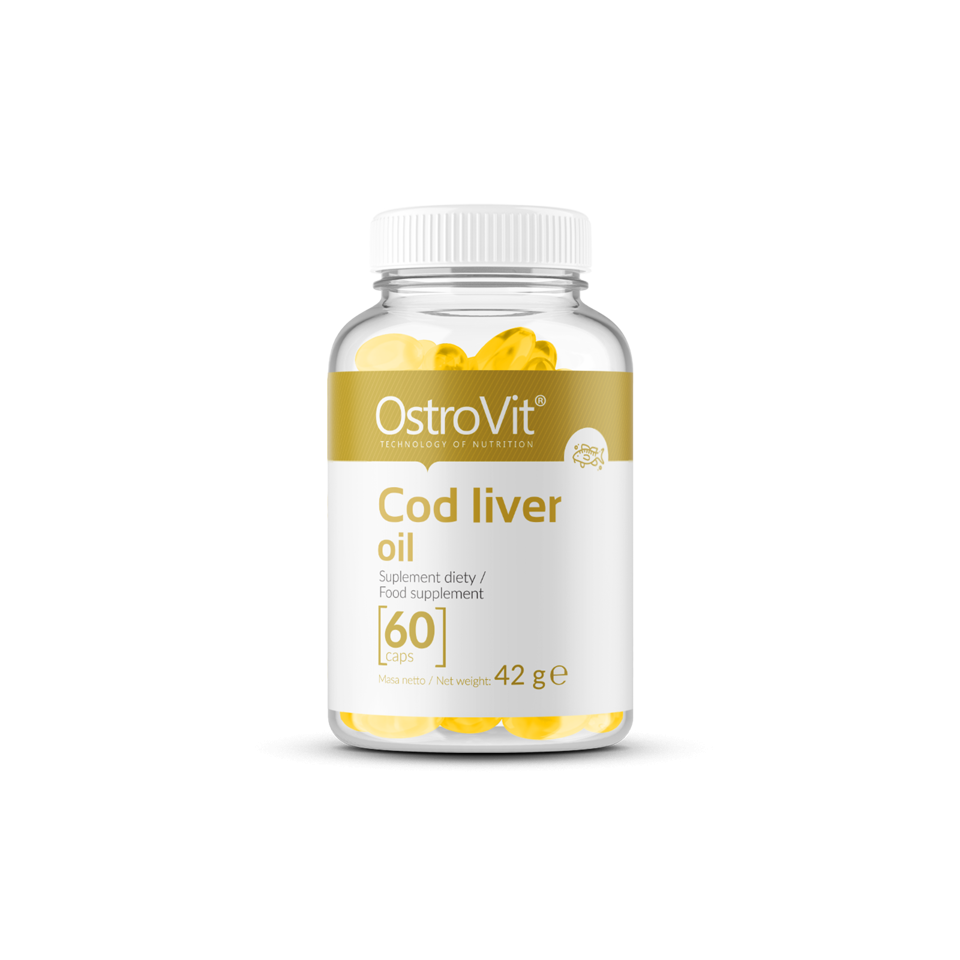 Zoom
OstroVit Cod Liver Oil is a dietary supplement in capsules containing liver oil from Atlantic cod, enriched with vitamin A and D. It is one of the high-resorbable sources of essential fatty acids omega 3 (mainly EPA and DHA) and supporting the proper functioning of the sight of vitamin A, as well as vitamin D, which plays a fundamental role in the protection and construction of our bones, as well as promoting well-being. The preparation was created for athletes and for people whose diet is particularly poor in unsaturated omega 3 fatty acids.
The product Cod Liver Oil is a particularly health-promoting product which should be found in everyone's diet.
Tran is a wealth of vitamins: A and D, as well as unsaturated omega 3 fatty acids - EPA and DHA.
The product contains 60 portions of the product, which will last for 2 months of supplementation
OstroVit Cod Liver Oil has been placed in a convenient swallow softgel capsule.
NEW OSTROVIT! Created specifically for the requests of our clients.
OstroVit Cod liver oil - Tran - cod liver oil
Cod liver oil is a product popularly known for its specifics, for the most part, unfortunately, intolerable taste and smell can be supplemented in a much more convenient form, eg in gel capsules as used by OstroVit company. Tran is a valuable source of vitamins and unsaturated fatty acids from the omega 3 group, and above all EPA fractions - eicosapentaenoic acid and DHA - docosahexane, which are undoubtedly indispensable in our diet for the correct functioning of many vital mechanisms such as the nervous system, cardiovascular system and skeletal system. Cod liver oil is also a wealth of vitamins A and D, which improve the work of our immune system (immune) irreplaceable in the fight against toxins and microorganisms.
Properties OstroVit Cod liver oil
It supports the proper functioning of the cardiovascular system.
Fat-soluble Vitamins A and D
It can increase the overall immunity of our body.
Vitamin A (retinol) supports the proper functioning of the eye.
Support for the skeletal system.
Vitamin D can improve mood and general well-being.
A wealth of essential omega 3 fatty acids.
It may have anti-inflammatory effects.
SUPPLEMENT FACTS

| | Na 100g | For a portion | % RI |
| --- | --- | --- | --- |
| Cod Liver Oil | - | 500 mg | - |
| Vitamin A | - | 375 µg | 47 % |
| Vitamin D | | 3.38 µg | 68 % |
Cod liver oil (fish), coating composition (gelatin, humectant: glycerol; purified water), retinol (vitamin A), cholecalciferol (vitamin D).