Laost otsas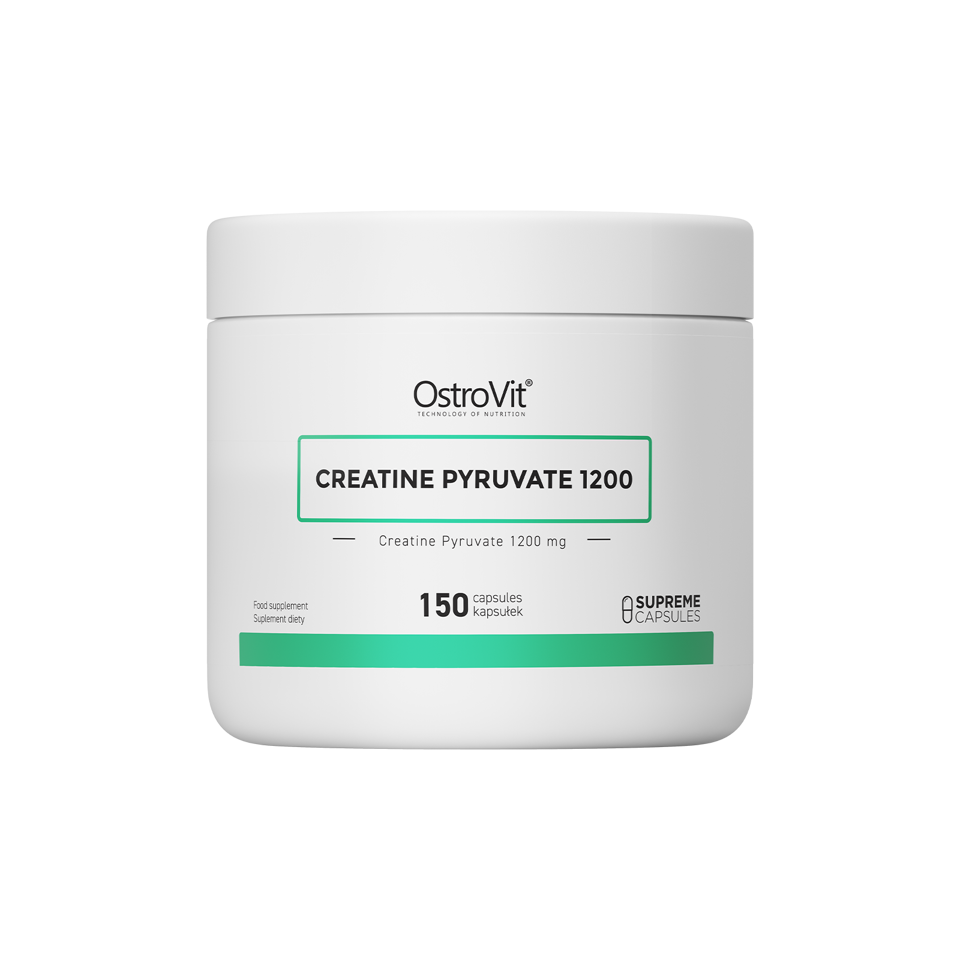 Zoom
OstroVit Creatine Pyruvate is a modern dietary supplement designed with athletes in mind. The creatine pyruvate, included in the product, is a hybrid combining pure creatine and pyruvic acid. This unique combination of active ingredients guarantees high efficacy of the supplement and improves its absorption in the organism. Do you work out regularly and wish to get as much energy as you can for your training, as well as increase your strength and regeneration? You can do it with OstroVit Creatine Pyruvate.
Why to choose creatine pyruvate?
The creatine pyruvate is a highly effective hybrid. It is a combination of two compounds - creatine and pyruvic acid - which in limited amounts naturally occur in your organism. Creatine boosts ATP synthesis, thanks to which cells receive energy earlier, and you can notice quick growth of muscles and strength. Pyruvic acid supports energy transformations and therefore influences exercise capacities. It may also contribute to reduction of fatty tissue.
When compared to standard creatine monohydrate, OstroVit Creatine Pyruvate does not need to be taken shortly before workout. If you lead an active lifestyle, use the product every day - on days without workout shortly after you wake up, and on days with workout after you finish your training. OstroVit Creatine Pyruvate will be a great choice if you:
are a professional athlete
work out on a regular basis
wish to build muscle mass
feel tired after workouts
your body slowly regenerates
Properties of Creatine Pyruvate 1200 mg
Creatine pyruvate in the form of capsules by OstroVit is a dietary supplement recommended to all professional athletes and persons who lead an active lifestyle. If you use it regularly, on a daily basis, you can easily make your training more effective and yourself more energetic.
Major features of the supplement:
STRONG EFFECT - OstroVit Creatine Pyruvate is more than just a creatine - it is combination of two compounds which together can help you achieve better results and boost your stamina.
SUPPORT TO ATHLETES - The dietary supplement in the form of creatine pyruvate is intended for all sports and competition enthusiasts. Choose this item if your lifestyle is very active, e.g. if you work out in the gym regularly.
CONVENIENT FORM - Creatine Pyruvate is a rich source of creatine in the form of easy-to-swallow capsules. It is intended for all those who are always on the run or dislike liquid creatine.
SECURE COMPOSITION - The composition of the product is limited to creatine pyruvate and a two-ingredient capsule coat (gelatin, purified water). The supplement is devoid of any fillers and preservatives.
Ingredients
Creatine pyruvate, capsule shell (gelatin, purified water).
Product may contain milk (including lactose), soy, peanuts, other nuts, sesame seeds, cereals containing gluten, eggs, crustaceans, fish.
Nutrition Facts
Net weight of product: 190 g
Servings per container: 37
Serving size: 4 capsules
Active ingredients Per portion
Creatine Pyruvate 4800 mg
- in this creatine 3005 mg
1 serving: 4 capsules.
On training days, take one serving daily after training. On non-workout days, one serving after waking up.