Laost otsas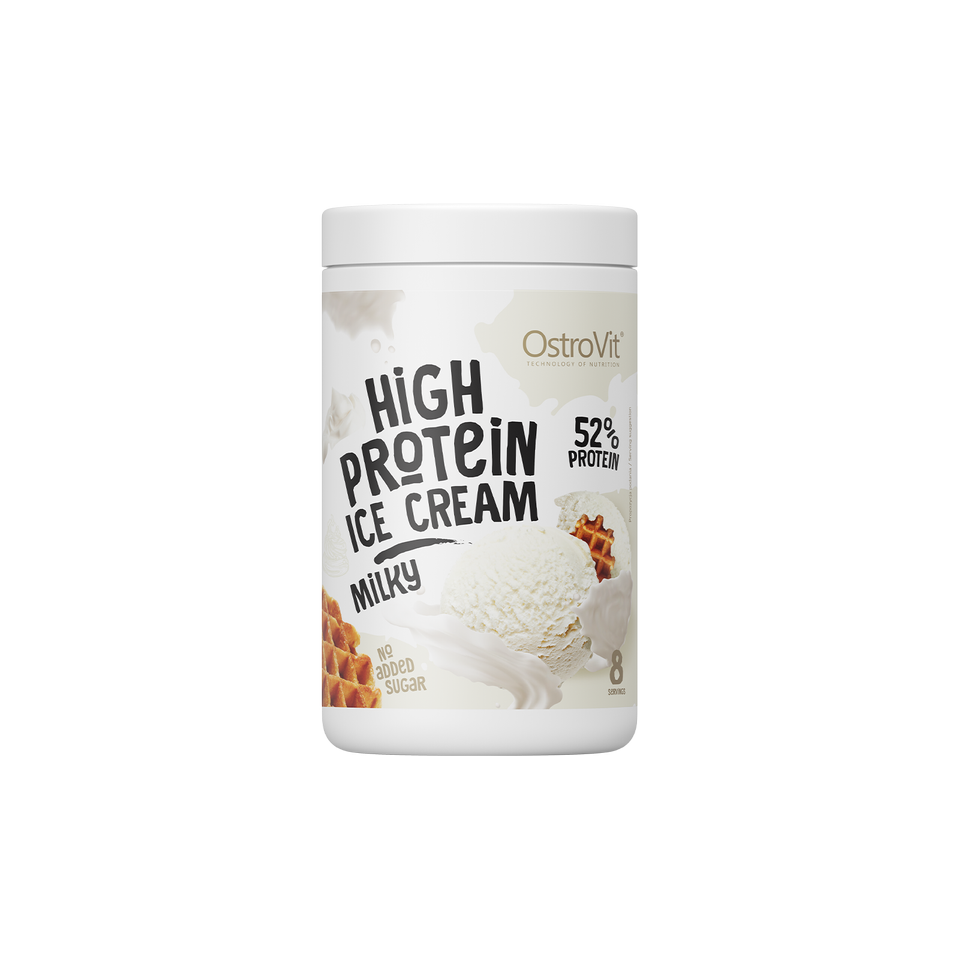 Zoom
The OstroVit High Protein Ice Cream is a delicious protein dessert intended for all those who watch their figure, are on a diet or pay a special attention to the quality of meals. You can make our ice-cream on your own, at home, whenever you feel like having something sweet. Are you looking for a tasty ice-cream based on good ingredients? Do you want to have a longed-for dessert and not feel guilty? Choose our revolutionary product – OstroVit High Protein chocolate-flavor Ice Cream .
Protein ice-cream – recipe for a tasty and nourishing dessert
The ice-cream based on whey protein and buttermilk designed by OstroVit perfectly enriches the diet with proteins. 100 grams of the product supplies as many as 49 grams of protein to the body, which makes it a true protein bomb! Contrary to most ice-creams available in stores, the OstroVit protein ice-cream contains much less fat and has no sugar added. It is also rich in a dietary fiber so that it lets you stay full for a long time.
Our high-protein ice-cream performs well as a cocktail and protein shake replacement for active people or those who are on a high-protein diet. A whey protein included in the composition is rich in aminoacids which boost anabolic processes and improve recovery after the workout. Try our OstroVit High Protein Ice Cream if you:/p>
are looking for a recipe for a healthy dessert
love a taste of ice-creams
feel guilty after having a sweet treat
want to supply protein and fiber to the body
are on a diet or control calorific value of your meals
Properties
Cannot you imagine the summer without ice-creams but you are on a diet? Thanks to our low-calorie protein ice-cream, you don't need to forget about pleasures. Just mix the powder with water or milk and put into the freezer to make sure it gets a suitable consistency.
Major features of the product
HIGH DOSE OF PROTEINS – A high content of proteins in our powder for high-protein ice-cream is as many 49%! Thanks to this, it is a perfect replacement to a protein cocktail after the workout.
3 TASTY FLAVORS – Our fit ice-cream is available in three classic flavors: chocolate, strawberry and milky. Choose your favorite or blend them if you cannot decide!
PERFECTLY CREAMY – Thanks to a unique combination of the whey protein and buttermilk in powder, our ice-cream gets very creamy. You will not believe that you have managed to make it on your own at home!
TWO WAYS TO PREPARE – Depending on your preferences, you can mix our high-protein ice-cream with milk or water. The latter is ideal if you wish to reduce the calorific value of the dessert as much as possible.
Ingredients
Whey protein concentrate (from milk), buttermilk in powder, inulin, skimmed milk powder, cocoa (6,5%), milk proteins, emulsifier: lecithins; MCT oil (70%) coconut oil powder, aromas, salt, substance thickening: xanthan gum; sweetener: sucralose.
Product may contain soy, peanuts, other nuts, sesame seeds, cereals containing gluten, eggs, crustaceans, fish.
Nutrition Facts
Net weight of product: 400 g
Servings per container: 8
Serving size: 50 g
Nutritional facts Per portion Per 100 g
Energy 770 kJ / 185 kcal 1556 kJ / 370 kcal
Fat 4.6 g 9.1 g
- of which saturated fatty acids 2.7 g 5.3 g
Carbohydrates 9.0 g 18 g
- of which sugars 7.5 g 15 g
Fibre 5 g 10 g
Protein 25 g 49 g
Salt 0.5 g 1 g
Suggested usage
100 g (8 scoops) of powder mixed with 200 ml of water or milk. Mix to a uniform consistency of cream. Freeze in the freezer about 1 hour. Remove from the freezer half-frozen mass and mix thoroughly. Put down the product to the freezer for about 1 hour, then consumed. Most delicious structure is obtained without creating a deep freeze. The recommended daily dose – 50 g. Do not ingest if you are allergic to any of the ingredients.
Keep this packaging tightly closed in a dry place, at the temperature 15-25°C. Keep out of direct sunlight. After preparing and freezing the product - store in the freezer for no longer than 48 h. After thawing the finished product, do not freeze again!