Laost otsas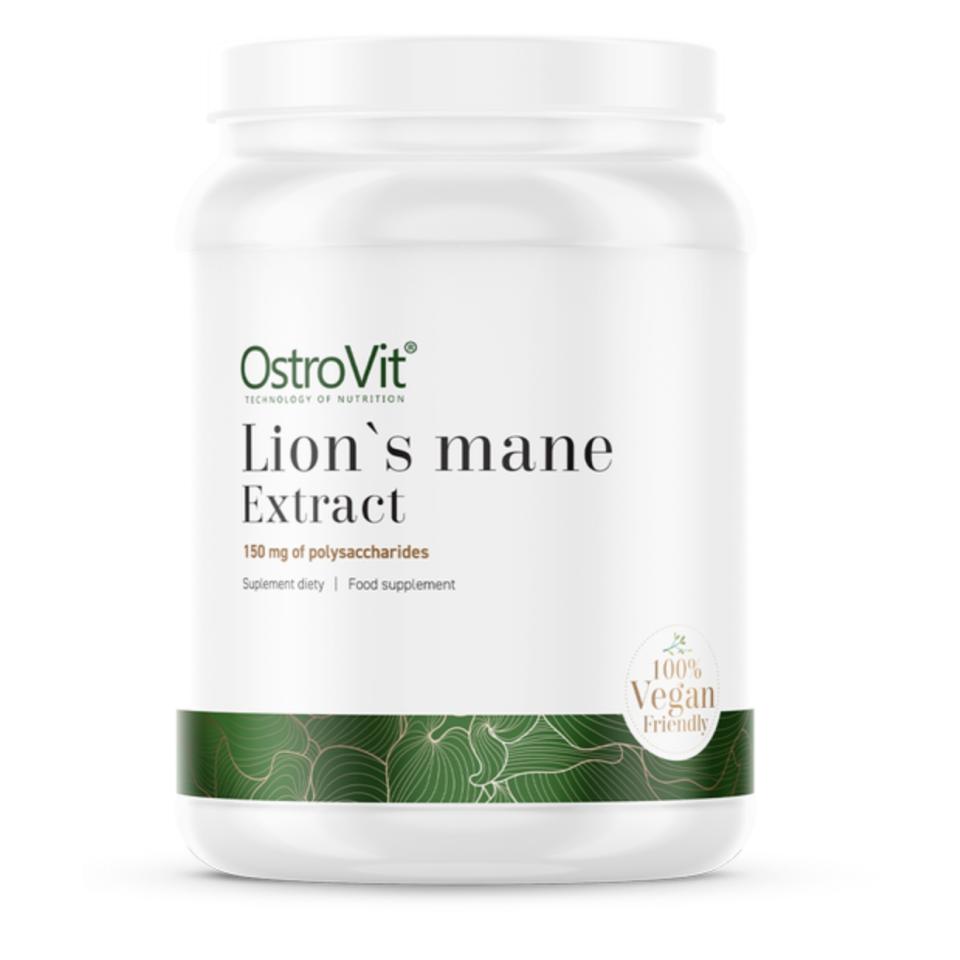 Zoom
OstroVit Lion's Mane Extract is a vegan extract based on Hericium erinaceus fungi, designed for people who want to take care of their vitality and cognitive functions. Our extract is a pure lion's mane in the form of an easy-to-dose powder. Lion's mane, that is the Asian mushroom with health-promoting properties, has been used in folk medicine for ages due to its unique impact that supports cognition and strengthens immunity.

Lione's mane – why is it worth taking it?
The OstroVit Lion's Mane Extract dietary supplement is a true source of vitamins, minerals and other nutrients that support functioning of your organism. Every portion of the extract offers a permanent number of polysaccharides, including beta-glucans (immunomodulators), which are good at regulating and stimulating the immunity system. Beta-glucans also prove to support operation of the digestive system. They can have a positive influence on bowels function and mobility of the digestive tract.
In addition, the lion's mane has an adaptogenic effect, i.e. it can support the adaptation of the body to external stressors. Regular consumption of the extract can contribute to increasing the vitality and efficiency of the body and reduce nervousness.
Properties of the ingredients contained in OstroVit Lion's Mane Extract:
SUPPORT FOR COGNITIVE FUNCTIONS – The lion's mane extract will help you better deal with numerous tasks. Support for memory and concentration are only examples of benefits arising from the intake./li>
IMMUNOSTIMULATING IMPACT - Lion's mane is a key to improved immunity.
LARGE NUMBER OF POLYSACCHARIDES – One portion of the extract is as many as 150 mg of polysaccharides. Thanks to them, you can boost operation of your digestive system and take care of your immunity.
SUPPLEMENT FOR VEGANS - OstroVit Lion's Mane Extract is free from preservatives or fillers. It is a pure mushroom extract that can be used by vegans and vegetarians too.
Nutritional information
Ingredients
Lion's mane extract (Hericium erinaceus (BulI.: Fr.) Pers) standardized on 30 % of polysaccharide.
Product may contain milk (including lactose), soy, peanuts, other nuts, sesame seeds, cereals containing gluten, eggs, crustaceans, fish.
Nutrition Facts
Net weight of product: 50 g
Servings per container: 100
Serving size: 500 mg
Active ingredients Per portion
Lion's mane extract, of which: 500 mg
- polisacharydy (30 %) 150 mg
Suggested usage
Take 1 serving - 500 mg (2 scoops) daily with meal, drink water. Please use the measuring cup included in the package (0.5 ml).