Laost otsas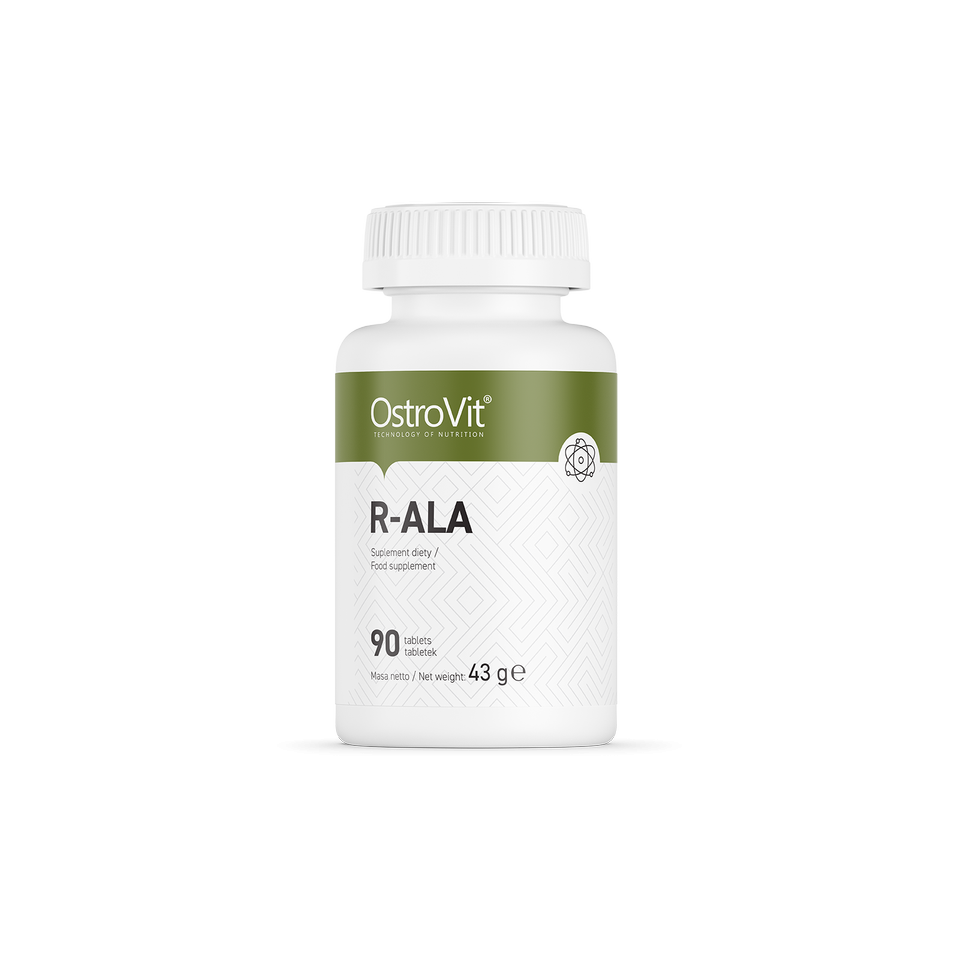 Zoom
OstroVit R-ALA is the highest quality dietary supplement in tablets that complements the diet with R-alpha-lipoic acid. The active substance is considered by many to be one of the leading antioxidants, which are invaluable and necessary in the diet of every human being. This is the basis for the proper functioning of your body. The guarantee of quality and diligence of choosing each ingredient is created by a recommended supplement.
100% quality and care for products is brand OstroVit!
90 tablets = 90 servings of the supplement
100 mg of active ingredient
All you need is one tablet a day
Highly bioavailable (R) isomer of alpha-lipoic acid
Active substance naturally found in nature
R-ALA (R-alpha-lipoic acid)
R-alpha-lipoic acid is one of the enantiomers of alpha-lipoic acid, known by the majority as ALA.
This naturally occurring isomer is a previously purified compound from S-alpha-lipoic acid, the action of which itself, unlike its R-enantiomer, is practically useless for humans because it does not show bioavailability to our body. R-alpha-lipoic acid finds excellent use among athletes because it improves the insulin sensitivity of the body and shows advanced action to increase the absorption of nutrients like vitamins or creatine. Nevertheless, the main role and advantage here is the antioxidant activity, which protects the molecules of our body from oxidation, which can lead to oxidative stress and interference in DNA proteins, which implies tissue damage and rapid aging of the body. R-ALA is an excellent supplement for people who value overall health, which in heavy professional sports is the basis for becoming not only better than others, but most of all a better version of themselves every day.
OstroVit R-ALA properties
Improves insulin sensitivity and stabilizes the level of glucose in the blood
Supports the absorption of important nutrients (eg vitamin C or E)
Has a protective effect on our mitochondria
Can contribute to delaying the body's aging processes
One of the strongest antioxidants
Has an anti-catabolic effect
Can promote the breakdown of triglycerides and lower cholesterol
SUPPLEMENT FACTS

| | For a portion |
| --- | --- |
| R-alpha-lipoic acid (R-ALA) | 100 mg |
Bulking agent: microcrystalline cellulose; anticaking agent: calcium carbonate; R-alpha lipoic acid (R-ALA), bulking agent: starch; anticaking agents: magnesium salts of fatty acids, silicon dioxide.
Consume 1-2 tablets a day, preferably with a meal.