Laost otsas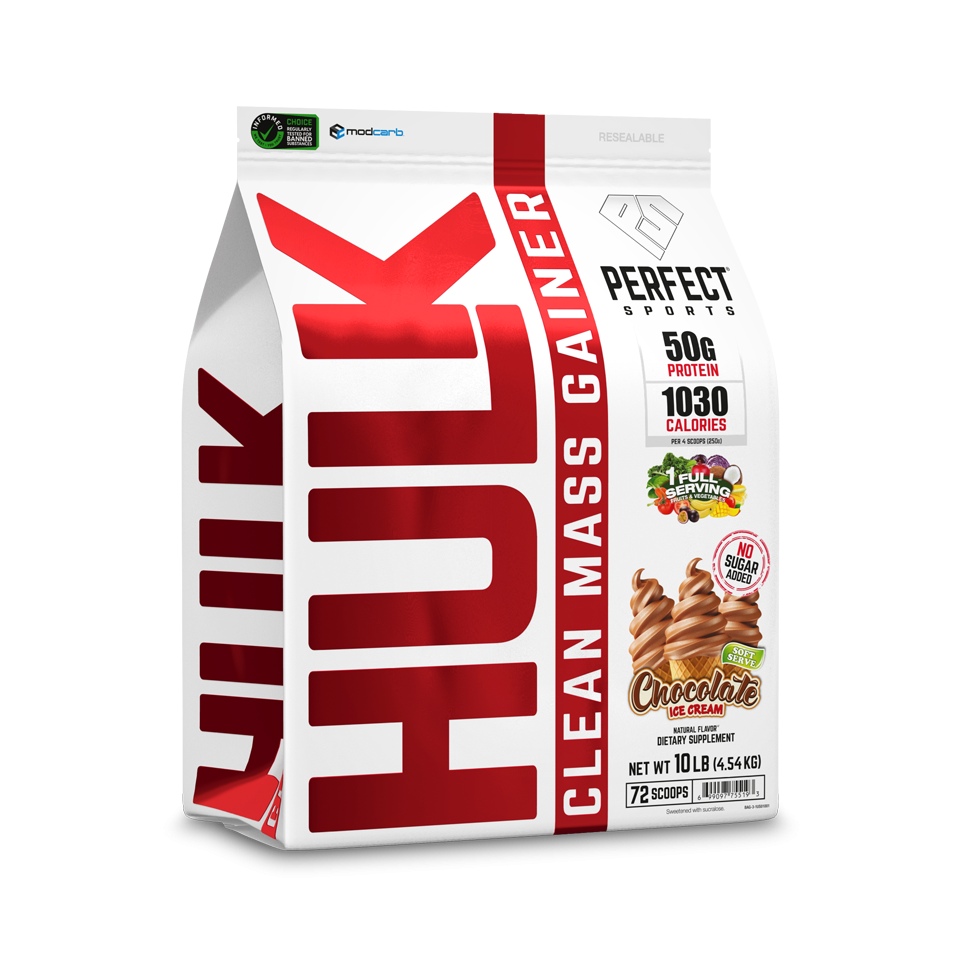 Zoom
Massive 1,030 Calories per Serving
50 g Protein
No Added Sugar
Full Serving of Fruits and Vegetables
Virtually Lactose-Free & Gluten-Free and made in a peanut-free facility!
EATING RIGHT JUST GOT EASIER AND MORE DELICOUS THAN YOU EVER THOUGHT IT COULD BE!
Just 1 scoop gives you 12.5 g of the highest quality whey protein, 42 g of complex carbs and 3 g of fat… all that in just 260 nourishing calories! Plus, each scoop provides 8 key vitamins & minerals and a 1/4 of the nutrient equivalent of a full serving of fruits & vegetables. What's more, it's gluten-free, virtually lactose-free and is made in a peanut-free facility.
Just one or two scoops of HULK provides a delicious, ready-to-mix nutrition that's so easy, you can't help but make gains! When swole is the goal and size is the prize – get on HULK Clean Mass Gainer!
ALL IN ONE PERFORMANCE NUTRITION – NOW INFORMED CHOICE CHECKMARKED
Don't fail to win because you fail to eat! HULK is the FAST & EASY performance nutrition that you can mix and drink ANYWHERE at ANY TIME! Don't let a calorie deficit sideline your performance. Hard-Training Athletes have a higher requirement for calories from Carbs, Proteins and Fats. HULK is independently Tested and Approve for Sports. HULK is 3rd Party Tested for all WADA Banned Substance and each test is posted online for complete transparency.
REAL FOOD NUTRITION WITH A FULL SERVING OF FRUITS & VEGETABLES
Looking for real nutrition? We've included 11 highly concentrated Fruits & Vegetables with HULK making it higher in 10 Vitamins & Minerals than a full combined serving!** Coconut, Mango, Banana, Carrot, Cabbage, Corn, Tomato, Kale, Spinach, Apple, Passion Fruit provide a broad spectrum of vitamins, minerals and phytonutrients.
HULK can provide a simple and easy nutrition strategy that gives your body the kind of frequent calorie intake it needs while helping to fuel your performance and feeding your muscles! Any PRO will tell you that a feeding strategy of frequent, high-quality meals is absolutely essential to your success; on the ice, in the gym or on the field.
14 VITAMINS, MINERALS & NUTRIENTS DIRECTLY FROM FRUITS & VEGETABLES BLEND
UNDENATURED PROTEIN = MORE PROTEIN!
HULK uses only whey protein! To ensure a higher yield, the protein found in HULK is processed at 4 degrees Celsius. This purification process removes 98% lactose, making HULK virtually lactose-free, while also helping to ensure that the protein and active biofractions in the formula stay intact.
These biofractions have their own unique biological properties to help support muscle repair and growth, digestive health, immunity, liver function and overall health.
10lbs Vanilla Ice Cream
Serving Size: 4 Scoops
Servings Per Container: 18
Amount Per ServingAmt%DV
Calories1030
Total Fat10g15%
Saturated Fat
5g25%
Trans Fat
0g0%
Cholesterol60mg20%
Sodium221mg9%
Total Carbohydrates175g58%
Dietary Fiber
2g8%
Sugars
2g4%
Protein60g120%
Potassium250mg7%
Calcium312mg28%
Iron1.25mg8%
Vitamin C104mg174%
Vitamin E0.4 IU4%
Zinc0.1mg1%
Magnesium6mg2%
Vitamin B60.06mg4%
Vitamin B9 (Folate)19mcg DFE5%
* % Daily Value is based on a 2,000 calorie diet. Your daily values may be higher or lower based on your calorie needs.
† Daily Value (DV) not established.
Ingredients
Protein Matrix [Whey Protein Concentrate, Calcium Caseinate, Micellar Casein, Whey Protein Isolate], Growth & Repair Amino Acids [Micronized Creatine, L-Glutamine (fermented), L-Alanine, L-Lysine, L-Arginine HCI, BCAA 2:1:1 (L-Leucine, L-Isoleucine, L-Valine), Vitamin C (Ascorbic acid)], Lean Mass Carbohydrate Blend [Complex Carbohydrate (as 5, 10 & 18 DE Maltodextrin), Fruits & Vegetables (Banana, Coconut, Mango, Carrot, Cabbage, Corn, Kale, Spinach, Tomato, Apple, Passion Fruit), Waxy Maize], Natural & Artificial Flavor, MCT Lipid Complex [Sunflower Oil (providing CLA), Coconut Oil], Sucralose.
Allergen Warning
Whey (Milk). Produced in a facility that also handles Sesame and Lecithin (Soybean).
Mix 1 to 4 scoops‡ of HULK with 5.5 oz of water per scoop (ex. 4 scoops with 22 oz). Or you can use low-fat milk. HULK mixes easily in a shaker or a blender. For best mixing results, add liquid before powder. Ensure to drink enough fluid before, during and after exercise. Consult a health-care practitioner prior to use if you are pregnant or breastfeeding or have liver or kidney disease. Use this product as a food supplement only. Do not use for weight reduction.