Laost otsas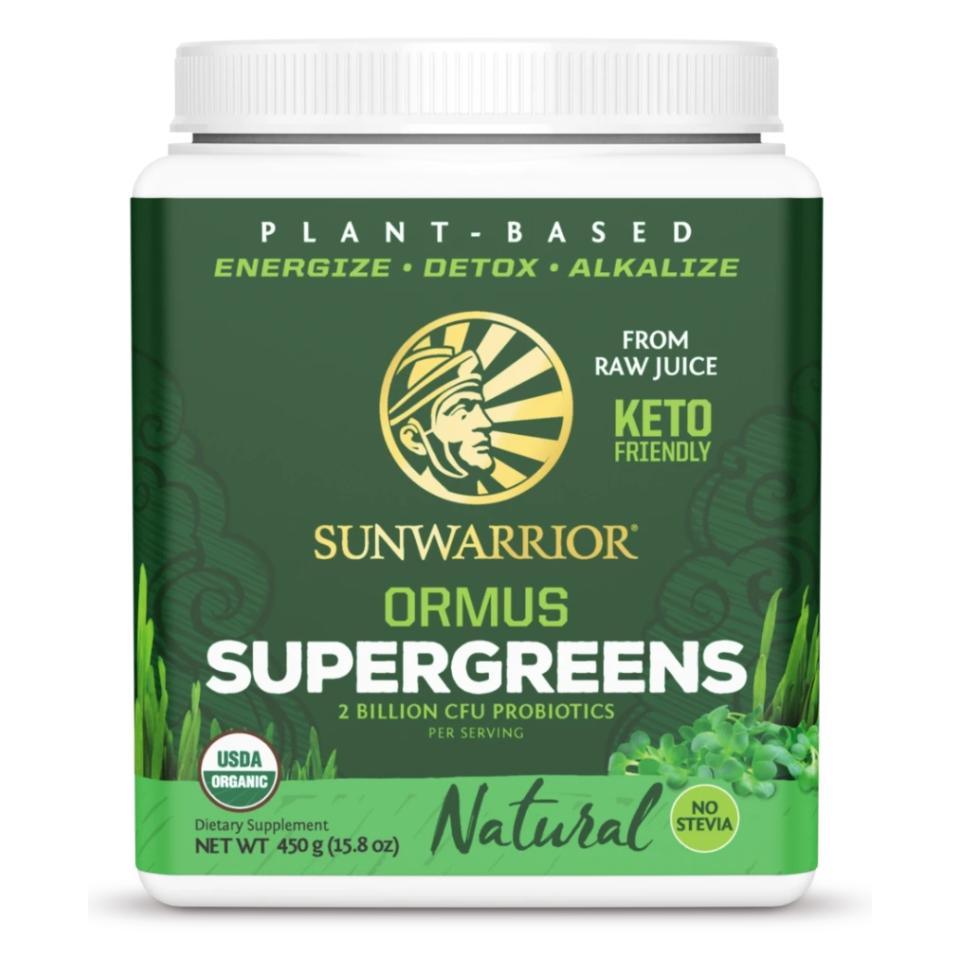 Zoom
Improves immune health
Strengthens digestive tract health
Increases energy and enhances performance
Ormus Super Greens contains organic, green superfoods, with trace minerals and plenty of chlorophyll. Sunwarrior uses a cold-drying process to protect the heat-sensitive bioactive components and phyto-nutrients, making a superior raw, green superfood beverage that is bio-available and perfect for anyone who needs a little more green in their life.
This supplement contains alfalfa, moringa, oat grass, wheat grass, barley grass, spinach and ginger root which all supply essential vitamins and minerals, enzymes, antioxidants, protein, essential fatty acids, and a host of beneficial phytonutrients. It is sweetened by stevia ‒ an all-natural sweetener.
Ormus Super Greens contains probiotics naturally found in the greens. This makes all the nutrients more bioavailable while building up and feeding the beneficial, natural flora and fauna of the digestive system.
Nutrition Facts
1 Serving Size: 1 Scoop (5g)

Amount Per

1 serving

100g

%DV*

Energy Value

17 kcal




71 KJ

340 kcal




1420 KJ

**

Total carbohydrate

3 g

60 g

1%

Dietary Fiber

2 g

40 g

8%

Sugars

1 g

20 g

**

Protein

1 g

20 g

**

Vitamin A

850 IU

17000 IU

17%

Vitamin C

7 mg

140 mg

11%

Calcium

70 mg

1400 mg

7%

Iron

1 mg

20 mg

6%

Sodium

32 mg

640 mg

1%

Potassium

160 mg

3200 mg

5%

Whole Leaf Powder Blend

2.6 g

52 g

**

Organic Whole Leaf Alfalfa Powder

Organic Whole Barley Grass Powder

Organic Whole Wheat Grass Powder

Organic Whole Maringa oleifera Leaf Powder

Organic Whole Oat Grass Poeder

Dehydrated Juice Blend

2.3 g

46 g

**

Dehydrated Organic Alfalfa Leaf Juice

Dehydrated Organic Barley Grass Juice

Dehydrated Organic Wheat Grass Juice

Dehydrated Organic Oat Grass Juice

* Percentage of Daily Value per one full serving.




** Daily Value is not established.

Ingredients / Other Ingredients: Organic Ginger Root, Probiotic Blend (L-acidolphilus, L-plantarum, L-Casei, L-rhamnosus, B-Lactis, L-salivarius, B-bifidum.
Mix 1 scoop with your favorite beverage. (150-250ml)