Laost otsas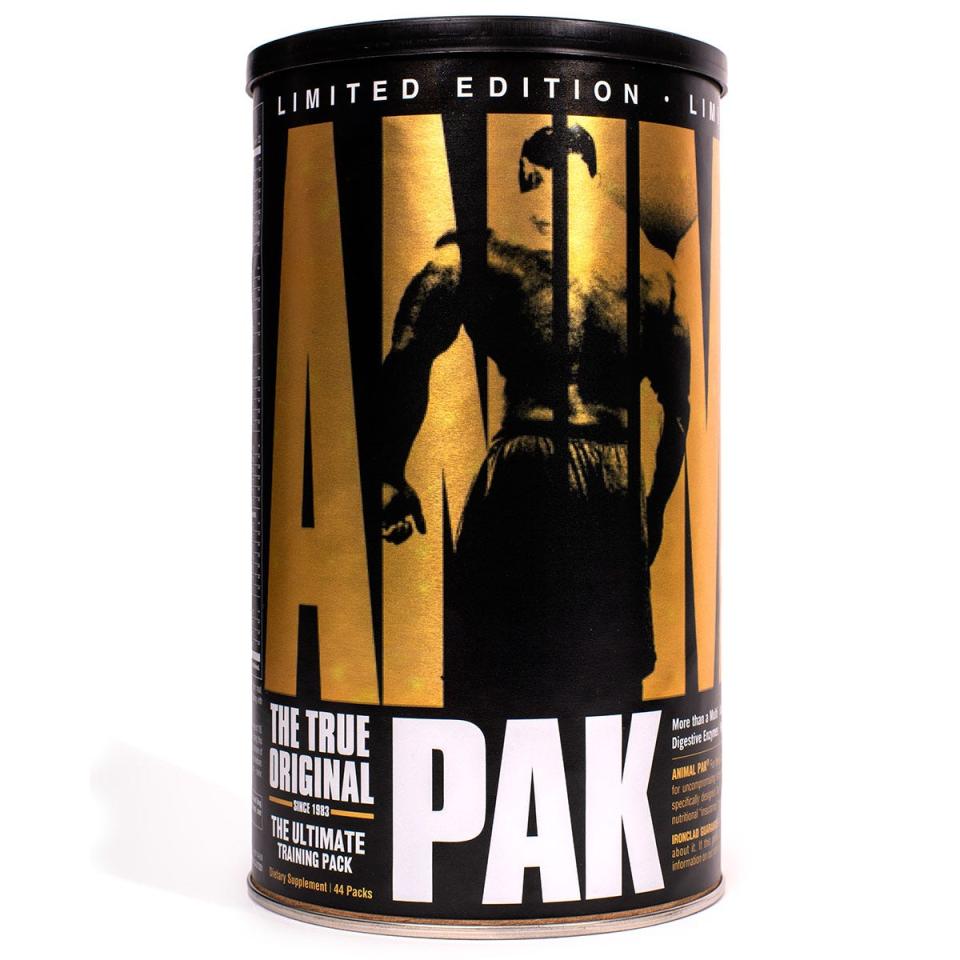 Zoom
UNIVERSAL NUTRITION ANIMAL PAK - 44 packs - LIMITED EDITION
In an ever-changing and hyper-competitive industry, not many brands can proudly say their supplements have withstood the test of time. Animal Pak, "The True Original," has been trusted by athletes around the globe for 38 years and counting. In honor of Animal Pak's 38th birthday, we've created limited-edition, never before seen, never again available, gold-labeled birthday cans in the 44 pack size.
These limited edition gold-labeled cans will be available for limited time only. Once they're gone, they're gone for good.
Take advantage before they're gone.
Supplement Facts for Animal Pak Limited Edition:
Serving Size: 1 Packet (11 Tablets)
Servings Per Container: 44
Amount Per Serving Animal Pak Limited Edition:
Vitamin C Plus Complex (1 tablet)
Vitamin C 500mg
Calcium 190mg
Citrus Bioflavonoids Powder 500mg
Vitamin E Plus Complex (3 tablets)
Vitamin E 96 mg
Calcium 280 mg
L-Taurine 150mg
Hawthorne Powder 125mg
Panax ginseng Powder (root) 750mg
Whey Protein Complex 557,5mg
Amino Plus Complex (1 tablet)
L-Arginine HCl 151.5mg
L-Carnitine Tartrate 18mg
Inositol 62.5mg
Cholime Bitrate 125mg
Chromium 3mcg
Bromelin 50mg
Pine Bark Extract 100mg
Inulin 62.5mg
Whey Protein Concentrate 303.6mg
Herbal Plus Complex (3 tablets)
Panax ginseng Powder (root) 250mg
Parsley Powder 2mg
Burdock Powder (root) 2mg
Alfa alfa Powder (herb) 4mg
Rice Bran 2mg
Rose Hips Powder 2mg
Coenzyme Q10 2.5mg
L-Taurine 100mg
Lycopene 0.5mg
Lutein 0.5mg
Papain 32mg
Vitamin A 680mcg
Vitamin D 2.5mcg
Whey Protein Concentrate 300mg
Vitamin B Plus Complex (1 tablet)
Vitamin B1 9mg
Vitamin B2 9mg
Vitamin B6 5.5mg
Nicotinamide (niacin) 15mg
Vitamin B12 3mcg
D-pantothenic calcium 39mcg
Pteroylmonoglutamic acid 200mcg
Biotin 155mcg
L-Arginine HCl 81mg
Grape Seed Extract (seed) 25mg
Calcium 60mg
Para-Aminobenzoic Acid 200mg
Whey Protein Concentrate 589mg
Glucose Polymers 424mg
Multi-Mineral Complex (1 tablet)
Chromium 27.5mcg
Magnesium 200mg
Zinc 12mg
Manganese 2.5mg
Copper 200mcg
Iodine 75mcg
Selenium 2.6mcg
Calcium 60mg
Kelp Powder (whole plant) 5mg
Inulin 62.5mg
Glucose Polymers 262mg
Vitamin B6 Complex (1 tablet)
Vitamin B6 5mg
Whey Protein Concentrate 1802mg
Whey Protein Hydrolysate 24.6mg
Amino Acid Profile:
Leucine (BCAA/EAA) 297mg
Isoleucine (BCAA/EAA) 168mg
Valine (BCAA/EAA) 157mg
Lysine (EAA) 247mg
Methionine (EAA) 57mg
Phenylalanine (EAA) 93mg
Threonine (EAA) 175mg
Tryptophan (EAA) 47mg
Alanine 133mg
Arginine 65mg
Aspartic Acid 290mg
Cysteine 68mg
Glutamic Acid 334mg
Glycine 50mg
Histidine 54mg
Proline 150mg
Serine 129mg
Tyrosine 82mg
Glutamine 128mg
Recommended Use for Animal Pak Limited Edition:
Take one packet with breakfast or any other meal with you beverage of choice.