Laost otsas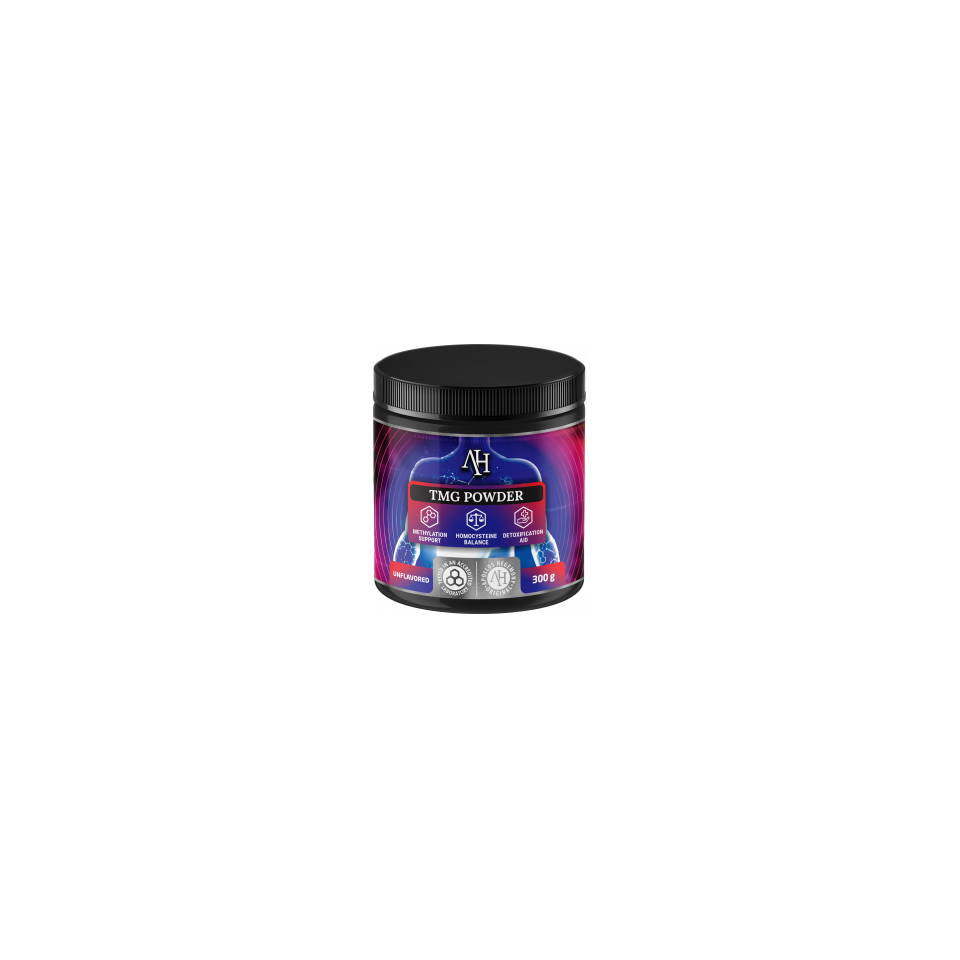 Zoom
Support for proper homocysteine metabolism
Anti-inflammatory and antioxidant properties
Support for the proper functioning of the liver
Cardiovascular health
Improvement of the psychophysical condition
Enhancement of methylation processes
Optimal detoxification
Apollo's Hegemony TMG Powder is a dietary supplement containing pure trimethylglycine powder. The preparation is aimed at helping in proper methylation processes, and thus supporting cardiovascular health, ensuring proper metabolism of homocysteine and supporting the liver in detoxification processes.
Trimethylglycine (TMG), also known as betaine, is a compound of natural origin, isolated for the first time from common beet (Beta vulgaris). In terms of chemical structure, it is glycine with three extra methyl groups.
Help in methylation disorders
The chemical structure of TMG makes it an excellent donor of methyl groups necessary for methylation processes. Methylation is a type of biochemical reaction that plays an important role, e.g. in epigenetic modification, detoxification processes, synthesis of neurotransmitters and maintenance of homocysteine homeostasis.
TMG is one of the core elements of supplementation in methylation disorders, which may manifest, e.g. in increased susceptibility to stress, chronic fatigue, disorders of the nervous system and thyroid problems.
Reduction of homocysteine level
Homocysteine is a non-protein amino acid naturally formed as a result of methionine demethylation. Increased homocysteine concentration has a negative effect on the body, especially on the cardiovascular system. Hyperhomocysteinemia may also lead to neurological disorders and an increased risk of birth defects.
As a methyl donor, TMG supports the remethylation of homocysteine to methionine, thus counteracting too high homocysteine levels. Another product of this reaction is S-adenosylmethionine (SAMe), which participates in the synthesis of neurotransmitters – dopamine and serotonin conditioning good mental well-being.
Physical efficiency support
Betaine has anabolic and anti-catabolic potential. It is often used by athletes and physically active people because of its effect on creatine synthesis. There are also reports about the role of TMG in increasing the level of insulin-like growth factor 1 (IGF-1).
To sum up, Apollo's Hegemony TMG Powder is a preparation recommended for athletes and physically active people in methylation disorders and to support cardiovascular health and detoxification processes.
Container size: 300 g

Serving size: 1 scoop (2g)

Servings per container: 150
| per 1 portion (2 g) | amount | %DV |
| --- | --- | --- |
| Trimethylglycine (TMG) | 2000 mg | * |
Mix 1 serving with 250 ml of water. Drink in the morning with or without food.
RECOMMENDATIONS OF iFit
To improve the methylation processes and support optimal homocysteine metabolism, it is also recommended to ensure the proper supply of B vitamins, especially vitamins B6, B12, and folates.
Increased homocysteine concentration is usually genetically determined due to MTHFR gene mutation, however, it may also increase under the influence of environmental factors such as e.g. alcohol abuse, smoking, improper diet, some medications, and liver diseases.