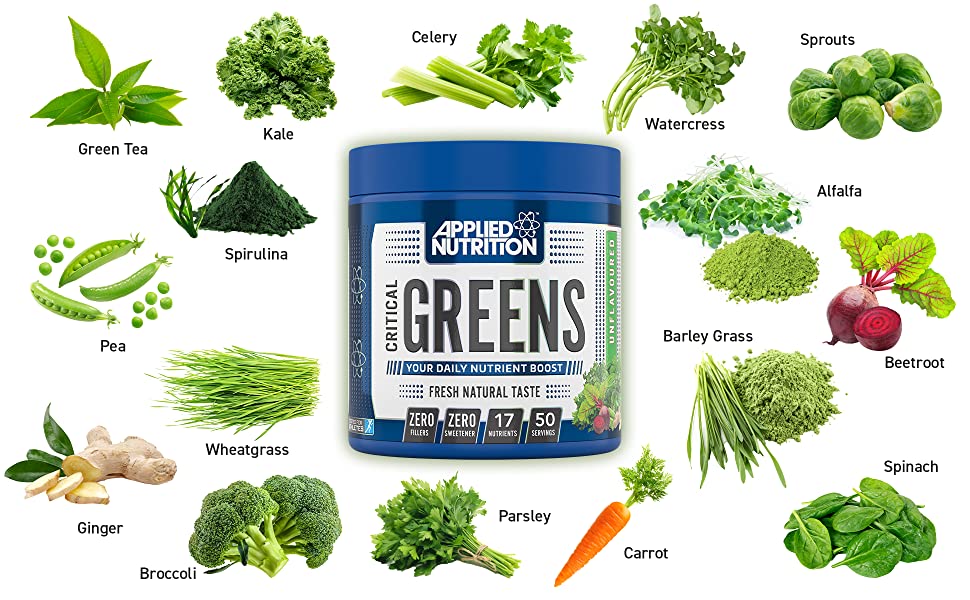 Ultimate super-greens blend
Used in conjunction with your five-a-day
Fresh natural taste
Vegetarian & Vegan Friendly
Critical Greens is packed with 17 super-greens extracts including broccoli, celery, spinach, wheatgrass, and kale powder. Get your greens in a super-convenient way. Our critical blend can simply be added to your protein shake, fruit smoothie, or can be mixed with water for a fresh natural taste.
Serving Information

Container Size: 250 g
Serving Size: One Level Scoop (5 g)
Servings Per Container: 50
Nutritional Information Per Serving

Energy: 47 kJ / 11 kcal
Fat: 0.15 g
of which Saturates: 0 g
Carbohydrate: 0.3 g
of which Sugars: 0 g
Protein: 2.2 g
Salt: 0 g
Amounts Per Serving

Pea Protein Powder 1960 mg
Spirulina Powder 700 mg
Alfalfa Powder 300 mg
Barley Grass Powder 300 mg
Wheatgrass 300 mg
Kale Powder 200 mg
Spinach Powder 200 mg
Broccoli 130 mg
Watercress 130 mg
Parsley 130 mg
Celery 130 mg
Carrot Powder 130 mg
Ginger Root 100 mg
Beetroot Powder 100 mg
Alfalfa (Sprouts) 80 mg
Green Tea 80 mg
Beta Carotene 30 mg
Recommended Use
Mix one level scoop (5 g) with 250 ml of cold water, fruit juice or your favourite smoothie.