Soodus
Uus toode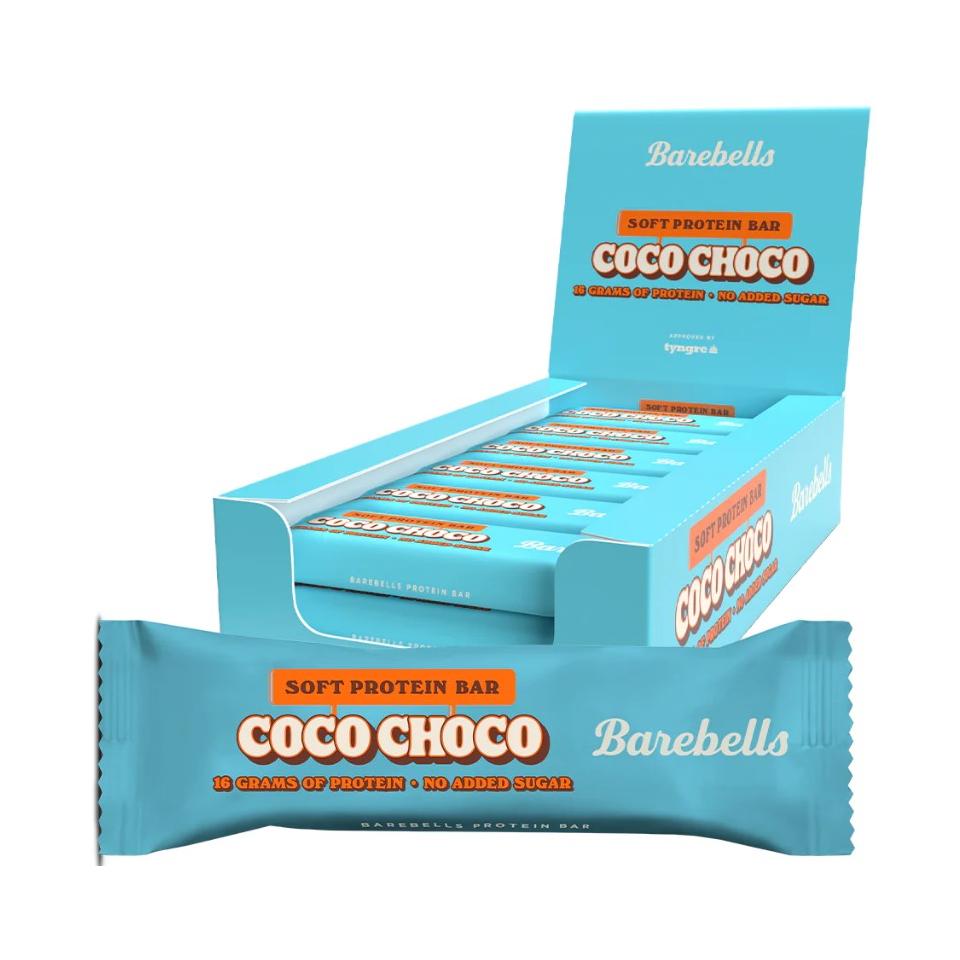 Zoom
Barebells Soft is a high-protein, sugar-free chocolate bar with caramel filling.
What could be better than chocolate? Chocolate with caramel! This revolutionary bar is a dream come true for chocolat lovers! Sweet, chewy and velvety caramel surrounded by delicate, crunchy chocolate. And all this without a single gram of sugar!
Hunger happens. Barebells helps. Fortunately, it doesn't matter if the hunger is small or big. Barebells will help you satisfy it in a healthy way and without remorse. And all this with a guarantee of great taste. Find out about that today!
This snack is more than you might expect. Created in such a way as to maintain a perfect balance between delicious, milk chocolate and a soft "fudge" type filling. The appetizing protein bar is perfect for those who exercise, fancy a snack between meals or just fancy some chocolate. And the last reason is the most frequent statistically. Do not deny! :)
The Swedish brand Barebells was launched in 2016 and offers a wide range of protein-enriched alternatives to traditional snacks and desserts - that never compromise on flavor. Barebells Protein Bars are designed to delight your taste buds! All without added sugar, with a high protein content and always with the guarantee of a high level of palatability. :)
The soft chocolate bar with addictive caramel is a great proposition for kids as a healthy option for lunch. Pack a few pieces right away, because your child will surely hear "Will you give a bite?" :) It is also an ideal snack for athletes - all thanks to the high protein content. Moreover, it is great for lovers of sweets, because it is an addictive taste in the sweet & fit option! It is good to always have such delicacies at hand to please yourself and your loved ones.
The most important information about Barebells Soft Bar:
no added sugar
as much as 20g of protein in a bar
only 196kcal
perfect, refined flavors
great consistency
produced in Europe
and this caramel…. :)
Barebells Soft Caramel Choco is a functional bar. It means it has a task. And it is to provide you with pleasure. And you also have a task - to indulge in this pleasure and allow yourself a moment of sweet relaxation. :)
Barebells Soft Caramel Choco - a protein bar without added sugar with a caramel-flavored filling and milk chocolate coating, contains sweeteners
Net weight: 55g
Ingredients: fillers (polydextrose), milk protein, sweeteners (maltitol, xylitol, sucralose), collagen hydrolyzate, humectants (glycerin), cocoa butter, whole milk powder, cocoa mass, sunflower oil, reduced fat cocoa , aromas, salt, emulsifiers: soy lecithin.
Allergens: contains milk and soy; may contain gluten, eggs and nuts, including peanuts.
Nutritional values in 1 bar: energy value 196.3kcal / 816.7kJ, fats 8.2 g (including saturated fats 4.2 g), carbohydrates 15.4 g (including sugars 2.0 g), fiber 8.2 g, protein 15 , 4g, salt 0.4g
Nutritional values per 100g: energy value 357.0kcal / 1485.0kJ, fat 15.0g (including saturated fat 7.7g), carbohydrates 28.0g (including sugars 3.7g), fiber 15.0g, protein 28, 0g, salt 0.7g