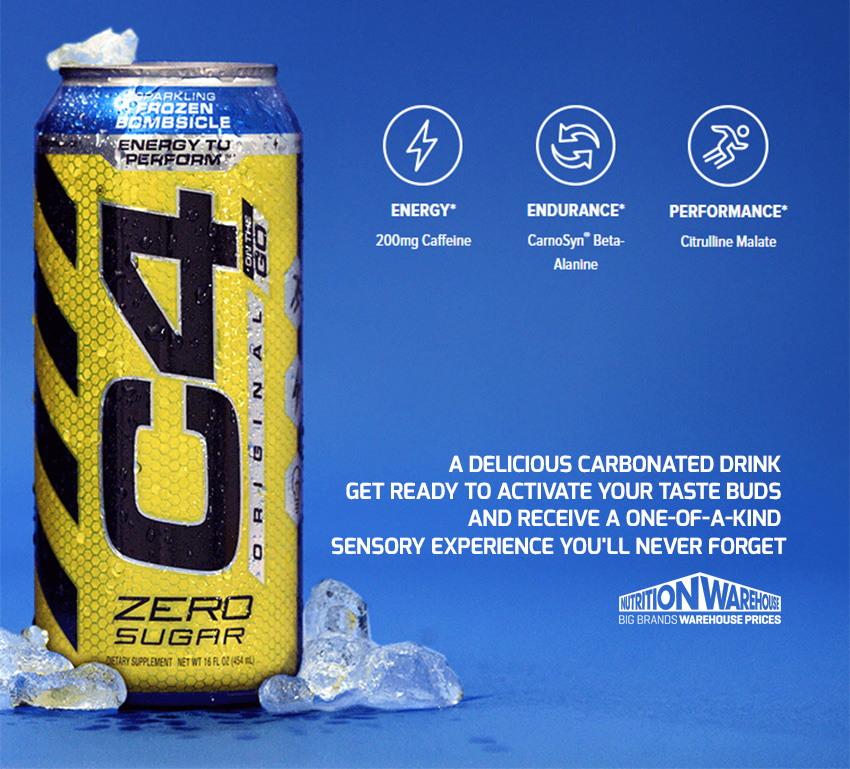 From the guys at Cellucor, the makers of the best-selling C4 pre-workout. With SO many C4's to choose from...how about giving these super handy gym bag-friendly ones a go?! A zero-sugar energy and performance drink perfect for sipping when you find yourself short of energy. These badboys pack a REAL boost, with an awesome 'explosive performance energy blend' you've got all the components of the usual C4 goodness but now in RTD format!!
Canned, carbonated and SUPER tasty!! The same awesome energy, pumps and endurance you know and love from C4 original!! In 4 awesome flavours (so far)!! From Frozen Bombsicle to twisted limeade! Containing 200mg of caffeine + a hefty serving of beta-alanine (you know - the tingly stuff) all mixed up with a dose of Citruline Malate y'all going to be ready for whatever life throws at you!!
Zero sugar, Zero Carbs, Zero Calories. SO MUCH energy, focus and pump!!
Why Cellucor C4 Original Carbonated Energy Ready-to-Drink?!

200mg caffeine per can

Same awesome C4 effects!

Gym-bag friendly

No Sugar

No Carbs!!

Sustained Release energy