Laost otsas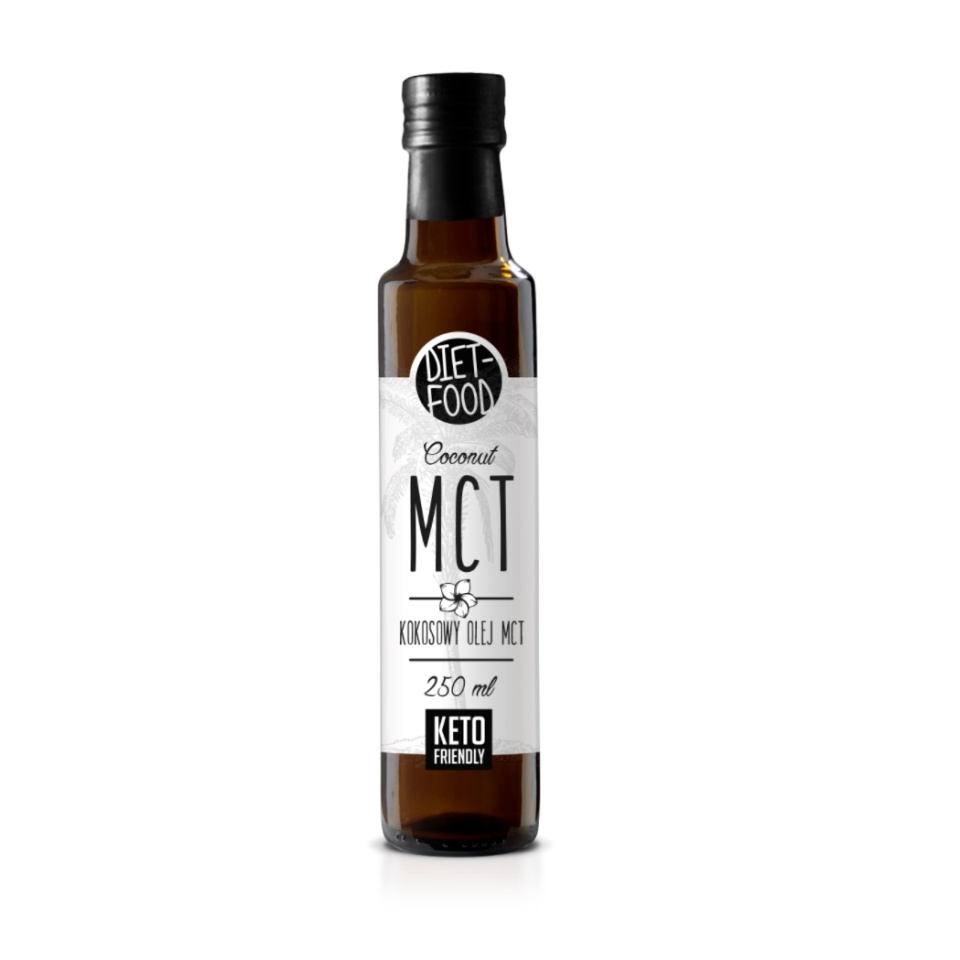 Zoom

MCT C8 are medium chain fatty acids in the form of an oil. They provide excellent support on the way to a slim figure thanks to their thermogenic properties. Supplementation with MCT oil will make exercise and a proper diet start to bring greater results, and the weight will start to drop faster. See for yourself about the unique properties of medium-chain fatty acids and reach for MCT C8 oil from Diet Food.
Do you want to achieve your dream figure?
Working on your own body requires a lot of energy and self-denial. The road to the goal can be long and difficult, so make it easier. MCT C8 oil is a fat burner that will support you in your pursuit of the desired weight. Medium-chain acids are a fantastic source of energy, and additionally they provide a feeling of fullness, which will make you feel like eating snacks.
You can achieve your goal
Oil for weight loss
It will help you achieve your dream figure
Caprylic acid oil
Perfect for heat resistant coffee
A fantastic source of energy
Coconut oil
We associate fat burning with L-carnitine and L-tyrosine, possibly with pepper or yerba mate. Few people think that oil can be a good fat burner. We associate fatty acids with long-chain fatty acids, which do not have a positive effect on our health, but the acids contained in MCTs are medium-chain, and these are a good source of energy and support fat burning thanks to their thermogenic properties.
MCTs contain oil that is entirely coconut oil, not palm oil. Thanks to this, the product is healthier, it is recommended for physically active people and athletes. This fat is perfect for bulletproof coffee, thanks to which you will feel new energy to act, but also saturate your stomach. You can go ahead and try MCT oil while on a ketogenic diet.
Choose Muscle Power
Our company can boast of many years of experience in the market of supplements and nutrients. Our products are always original and of the highest quality, straight from the producers. We offer a rich promotion section, in which you will surely find something for yourself, as well as a loyalty program, in which you will receive points redeemable for other products for your purchases. In case of problems with choosing the right supplementation, our consultants can advise you. Contact them by phone or message for help.
Ingredients: 100% MCT C8 coconut oil
This product is not intended to diagnose, treat, cure, or prevent any disease
The energy value is 3890kJ / 930kcal
Fat 100g
including saturated fatty acids 100g
Carbohydrates 0g
including sugars 0g
Fiber 0g
Protein 0g
Salt 0g
Caproic acid 0.2 g
Caprylic acid 99g
Capric acid 0.2 g
Lauric acid 0.1 g
*** The nutritional values in the table may slightly vary depending on the batch. The website is constantly updated, but it happens that we have several batches of the product in stock.
** Reference intake value for an average adult (8400 kJ / 2000 kcal)
* Ingredients, grammage and nutritional values may slightly differ depending on the flavor variant of the product.
How to use: Use according to individual needs.
Do not exceed recommended servings for consumption during the day. The product cannot be used by people who are allergic to any of its ingredients. Keep out of the reach of small children. Store in a dry place at room temperature in tightly closed containers.
Best before end: date and batch number are on the side / bottom of the packaging.
Net weight: 250ml