Laost otsas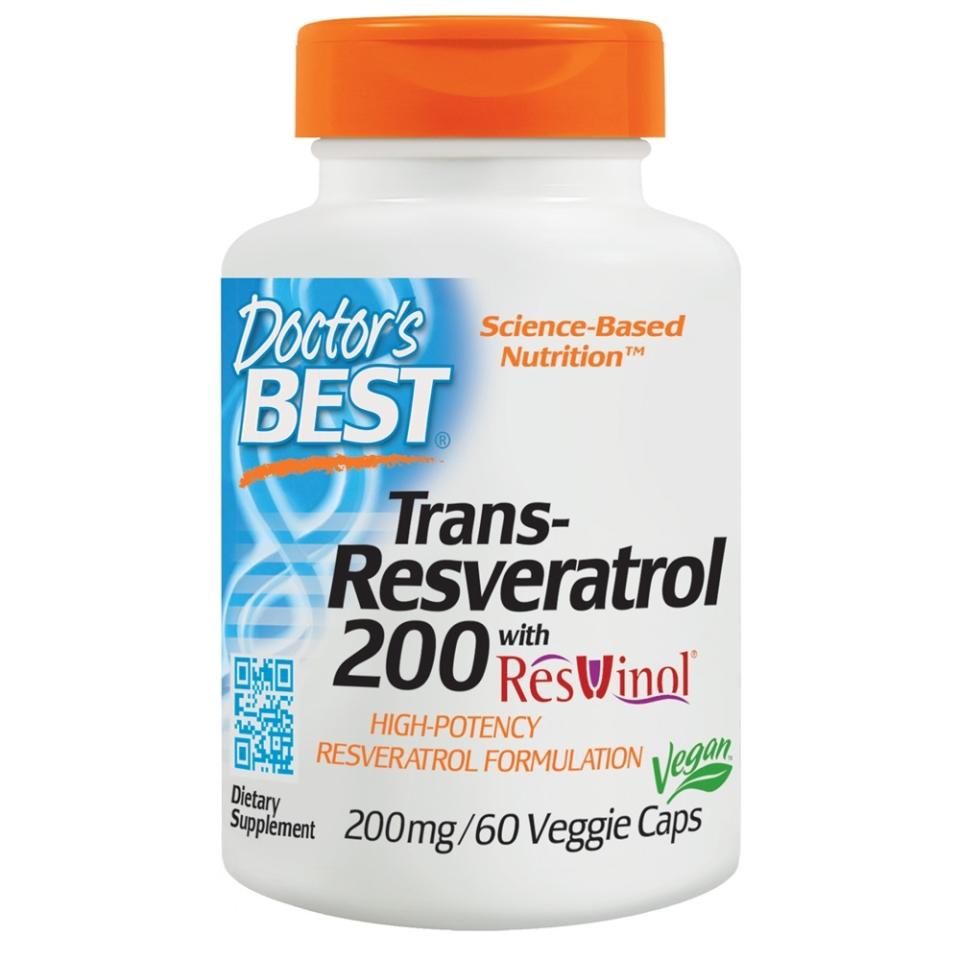 Zoom
Fortify Your Diet with a Potent Antioxidant that Boosts Your Health
Oxidation is a normal occurrence in the body, but in high amounts, it can prove dangerous for adequate cell functions. The buildup of oxidative stress can reduce cell regeneration levels, but thankfully, antioxidants combat the radicals that cause it. Once such antioxidant is trans-Resveratrol, a natural phenol found in certain fruits, like berries or grapes. Since its present only in trace amounts, a concentrated formula like Doctor's Best Trans-Resveratrol 200 can supplement your diet nicely.
Benefits your heart health
Allows optimal circulation
Improves brain function
Aids in blood glucose level regulation
Neutralizes free-roaming radicals
Relieves inflammation
Supports a healthy heart
Supports brain health
Supports optimal energy levels
Contains trans-Resveratrol & polyphenols sourced from red wine matrix & Japanese Knotweed
Take 1 serving with every meal
Serving size: 1 capsule
Suitable for vegan diets
Non-GMO formula & gluten-free
Heart-Friendly Supplement to Enhance Functions
Owing to its antioxidant properties, trans-Resveratrol is a component that boosts heart health. Studies show that it can aid in lowering the pressure exerted on artery walls. It does so by reducing oxidative stress, a factor that increases blood vessel rigidity. Trans-Resveratrol also increases nitric oxide production, helping blood vessels relax and retain a steady blood pressure with minimal fluctuations.
Protects the Brain and Preserves its Functions
This Trans-Resveratrol supplement contains a polyphenol blend derived from red wine complex, which studies have found to have brain-boosting properties. Its anti-inflammatory and antioxidant characteristics can inhibit the activity of inflammation-triggering proteins. This promotes various brain cell functions like impulse transfer and neurotransmitter synthesis associated with aspects like memory and mood.
Assists the Body in Practicing Glucose Level Regulation
As a potent antioxidant and anti-inflammatory, studies show that trans-Resveratrol is useful for regulating blood glucose levels. It prevents the conversion of glucose into sugar alcohol, which can lead to excessive oxidative damage when accumulated. It has an activating effect on AMPK, a protein that assists with glucose metabolism, which is useful for keeping blood glucose levels stable. Moreover, since it lessens inflammation, it can provide relief from symptoms of discomfort.
Eliminates Free-Roaming Radicals to Increase Vitality and Longevity
The greatest benefit of taking a trans-Resveratrol and polyphenol supplement is that it can neutralize free-roaming radicals from your body with its antioxidant properties. This preserves cellular regeneration and productive functions. Research indicates that the polyphenols in red wine are linked to longevity because they promote a smoother aging process. Antioxidants are also beneficial for optimal skin health because they encourage better collagen synthesis for youthful skin, fewer wrinkles, and an efficient wound healing process.
Relieves Inflammation in Sensitive Areas like Joints
By reducing the number of free-roaming radicals in your body, antioxidants can do a great job at preventing the accumulation of oxidative stress, which is a trigger for excessive inflammation. In high amounts, inflammation is linked to immense discomfort, which makes an antioxidant supplement very useful. Trans-Resveratrol can provide relief to several inflammation-prone areas, such as the joints and even the skin.
Supplement Facts
Serving Size: 1 capsule
Servings Per Container: 60
Amount Per Serving %DV*
trans-Resveratrol 200 mg +
Polyphenols
(from red wine matrix (Grape (Vitis
vinifera)) and Japanese Knotweed
(Polygonum cuspidatum )) 80 mg +
+Daily Value Not Established.

Other Ingredients: Modified cellulose (vegetarian capsule), rice powder, silicon dioxide, magnesium stearate (vegetable source).
Take 1 or more capsules daily with meals.