Soodus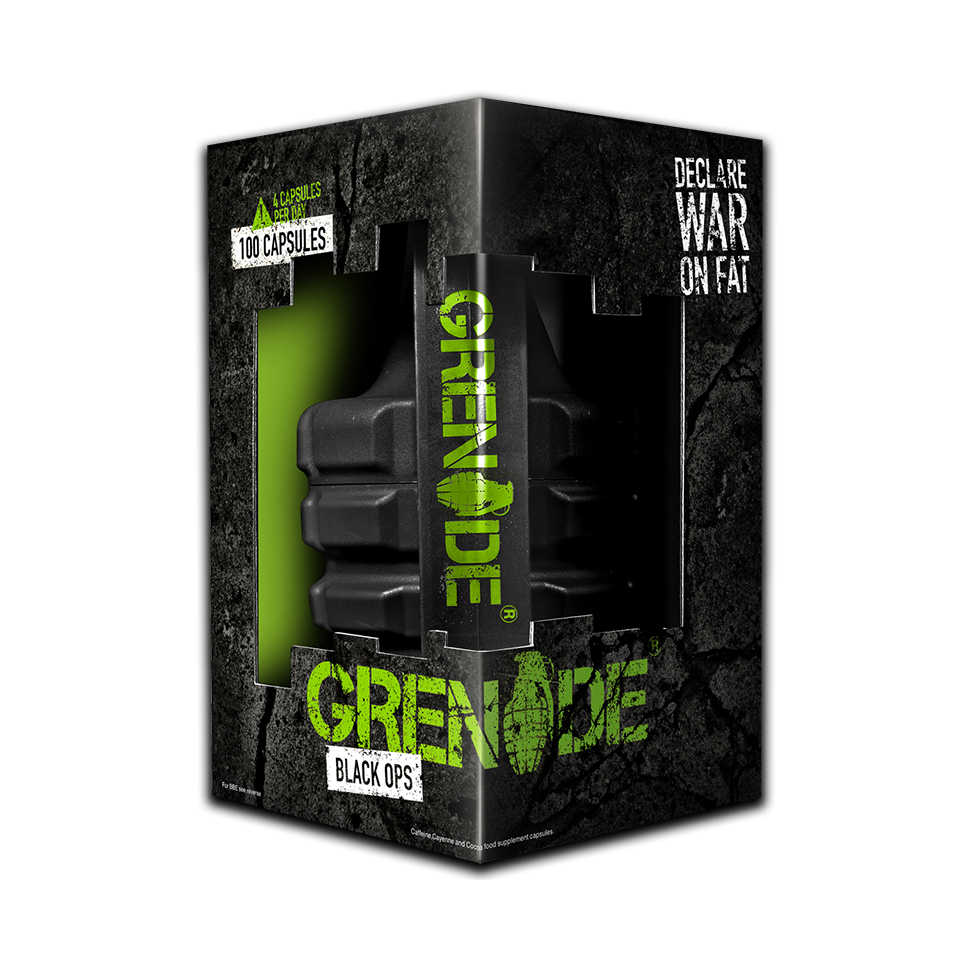 Zoom
• Contains Green Tea, Caffeine and L-Taurine
• Supports Your Weight Management Goals
• Designed especially for men

Grenade Black Ops contains a variety of ingredients designed to support your weight management goals. It contains ingredients such as Green Tea, Caffeine and L-Taurine. Up to four capsules of Grenade Black Ops can be taken daily.

It has been created to have a stimulatory effect and enhance mental and physical performance. Designed specifically for men, it is ideal for focused High Intensity Interval Training and for training sessions later in the afternoon or early evening.

To support your weight management goals, a range of ingredients have been added. Caffeine has been included for its role in mobilising fat from fat cells while Green Tea helps to increase metabolic rate and fat oxidation. Cayenne also supports fat oxidation. Grenade have also added Blue Green Algae as it contains essential fatty acids and Phenylephrine. Essential fatty acids support decreased body fat mass while Phenylephrine stimulates Norepinephrine, a fat-burning product. The final ingredient is Cocoa Extract which has a positive effect on Nitric Oxide, which also supports fat metabolism.

L-Taurine is also included as it is believed to improve metabolic function. It also boosts protein synthesis and also keep you from losing muscle mass during periods of weight loss.
Container Size: 100 Capsules
Serving Size: 2 Capsules
Servings Per Container: 50

Amount Per Serving:
Niacin (Nicotinic Acid): 15mg
Vitamin B6 (Pyridoxine): 5mg
Chromium: 20µg
Microencapsulated Caffeine (1,3,7-Trimethylxanthine): 295mg
Taurine (2-Aminoethanesulfonic Acid): 275mg
Cayenne (Capsicum Annuum): 250mg
Choline (2-Hydroxy-N, N, N-Trimethylethanaminium): 220mg
Green Tea (Epigallocatechin, Epicatechin Gallate, Gallate, Epicatechin): 100mg
Theobroma Cacao (50% Flavonols): 100mg
Blue Green Algae (Aphanizomenon Flos-Aquae): 20mg
N Methyl Tyramine (4-Hydroxy-N-Methylphennthylamine): 20mg
Bioperine (1-Piperoylpiperidine): 5mg

Ingredients:

Microencapsulated Caffeine, Taurine, Cayenne, Choline, Green Tea, Theobroma Cacao, Blue Green Algae, N Methyl Tyramine, Niacin, Bioperine, Vitamin B6, Chromium, Microcrystalline Cellulose, Bulking Agent (Magnesium Stearate), Gelatin Capsule (Purified Water, Colours: Brilliant Blue, Beetroot Red), Titanium Dioxide.
Take 2 capsules on an empty stomach upon waking with water. Take 2 capsules 30 minutes prior to lunch with water.

To assess tolerance, consume 1 capsule twice per day for the first 7 days.

For an explosive workout, take 2 capsules prior to training.

Drink at least 8 glasses of water per day.

DO NOT exceed 4 capsules per day.