Soodus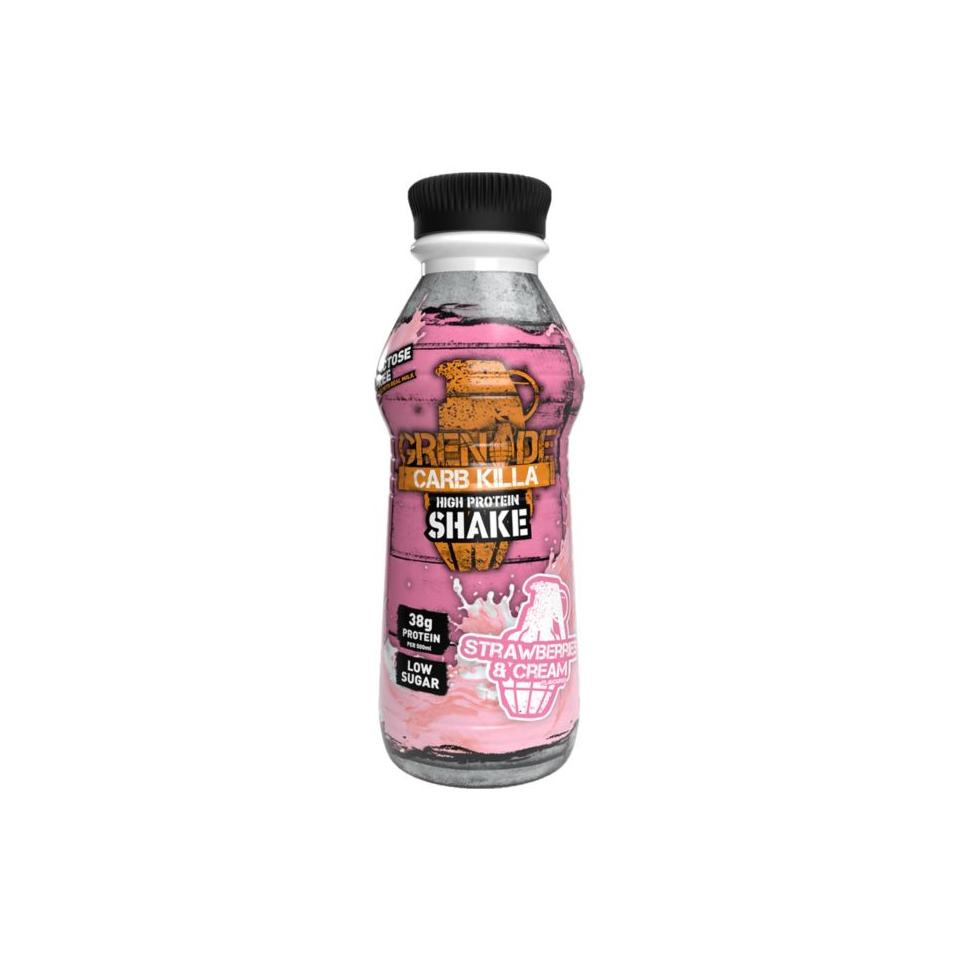 Zoom
Seriously indulgent, smooth & creamy high protein cookies & cream shake

Under 200 calories per drink

24g of protein & 9g of carbs

No artificial flavours or colourings

Following on from the global success of the iconic Carb Killa® bars, Grenade® has developed Carb Killa® Shake.

Carb Killa® Shake is a smooth and creamy high protein drink with under 200 calories* and is seriously indulgent. With 25g of protein and 7.3g* of carbs, Carb Killa® Shake is a convenient way to consume additional protein between meals without unwanted calories or carbs. Initially in 3 delicious flavours, this thick and creamy shake is as technologically advanced as the bars and can be consumed throughout the day. Informed Sport Registered.

RESEARCH

Delivering 25 grams of protein per shake*, Carb Killa® Shake is a high protein treat that has been designed to provide balanced complete sources of protein, while limiting the level of simple, processed refined sugars. Unlike many other shakes / smoothies, Carb Killa® Shake is unique in the fact it is low in carbs.

The benefits of protein are well known and the role it plays as a key macro nutrient within the body mean it's vital we consume enough to meet our goals.[1] In addition to that, the added benefits of a high protein low carb diet are much more widely documented, suggesting they are more reliable way to reduce body fat and improve muscular body composition. [2],[3]

*Protein content depends on flavour.

Ideal for those; on a low carb diet and avoiding sugar and processed carbs, those wanting to gain lean muscle mass with a high protein, low carb snack.
| NUTRITION | 100ML | 500ML |
| --- | --- | --- |
| Energy (KJ) | 247 | 1235 |
| Energy (kcal) | 59 | 295 |
| Fat | 2.2g | 11g |
| Of which saturates | 1.4g | 7.0g |
| Carbohydrate | 2.2g | 11g |
| Of which sugars | 2g | 10g |
| Protein | 7.5g | 38g |
| Fibre | 0.04g | 0.18g |
| Salt | 0.11g | 0.55g |
INGREDIENTS: Water, Skimmed Milk, Protein Blend (Calcium Caseinate (Milk), Whey Protein Concentrate (Milk)), Cream (Milk), Stabilizers: Gellan Gum, Carrageenan; Sweetener: Sucralose; Flavourings, Salt, Natural Colour: Lycopene; Enzyme: Lactase.
ALLERGY ADVICE: For allergens see ingredients in bold.
VEGETARIAN
Suitable for those following a vegetarian diet, who do not eat foods that consist of, or have been produced with any part of the body of an animal.
GMO FREE
Free from ingredients that were produced using modern biotechnology.
LACTOSE FREE
Lactose is a sugar found in milk and milk products. This product is considered Lactose-Free.
HIGH PROTEIN
This product is considered as high protein in line with EU regulation. A high protein claim may be made where at least 20% of the energy value of the food is provided by protein.
LOW SUGAR
This product is considered as low sugar in line with EU regulation. A low sugar claim may be made where the product contains no more than 5 g of sugars per 100 g for solids or 2.5 g of sugars per 100 ml for liquids.
NO ARTIFICIAL FLAVOURS
Artificial flavours are utilised to add or enhance flavour of a product