Laost otsas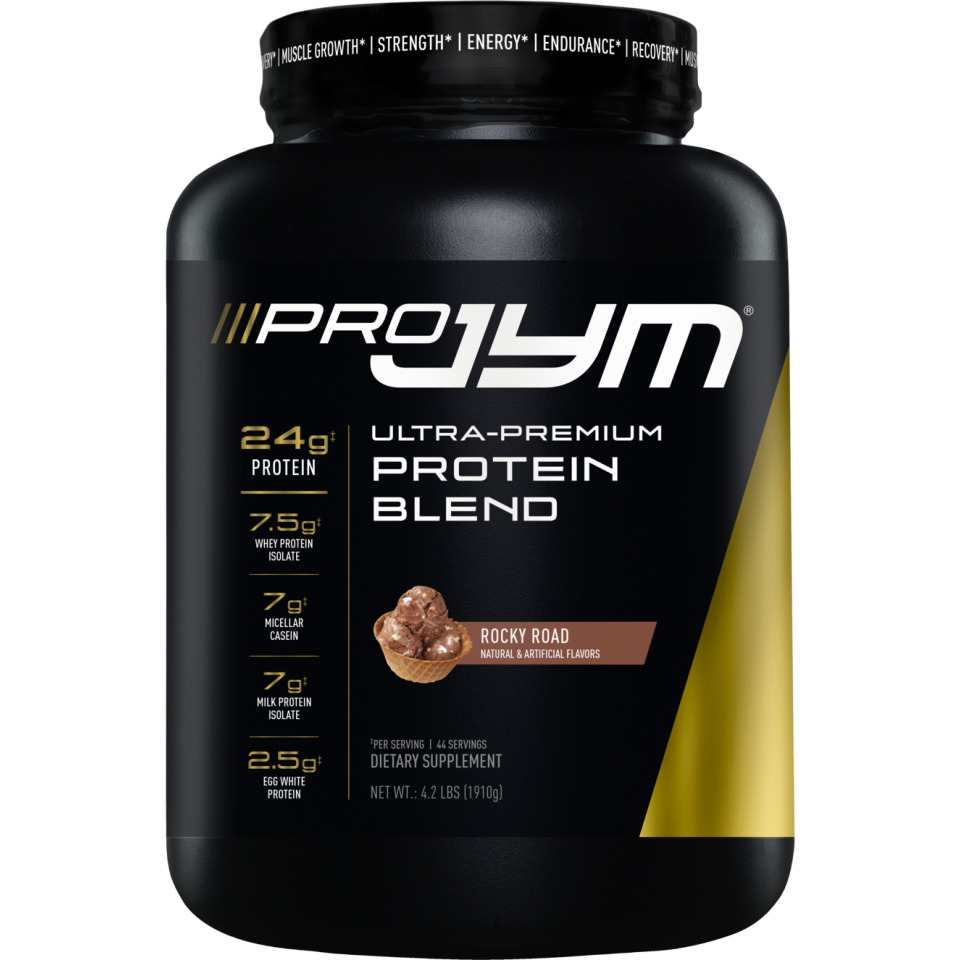 Zoom
Ultra-Premium Protein Blend
7.5g Whey Protein Isolate
7g Micellar Casein
7g Milk Protein Isolate
2.5g Egg White Protein
PRODUCT OVERVIEW
Pro JYM is a premium protein powder, an ideal blend of the three most effective types of proteins for building muscle: whey, micellar casein, and egg protein. In synergy with Pre JYM and Post JYM, Pro JYM is your go-to protein both before and after intense workouts. Pro JYM is also the most delicious protein on the market!
PRODUCT BENEFITS
Pro JYM's three types are absorbed in the body at varying rates of speed – whey extremely fast, casein very slowly, and egg at a "medium" pace. This is exactly how you want your protein to act to ensure that the muscles get an immediate supply of amino acids (the building blocks of protein) as well as a steady trickle of them in the hours following.
Research now shows that when you add medium- digesting and slow-digesting proteins to fast-digesting whey, muscle protein synthesis remains elevated for longer than when using whey alone. And muscle protein retention is higher, as well. That means that more protein is being built in the muscle, which is what leads to long term gains in muscle size and strength.
SUPPORTS YOUR GOALS
Before and after workouts are two great times to take Pro JYM, but your body needs high-quality proteins throughout the day to repair and build muscle. The fast-digesting whey in Pro JYM makes it a great morning protein source to stop catabolism, and the slow casein is ideal to take before bedtime to provide the muscles amino acids while you sleep. Pro JYM also functions well as a snack or as an addition to any meal that needs a protein boost.

Serving Information (based on Tahitian Vanilla Bean flavour)
Container Size: 1800 g
Serving Size: 36 g
Servings Per Container: 51
Energy: 140 kcal
from Fat: 25 kcal
Total Fat: 2.5 g
Saturated Fat: 2.5 g
Cholesterol: 15 mg
Total Carbohydrates: 4 g
Sugars: 1 g
Protein: 24 g
Calcium: 413 mg
Sodium: 220 mg
Potassium: 115 mg
Ingredients (based on Tahitian Vanilla Bean flavour)
Protein Blend (Whey Protein Isolate, Micellar Casein, Milk Protein Isolate, Egg Protein), Coconut-Based Creamer (Coconut Oil, Maltodextrin, Fod Starch, Mono- and Diglycerides, Tricalcium Phosphate), Natural Flavours, Gum Blend (Cellulose Gum, Xanthan Gum, Carrageenan), Salt, Vanilla Bean Particulates, Sucralose, Acesulfame Potassium, Silicon Dioxide, Sunflower Lecithin
Mix each scoop of Pro JYM in 6-12 oz. of water or milk depending on your preference for thickness and texture.
Consume 1-2 scoops within 30 minutes before workouts, and 1-2 scoops within 30 minutes after workouts.
Also consider taking 1-2 scoops when you first wake up each day and before going to bed for maximizing lean muscle mass gains.
You can also consume 1-2 scoops between regular meals.