Soodus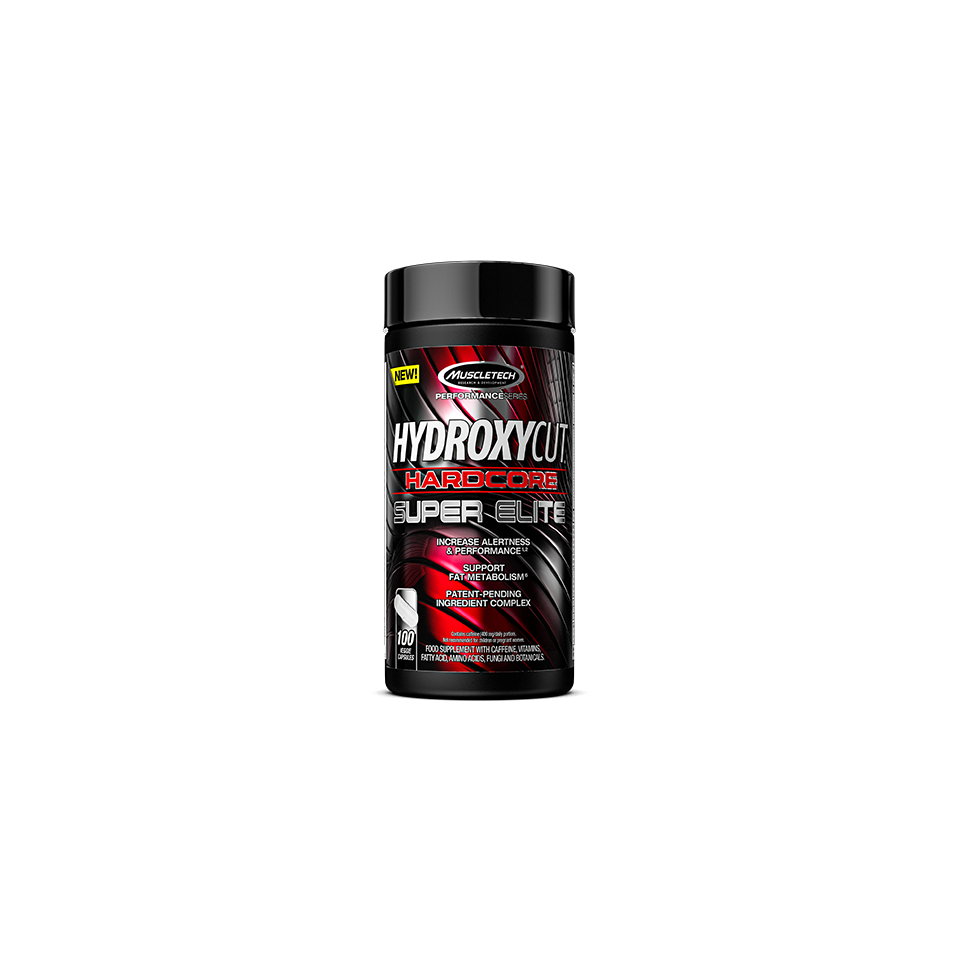 Zoom
Hydroxycut Hardcore® Super Elite is our most powerful thermogenic, energy and focus experience with unrivaled intensity. Tackle your jam-packed days with a scientifically researched dose of caffeine anhydrous that boost energy, thermogenesis and mental focus. Combined with other potent ingredients, the formula also delivers a one-of-a-kind sensory experience.
PRODUCT BENEFITS
*Backed by two separate clinical studies
*Fully disclosed, scientifically backed key ingredients
*Energy, thermogenesis & focus
*One-of-a-kind sensory experience
*Potent & precisely dosed
*Formulated to cover it all – all killer, no filler.
KEY INGREDIENTS
Refuse to accept the status quo? Hydroxycut Hardcore® Super Elite is the most advanced thermogenic available. When it's time to take it to the next level, turn to Hydroxycut Hardcore Super Elite for more energy and weight loss support.

SUPPORTS YOUR GOALS
Subjects using the key weight loss ingredient (C. canephora robusta) lost an average of 10.95 lbs. vs. the placebo group, which lost 5.4 lbs. Both groups followed a low-calorie diet. In a separate 8-week study, subjects lost an average of 3.7 lbs. vs. the placebo group, which lost an average of 1.25 lbs. Both groups followed a low-calorie diet and moderate exercise.
Container Size: 100 Capsules
Serving Size: 2 Capsules
Servings Per Container: 50
Amounts Per Serving
Vitamin B1 (Thiamin): 0.5 mg
Vitamin B2 (Riboflavin): 0.34 mg
Niacin: 2.4 mg
Vitamin B6: 0.4 mg
Vitamin B12: 3 μcg
Other Substances:
Of which:
Choline Bitartrate: 250 mg
Caffeine Anhydrous: 200 mg
Green Coffee Bean Extract: 200 mg
Standardized for 45% Chlorogenic Acids
Alpha Lipoic Acid: 200 mg
L-Tyrosine: 100 mg
Cordyceps Mushroom Powder: 100 mg
Dragon Fruit Powder: 50 mg
Jujube Fruit Extract: 50 mg
Grains of Paradise Seed Extract: 20 mg
Black Pepper Extract: 5.3 mg
Standardized for 95% Piperine: 5.3 mg
Ingredients
Choline Bitartrate, Veggie Capsule (Hydroxypropyl Methyl Cellulose E464, Thickener (Carrageenan E407), Colour (Titanium Dioxide E171), Acidity Regulator (Potassium Chloride E508), Caffeine Anhydrous, Alpha Lipoic Acid, Green Coffee Extract (Coffea Canephora, Seed), L-Tyrosine, Cordyceps Mushroom Powder (Cordyceps Sinensis, Fruiting Bodies) (Oat), Stabiliser (Cellulose E460), Anti-Caking Agents (Magnesium Salts of Fatty Acids E470b, Silicon Dioxide E551), Jujube Extract (Ziziphus Jujuba Fruit), Dragon Fruit Powder (Hylocereus Undulatus, Fruit), Grains of Paradise Extract (Aframomum Melequeta, Seed), Black Pepper Extract (Piper Nigrum, Fruit), Niacinamide, Thiamine Hydrochloride, Pyridoxine Hydrochloride, Riboflavin, Cyanocobalamin)
Other Ingredients
Veggie Capsule (Hypromellose, Titanium Dioxide), Cellulose, Silicon Dioxide , Magnesium Stearate
To assess your tolerance, for the first day, take 1 capsule once daily.
On days 2 and 3, take 2 capsules once daily.
On day 4 and beyond, take 2 capsules twice daily, 30 to 60 minutes before your 2 main meals.
Do not snack between meals.
Do not take within 5 hours of bedtime.
For best results, use for 60 days in combination with diet and training.
Do not exceed 4 capsules in a 24-hour period.
Drink 10 glasses of water daily for general good health.